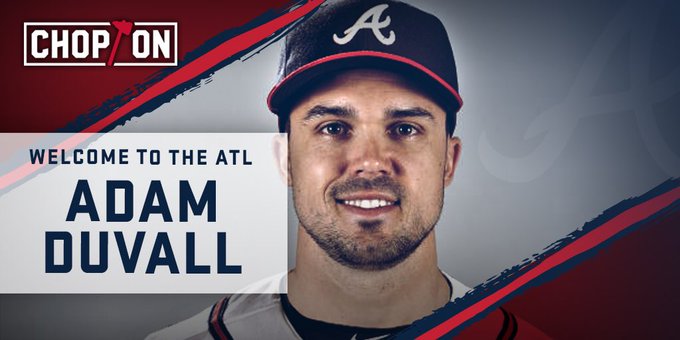 I've written a lot about Adam Duvall over the years. From 2018:
Duvall's job in Cincinnati was to hit a home run a week; a rare and useful skill.

Adam Duvall – Braves Journal
Also from 2018:
"Duvall's low average game requires at-bats to provide sufficient opportunities for offsetting power…"

Unit Recap – Bench – Braves Journal
From 2020:
You've got to eat a lot of Cracker Jacks to get to the prize with Adam…

Braves 2020 Player Review: Adam Duvall – Braves Journal
And from 2021:
Adam is like a slot machine – you have to put a lot of quarters in before you get a jackpot, but you can't walk away from it.

Braves 5, Nationals 4 – Braves Journal
Finishing 3rd in the NL in home runs in 2020 was not enough to motivate the Braves to invest in bringing Adam Duvall back for 2021. Adam signed with the Marlins in February, where he hit 22 homers before the Braves traded Alex Jackson on July 30th to get him back.
Duvall continued to do his thing in Atlanta, hitting 16 more homers to finish the season 2nd in the NL with 38, (a homer and a half per week, if you're counting) and leading the NL in RBIs with 113. It was Duvall's 3rd 30 homer season, the first coming at age 27.
As alluded, when Adam is not homering, he is generally making a lot of outs. Duvall's 2021 season was pretty typical: a .228/.281/.491 Batting Average / On Base % / Slugging % relative to his career numbers of .232/.291/.473. Duvall's most similar hitters include Miguel Sano at number 1, and the legendary Bo Jackson at number 2. (Joc Pederson is number 3, and Jorge Soler number 6. AA certainly has a type, doesn't he?)
Billy, man, um, there's one thing you're forgetting. None of those three guys knows how to play first base.

Ron Washington, Moneyball
I like to imagine Wash telling Alex Anthopoulos "None of these guys play center field, either" after Duvall, Soler, and Eddie Rosario were acquired at the trade deadline, to go along with the earlier acquisition of Pederson. Duvall ended up out there, and did a passable job. He led the league in OF Total Zone Runs with 19, racking up 11 in right field, (where he was awarded the Gold Glove) 6 in left, and 3 more in center. His range factor per 9 innings in center was 2.26, slightly below league average. He only had 25 starts in center field; hence I'm not sure how precisely his defense there can be measured, but I don't remember any real episodes where I thought he was hurting the Braves in center field.
Duvall turned 33 in September. When Adam stops hitting homers, his days as a useful offensive player will be over. Duvall is the oldest of the 4 new outfielders, but also the best defender. Despite being injured in right field, it seems like the Braves still want to keep Ronald Acuna Jr. away from the wear and tear of center field, and Cristian Pache will still be only 23 in 2022. Soler and Rosario are better bets to continue to produce offensively, but it wouldn't hurt to have a defensive outfielder on the roster who might hit a homer a week.