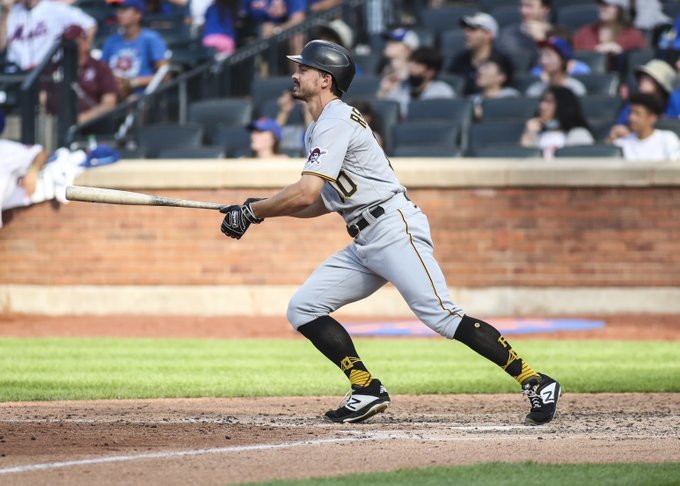 This is fan-fiction based on needs for the Braves and interest in the past of certain players. If that's not your bag, no worries.
Braves fans… don't believe it for a second. Alex Anthopoulos will reach a deal with Freddie Freeman. This piece isn't about Freddie Freeman, but it is about a narrative that has bothered me for quite some time and that is this: The Braves are cheap.
It's simply not true. We've been told since Liberty Media took over that they are a very hands-off company. That concept seems hard for some. What it means is the Braves are treated as a separate entity, are not influenced by the amount of $ Liberty Media makes or loses. Rather, the Braves and its payroll is only influenced by what the team makes. The evidence was there in 2021.
Coming off of 2020, when there were no fans in the stands, the 2021 payroll money was gobbled up quickly and we saw the Braves shopping at Goodwill for relievers that, for the most part, failed miserably. Fast forward to the trade deadline when the Braves picked up 5 players in Joc Pederson, Jorge Soler, Adam Duvall, Eddie Rosario, and Richard Rodriguez. How did they grab 5 players 3 of which that were essentially salary dumps? Simple answer… there was money to spend. Why? Because the team had the best attendance in baseball and the Battery was rocking.
Now this isn't a theory…it's a stated fact from Terry McGuirk himself and if the Braves don't open the wallet in 2022, a year in which 3rd and 4th quarter financial gains went through the roof, then your anger as a fan needs to be channeled away from LM and flowed toward McGuirk and others. I'm keeping the faith until proven otherwise.
So this year…a year after the World Series victory in which we are going to get a top-3 baseball player back in Ronald Acuna Jr.in the early parts of the season. No excuses, the Braves should build THAT TEAM right out the gate. For this exercise, I'm going to operate on a $200MM payroll that does NOT include Marcell Ozuna's salary. Let's get to it.
A Look at the Roster, As Is
In the Where Do We Go From Here piece earlier this offseason, I estimated that the Braves will have $125MM committed to about 15 players. For now, I'm just going to make the assumption Marcell Ozuna is sidelined all year, so the number become $109MM for 14 players. Those players:
Ronald Acuña Jr (IL)
Manny Piña
Adam Duvall
Mike Soroka (IL)
From there, one can assume that the Braves will have at least 5 pre-arb guys that will stay on the roster, bumping the total above to $112MM. On top of that, last year's buyouts are added to the next year's payroll and those total $5.75MM total, bringing the total payroll to $117.75MM before additions. Let's now look at the places the Braves could look to improve:
First Baseman
Starting Pitcher
Relief Pitcher (2)
Outfielder (2)
Utility Player (2)
Using MLBTRADERUMORS and giving myself $70MM to spend, I'm going to do my best to fill this team out as a winner. Let's get to it.
Deal #1, Freddie Freeman, 6/$160MM with club option
Freddie is going to be a Brave and this deal makes him one through 2027. The club option comes in at $25MM with a $10MM buyout.
$45MM to spend.
Suzuki is an OBP and power machine. He's going to take Atlanta by storm. Cue the "Seiyu Later" puns. If this is the contract, the Braves will have to pay a $10MM posting fee and I'll tack that onto the first year of salary.
$24MM to spend
Deal #3, Eddie Rosario, 2/15 MM
Rosario was an absolute great fit with the Braves last year and would be a good get on a 2 year contract. That short porch in RF will be mutually beneficial.
$16.5MM to spend.
If the Braves are going to become the most hated team in the league, let's make it official by hiring a bonified a-hole in Joe Kelly. The Braves need a RH bullpen arm and he fits.
$10.5MM to spend
He performed well last year and was a good fit with the guys according to Will Smith. Let's get him back and give him a raise.
$8MM to spend
The Braves need an all positions player when the DH comes to stay and Ehire is THAT guy.
$6MM to spend
I love this guy as a switch hitting player that can give Riley or Freeman a day to DH every now and again. He's also a well liked player and serves as a good bridge been the Latin and American players.
$4.25 MM to spend
Braves were REALLY in on him at the deadline last year and they were willing to give up a package that include Cristian Pache and 4 other prospects. I think this gets revisited and if the Braves grab him, it will be for a massive package that includes 4 or 5 guys from this list: Pache, Drew Waters, Tucker Davidson, Huascar Ynoa, William Contreras, Freddy Tarnok, William Woods, Brooks Wilson, and more beyond the 40-man roster. Flags fly forever, baby.
With this roster, the Braves have 5 OFers that could be switched around based on matchup.
Final 26-Man Roster in the Exercise
Bryan Reynolds
Ronald Acuna Jr./li>
Freddie Freeman
Austin Riley
Seiya Suzuki
Ozzie Albies
Eddie Rosario
Travis D'Arnaud
Dansby Swanson
Bench: Manny Piña, Ehire Adrianza, Asdrubal Cabrera, Adam Duvall
Starting Pitchers: Charlie Morton, Max Fried, Ian Anderson, Huascar Ynoa, Tucker Davidson
Relief Pitchers: Tyler Matzek, A.J. Minter, Will Smith, Joe Kelly, Jesse Chavez, Luke Jackson, Spencer Strider, Dylan Lee (lots of combos here, but these are my first 9)
Final Thoughts: Look…I know there are a million combinations and this list won't happen in its entirety (or maybe none at all), but there are a few things we do know:
Braves DID go after Bryan Reynolds at the trade deadline.
Braves are considered "serious" about Seiya Suzuki
Braves and Jesse Chavez have mutual interest
Eddie Rosario is beloved by the Braves fanbase
Ehire Adrianza was a really good fit.
The Braves need another good RH reliever and Joe Kelly is that.
Freddie wants to stay and wants more $. This gives him more $.
I just like Asdrubal Cabrera. There…I said it.