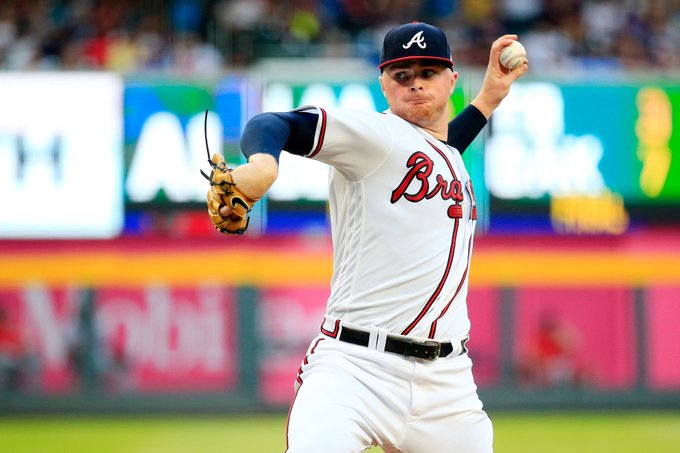 Sean Newcomb has had such a weird career. You remember that he was the centerpiece of the Andrelton Simmons trade, and that wasn't his fault. Simmons was a beloved player who had significant team control. I felt like Andrelton might have made sense in the team's future plans, so I hated the deal at the time. But the deal they got was probably one of the best ones they were going to get, and that was also not Newcomb's fault. But it instantly set some unrealistic expectations on a guy with a big fastball who always struggled with his command throughout the minors. The fact that he kinda-sorta looked like Jon Lester and had a similar build and delivery didn't help the situation one bit.
And as a 25-year old, he had one of the better seasons by a Braves starter in the last several years. His 1.6 bWAR in his one full season as a starter in 2018 would have made him a solid 4th or 5th starter for every Atlanta team in the last few years. Nonetheless, after 4 starts in 2019 that showed that he would probably always have a tenuous relationship with the strike zone, he was demoted to AAA and came back as a reliever. The results were very promising: 3.04 ERA in 51 appearances, though his command would be a concern. As a result, his FIP was a full run higher than his ERA.
In 2020, he was moved back to the rotation, but after 4 putrid starts, the experiment was once again over, and this time probably for good. In the shortened season, he would not return to the major league roster. Atlanta undoubtedly concluded he just simply can't be trusted with a rotation spot.
2021 was another weird season for the man with the weird career. He had lots of highs. He allowed 0 ER in 22 of his 32 outings. Some of those outings were completely dominant: he struck out the side twice, he got at least 5 outs 4 times without allowing a run, and 9 of those outings included at least 2 strike outs per inning. He also had his trademark lows: he allowed at least 2 runs in 4 of those 32 outings. At least 2 walks in 6 of those outings. As a result, the man just can't find himself on the Atlanta roster consistently, and he would once again be shuttled back and forth to AAA in 2021. He was left off Atlanta's postseason roster. Atlanta now undoubtedly concluded he also can't be trusted with a consistent bullpen spot.
What should Atlanta do with him in 2022? He still has plenty of team control, even if his left arm possesses little. He'll make less than a million dollars in 2022. I'd rather have him than not have him, at least. Who knows, maybe he'll figure it out one day. And I think you just have to take him day-by-day, week-by-week as a pitcher. I've always liked Newcomb. I hope he figures it out.