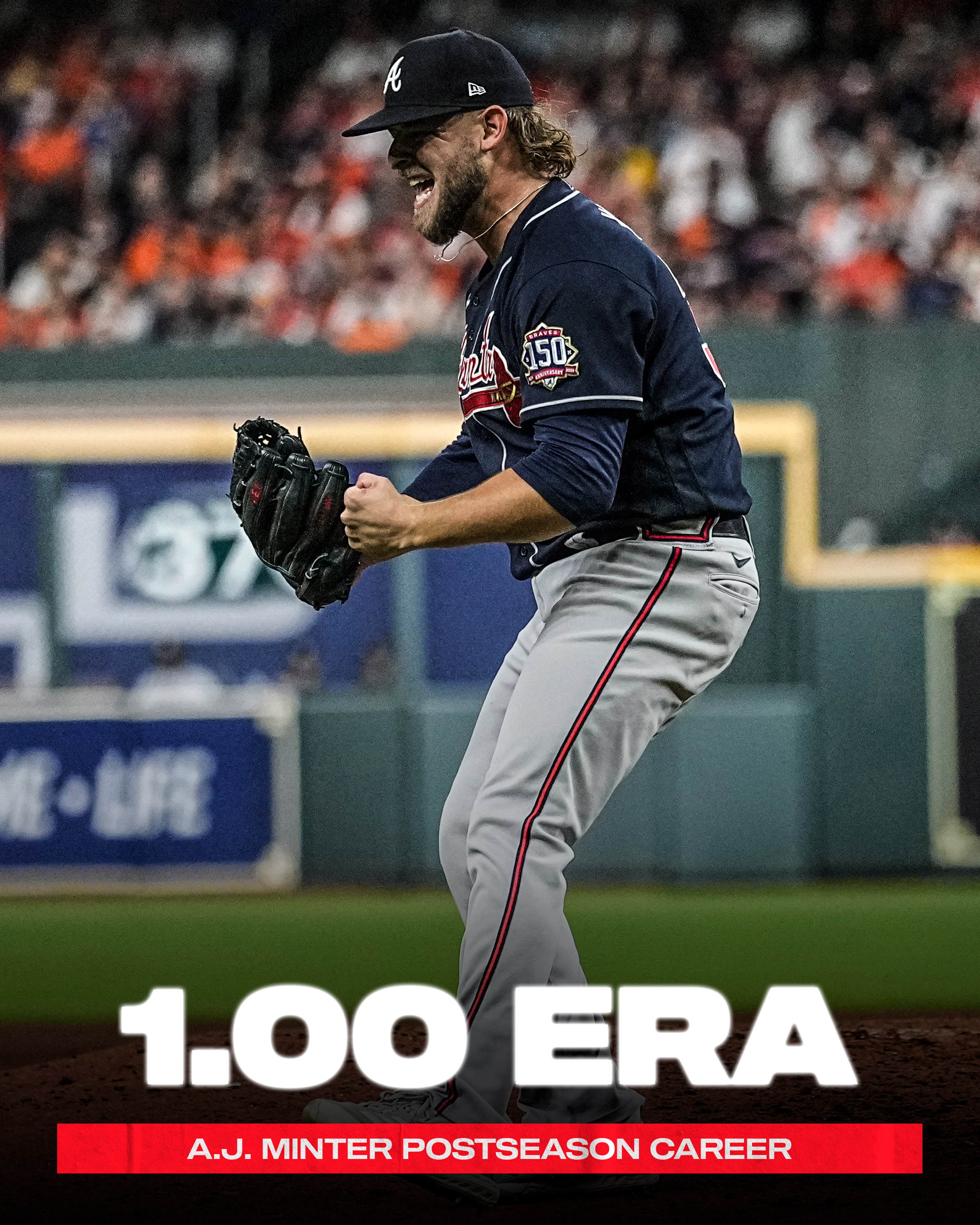 One of the key arms that helped make up a title-winning Braves club in 2021, A.J. Minter may have just completed his best season yet, which is saying something considering the lefty posted an 0.83 ERA during the shortened 2020 campaign and two seasons before that tallied 13 saves as Atlanta's primary closer. Sometimes a season's performance is less about the numbers and more about how they were obtained.
Now in Year 2 of the Will Smith era, Minter began 2021 as the Braves primary set-up guy, spending much of April working the seventh and eighth innings, though struggling at times with his consistency. His 3.97 ERA in the season's first month was as good as it would get for Minter during the first-half, for May and June featured a combined 5.05 ERA and a .272 AVG allowed from opposing batters. In fact, by mid-July, the southpaw had found himself demoted to Triple-A Gwinnett, thanks to roughly a month's worth of poor pitching; from June 10 to July 18 (a stretch of 15 appearances), Minter worked to a 7.45 ERA as he allowed 17 hits over 9.2 innings. The Braves bullpen was struggling, as was the team in general, but it was evident the former second-round pick needed some time to regroup.
And regroup is exactly what the 28-year-old Minter did. During his time with the Stripers, the lefty was perfect, working 7.1 hitless frames. The demotion evidently did him some good, and by the second week of August, Minter was back in Atlanta, where he continued his flawless pitching and provided another 7.2 innings of no-hit ball with the big league team. What could've been the end of his days as a high-leverage reliever for the Braves, wound up actually being a much-needed turning point for Minter. He would never look back from there.
As the team's trade deadline acquisitions flourished and the Braves as a whole began its own turnaround, Minter continued to get stronger. Leaning on that cutter/four-seam combo more than ever before (making up nearly 90% of his total offerings overall in 2021), Minter was a stable arm out of the bullpen down the stretch, posting a 3.18 ERA and allowing just a .175 AVG in his final 12 appearances of the regular season. For a guy that had lost his job for a bit (even if it was for only a short time), the fact that Minter ended 2021 as one of the top-30 relievers in baseball – according to FanGraphs WAR (1.3) – illustrates just how impressive his second-half surge really was. It may not have been his best year numbers-wise, but 2021 will no doubt go down as Minter's most notable performance on the mound, even if a World Series ring overshadows his personal success.
Which brings us to the playoffs, a stretch in which Minter served as more than just a late-innings force. For a guy that spent much of the regular season helping bridge the sixth-thru-eighth-inning gap, in this year's postseason Minter was asked to appear a lot earlier than he was accustomed to. In fact, of his eight games pitched, half of them comprised of him entering in the fifth or earlier, including one in the third (Game 1 of the WS) and one in the fourth (Game 5 of the WS). Those early-innings appearances weren't necessarily his best, but they were absolutely crucial for the Braves bullpen management nonetheless, and it allowed manager Brian Snitker to save his other high-leverage arms. Once again, Minter's selflessness played a huge part. He was willing to go down to the minors to work on his craft during the regular season, as he was willing to alter his role as reliever in the playoffs.
Perhaps this is Minter growing as a big leaguer. The guy was a big time pick in the 2015 MLB Draft, going 75th overall and almost instantly becoming a top-tier prospect in the Braves system, debuting as a 23-year-old just two years later. He knows what it's like to be at the top (like in 2018), and he certainly knows what it feels like to be at the bottom (like in 2019). Hell, there was a time when a lot of us didn't expect him to ever pitch meaningful innings in Atlanta again, though a battle with shoulder inflammation surely didn't help with that. Although, in 2021 — and 2020 for that matter — Minter has appeared 100% healthy and, more importantly, focused.
It's a good thing too that Minter seems to be on the upward trend. Still in his prime, the lefty has three more guaranteed seasons with the Braves as he'll enter his second year of arbitration this offseason, expected to earn roughly $2 million in salary (per Spotrac). Those are critical years for Atlanta as the team hopefully continues to keep its championship core intact, of which Minter will no doubt play an important role. With Smith and Luke Jackson guaranteed at least another season (with a team-option for the 2023 campaign for the former), Tyler Matzek three more and Chris Martin two more, the back-end of the Braves bullpen looks to be in fantastic shape for the foreseeable future. However, as we're all plenty aware, production from a reliever can be quite a volatile thing sometimes. For now, though, Atlanta's relief core appears strong, and a lot of that is because of Minter.