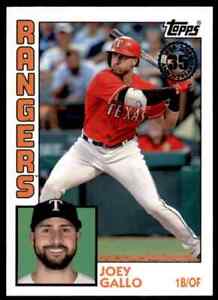 Today's post, "Braves and Rangers Hypothetical Trades", is part 7 in our series focusing on teams that could be sellers and the assets of which the Braves could utilize in a trade. Here are the first 6 pieces:
Before we get started, let me clear the air a bit. These aren't necessarily trades that I'd make personally as an armchair GM. That has never been the point of this exercise. The point was to look at targets the Braves could acquire via trade due to fit and build a package that is fair for each team. Scrutiny is something I've grown accustomed to when writing pieces like this and it comes from both sides who think it's either "not near enough" or "a huge overpay". This scenario actually feels real as when trades go down there are varying opinions on who won/loss the trade. My "job" is not to make myself or anyone happy, but to build a package that, on paper, matches up.
While I've tried to avoid writing about the Rangers, I can no longer deny that they have pieces they might be willing to sell, even going into their first full year, with fans (hopefully) in a new stadium. Lance Lynn has already been dealt and there are a few more that might follow suit.
Joey Gallo is such a rarity in baseball. Not very often does a player carry a K-rate above 30% in the minors and then sees success in MLB, yet Gallo has now spent 6 years in MLB and from 2017-2019, was a real force with the stick. He carries a career 14% walk rate, 37.6% K-rate, and a .499 SLG%. When you hear the term "3 True Outcomes" in baseball, Joey Gallo is the first active player that comes to mind. 2020 was not kind to Gallo and the BABIP gods struck him down to .240. Because of his massive power, his career BABIP (which doesn't factor in HRs) is already low, coming in at .270. However, his bat to ball skills in 2019 improved and he saw a BABIP spike of .368. Needless to say, that isn't sustainable, but I do believe that Gallo is the perfect pupil for the school of Seitzer. His trade value comes in at $26.4MM and he is under team control for 2 years.
Trade Value of Jose LeClerc
I'm going to have to get creative with LeClerc. His value is listed on the trade simulator as 9.6, but I'm not sure it's been updated since his injury. LeClerc was put on the 45-day IL on 7/30/20 and was given a platelet rich-plasma injection for his right shoulder. This is the same treatment Corey Kluber received then tried to come back, and pitched 2 innings and was shut down again. As of now, LeClerc's value, coming in at $9.2MM, is pretty much gone and I'm going to treat it as such.
Fake Trade Number 1
Breakdown: This would've been light for Gallo after 2019, but after 2020, it's fair value. Losing Shewmake would hurt much more than losing Tucker as the Braves have a lot of depth at the pitching position but not for position players. Gallo immediately becomes the everyday LFer.
Fake Trade Number 2
Breakdown: This is risky but the Braves would be taking a gamble on Leclerc's health and essentially grabbing LeClerc for a salary trade while sending 2 former first round picks back to Texas to test out in their rotation. Truthfully, it's what both guys need. Ender would likely start as well and try to recoup some of the value he's lost in the last 2 seasons.
Thanks for reading Braves and Rangers Hypothetical Trades. Thoughts?