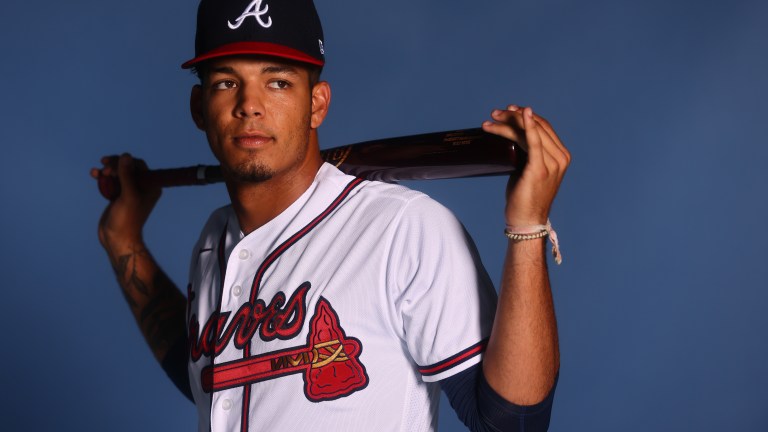 In the early days of Spring Training, not seeing what one would consider to be an offensive regular in action for 3 straight spring training games would be no big deal. Now that the Braves are less than 2 weeks away from real games and Vaughn Grissom is out of the lineup for the 3rd straight game AND is not listed as one of the reserves definitely has me feeling a little uneasy. It makes me feel even more uneasy when Braden Shewmake is once again in the lineup with what looks like the A squad. There are a few things that could be going on:
Vaughn has tweaked something and just needs a few days.
Vaughn is getting extra work in behind the scenes to correct some sort of flaw.
The Braves are considering outside options to start the year at shortstop and could be showcasing Shewmake in a potential trade.
Adding on to the suspense, Peanut drops this nugget:
If Braves feel like Grissom has the higher ceiling, but isn't ready for the everyday job just yet, they could send him to AAA to get some regular play and promote Braden Shewmake. This seems less than ideal, but as I discussed a few days back, Shewmake's MiLB experience has been so abnormal that I'm not sure that even the Braves know what they have in him at the moment. Make no mistake, Grissom most likely has the higher ceiling, but Shewmake has the edge in both the glove and organized ball. With both already on the 40-man, no added moves would have to be made. While this feels like fairy tale wishcasting, it would be a wonderful turn of events if Shewmake could become an average starting shortstop and Grissom could be utilized in a way that would magnify his athleticism by becoming a true super-utility for the team.
There's also a chance that AA is not satisfied at the position and is looking externally to fill the hole. My friend and Braves MILB guru, Andy Harris, has a theory that AA likely has something aligned via trade should Braves need a last minute option at SS. It makes sense to me and Andy has good reads quite often. Whether it's option 1,2, or 3, it's definitely the most intriguing story in camp to keep tabs on.
Starting Pitching Updates: Soroka and Wright
Good news for Michael Soroka and for the Braves. If Soroka can get 1-2 starts in before Spring Training concludes, then he could get some added polish at AAA before making his 2023 MLB debut. Gosh…I hope it happens for him.
Kyle Wright will also be getting a start very soon with hopes of getting back in regular season action by the 2nd series of the year. A sore shoulder that needed a cortisone shot has kept him away for these first few weeks, but it's good to know that he's about to be ready to go.
Some News About Today's Braves Game
Jared Shuster, who has really impressed Brian Snitker, might be in line to start the year as the Braves 5th starter (he'd likely start in the 4th game though as Wright will be pushed back) and Nick Anderson, Jackson Stephens, and Michael Tonkin will get some action following Shuster. While I have Tonkin making the MLB roster out the gate, I'll admit that he hasn't put up great numbers and if he repeats the same pattern today, we might see him DFA'd sooner than later.