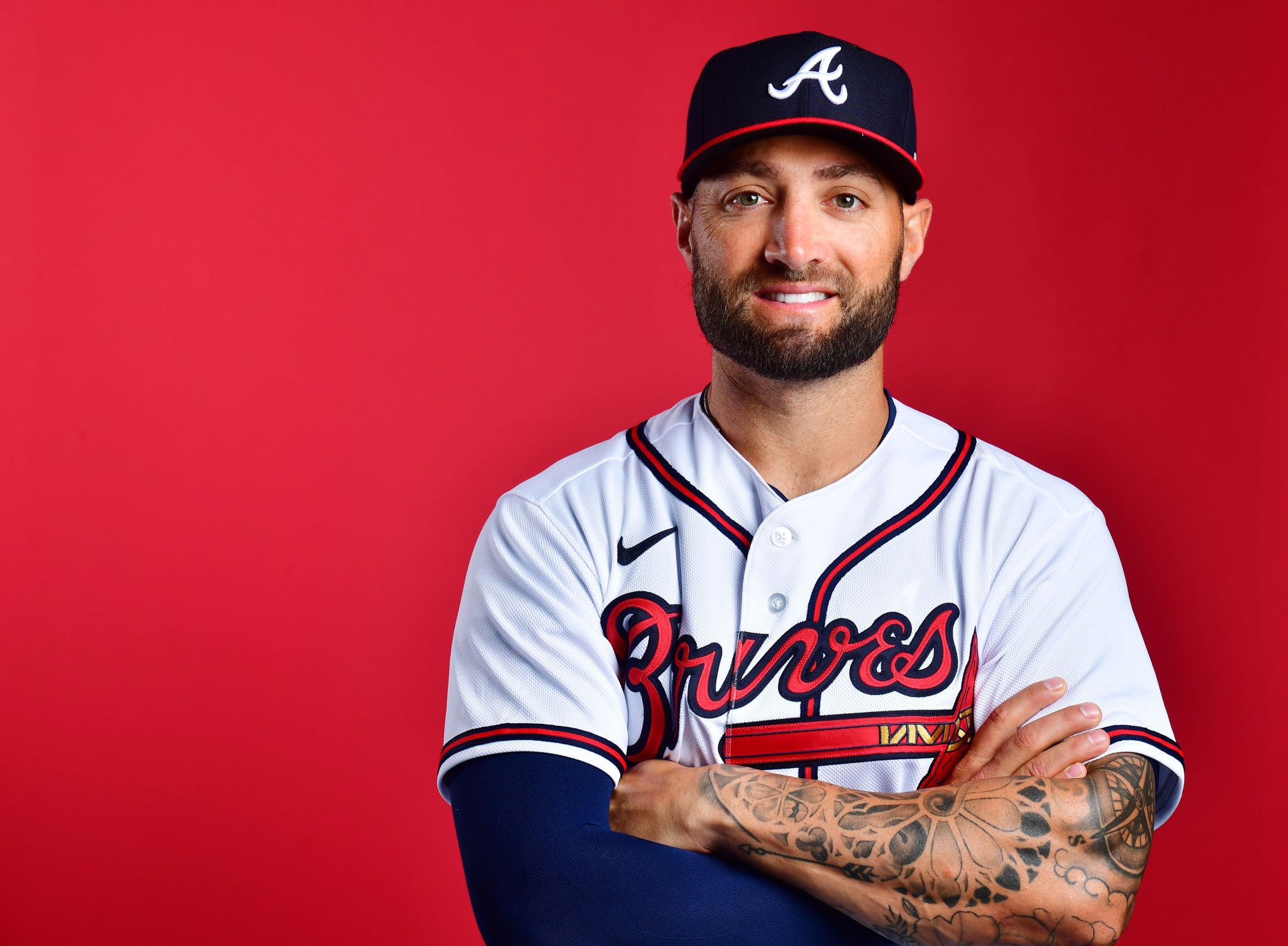 Scene: Anthopoulos sits at the head of a table that seats 12. 11 of his constituents eagerly await the plan to address the nightmare that was the 2022 Braves left field position.
AA: "Alright crew. What happens when you throw velcroed balls at a wall that has also been covered with velcro?"
Advanced Analytics Guy: "That depends on the exit velocity from the thrower's arm".
Non-Analytics Guy: "And it depends on if you applied the male part of the velcro to the ball and the female part of the velcro to the wall, because if you threw it at a wall and both the ball and the wall had been covered with the male…"
Brian Snitker: "Can you both just shut the hell up? You know what he means."
AA: "When you throw a ball that has been covered with the male part of the velcro..Aw never mind. We are going to sign a bunch of players for very little to play left field in spring training in hopes that they stick. We are also going to send Marcell Ozuna on the bus for every road spring training game in hopes that he quits or gets desperate enough to do something stupid again. Thoughts? Never mind. I don't need your thoughts. I'm the GM."
The Battle for Left Field
When Eddie Rosario nearly went blind, Marcell Ozuna did something stupid again, and Adam Duvall got hurt, the Braves traded for Robbie Grossman and tried a soft platoon of Gross Eddie and it went poorly. While Rosario has looked better this spring, his numbers are still not promising and left field for the Braves has been projected to be 1 slot above the bottom. That's the opposite of good. If the team was truly out of "Opening Day" money and did the best they could to give the position a fighting chance, I get it. If not, this is a big risk for a team capable of winning it all.
In today's piece, we will lay out all of the candidates that are fighting for a spot and, like our last piece, will try to determine who has the leg up in the battle. While I'd hoped for an Ozuna trade or DFA, it's yet to happen and both he and Rosario are not in this discussion because Brian Snitker said they'd both be on the roster.
The Outfield Candidates
JOrdan Luplow
Still out with a sore oblique, Luplow will have to get in a game before the end of next week if he's to be considered for the roster. With a MILB option, I think it's more likely that he gets the Adam Duvall of 2019 treatment and hangs out at Gwinnett until something breaks in LF or he breaks through.
Eli white
White is having one heck of a camp thus far, and while he's never been known for his power, he's hit 1 HR and has had a lot of loud contact. With elite speed and defense, he could get some time in the bigs, but 2 MILB options might deter him from getting an OD look. That is…unless he just forces his way on the roster by smashing in spring.
Sam hilliard
Like White, Hilliard has also impressed in spring with loud contact and a .938 OPS in 16 PA. And word on the streets is that Kevin Seitzer has worked with Sam to deter him from wrapping his hands and it's made a difference. Gosh, I hope so. Of the candidates here, he's the one with the most potential. Look for Sam to continue getting regular PAs, because he's shown he deserves them AND because he's completely out of options.
Kevin pillar
It would be of no surprise to anyone that Pillar has the best stats of all the OF candidates, because of course he does. He's a veteran player that was probably well prepared to beat up on young pitchers. In all seriousness, he's looked good and it wouldn't be the worst thing in the world if Pillar's contract was selected.
magneuris sierra
Sierra was supposed to be a DUDE, but somewhere along the way he lost the "e". His one true gift is his legs, but even so, it's never made him an elite base thief or fielder. He is carrying a .749 OPS in spring, but it only comes with 1 XBH of the 2-bagger variety. Of this list, I expect him to be sent to MiLB camp first and likely by the end of next week.
In Where I Make Predictions that I Probably Shouldn't
I think it's possible that the Braves break camp with 2 of the above listed guys in hopes they catch lightning in a bottle with at least 1.
Jordan Luplow: 20%. This next week will be the tell-tale sign, and if Luplow returns soon, hits, and can stay healthy, next week's predictions could look very different.
Eli White: 20%. For now, I choose to believe that Eli, who's never been much of a hitter, has been a case of ST fastball feasting and not a remade career as a slugger.
Sam Hilliard: 80%. Combine the ideas that Hilliard is LH, hitting the ball well, is out of options, and has a history of hard contact, I think he's one of the 2 that breaks camp in the bigs.
Kevin Pillar: 80%. I'm guessing Pillar will be coveted by Snitker as a veteran and clubhouse leader and I cannot blame him. With LF being the dumpster fire that it is, one can squint and see at least average production from a Pillar/Eddie Rosario platoon.
Magneuris Sierra: 0%. Jordan Peele titled a movie "Nope", and while it doesn't star Sierra, it tells the same tale.