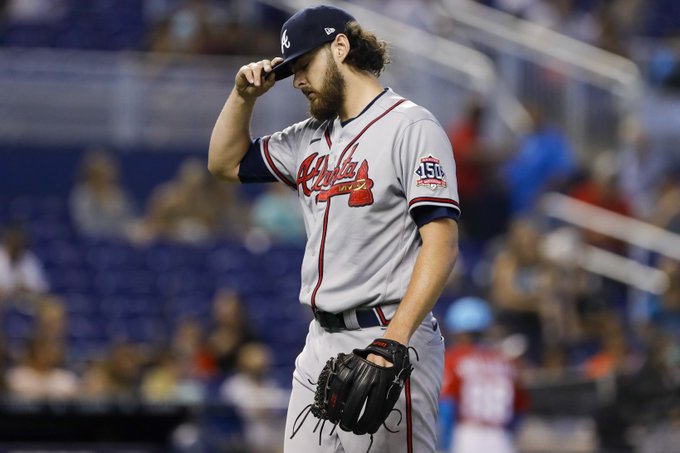 In a move that really caught me by surprise, the Braves sent 2 (of what I assumed to be 2 of the 3 top candidates) Starting Pitching candidates, Bryce Elder and Ian Anderson, back to MiLB camp. The surprise wasn't in the actual move, rather the timing of the move. This type of move is normally reserved for players on MiLB invites, players that are buried on a depth chart, or players that are not on the 40-man roster or do not have MLB experience. If this were a multiple choice test, the test-taker would have had to bubble in "E " for N/A.
There's a possibility that Ian and Elder are just being sent to MiLB camp to work on a few things, but I'm not sure I see it that way. Both Jared Shuster and Dylan Dodd have looked lightyears better in all facets. However, the biggest difference I've noticed is that both Shuster and Dodd's comfortability with the new pitch clock, which isn't actually new to them. While Shuster looks like he just tolerates it, Dodd looks like he's meant to not think and just sling whatever number the catcher throws up. I don't think this aspect of the game has been discussed enough and I think there's real value in having a good pitcher that's already comfortable pitching under the new rules.
Other Braves Reassigned to MiLB Camp
Early yesterday, I mentioned that we'd likely see more moves, and while I did not expect Elder or Anderson, cutting down camp normally happens around the midway point so the players competing for actual roster spots can get more looks. Here's the rest of the list that was sent back to MiLB camp:
Overall, 10 players were reassigned and none are really surprising. The only one worth questioning is Adeiny Hechavarria. Rarely do veterans on MiLB deals with a ST invite get reassigned so quickly, but my guess is that AA is giving Hech an opportunity to get picked up by another team and if he doesn't, he can accept his place at AAA.
Here's the full list of the 42 Players that are left in Braves MLB ST Camp:
*Because Tyler Matzek and Huascar Ynoa have not been put on the 60-Day IL, theh must be considered to be "in camp". At least, that's what I'm going with I've scoured and I'm not sure who I'd be missing.
If there are no injuries on Opening Day, the Braves should have *3 Starting Pitchers, 7 Relief Pitchers, 2 Catchers, 5 Infielders, and 4 Outfielders locked in, which total 21 locked spots.
*At this point in spring, I'm guessing that Kyle Wright will start the year on the IL with hopes of pitching at some point in the 2nd week of the season. It seems very likely that the Braves will need to find 2, not 1, SP to break camp with the team.
The 5 Roster Spot Battles
Outfield and/or Infield Reserve (2): Jordan Luplow, Eli White, Sam Hilliard, Kevin Pillar, Ehire Adrianza, Yolmer Sanchez, and Braden Shewmake.
Starting Pitcher (2): Jared Shuster & Dylan Dodd (Allard & Soroka, both injured).
Relief Pitcher (1): Jesse Chavez, Michael Tonkin, Jackson Stephens
Predicting the Unpredictable:
When camps get near the end, cusp players get released and what was trash for another team might be some serious booty for another. Let it be known that I think an external option, especially at SS, is highly likely. However, if we're just talking internally, my predictions for the roster battles are:
SP: Shuster and Dodd
RP: Michael Tonkin
OF/IF Reserve: Sam Hilliard and Ehire Adrianza
I think AA will start the year playing the option game and neither Sam Hilliard or Michal Tonkin have MiLB options. Ehire Adrianza provides quite a deal of insurance as he can play all over the field, providing some additional flexibility that Orlando Arcia cannot provide.
Adding 2 SPs with 0 MLB experience to the back-end of an Opening Day rotation is a serious risk, but both pitchers have thrown really well and it's such an odd thing to say, but both have more experience with the pitch clock and could provide their cohorts with some much needed adjustment advice.
Baptism By Fire: Braves First 2 Weeks of Real Baseball
The Braves play their first game of the season on March 30th against the Nationals on the road. Like most years, the next day is an off day to act as a safety net for rainouts. From there, it's a brutal stretch of 12 straight games with the first 2 series on the road against the Nationals and the Cardinals, then 2 series at home with the Padres and Reds.
And yes, expect roster manipulation mayhem from Alex Anthopoulos.