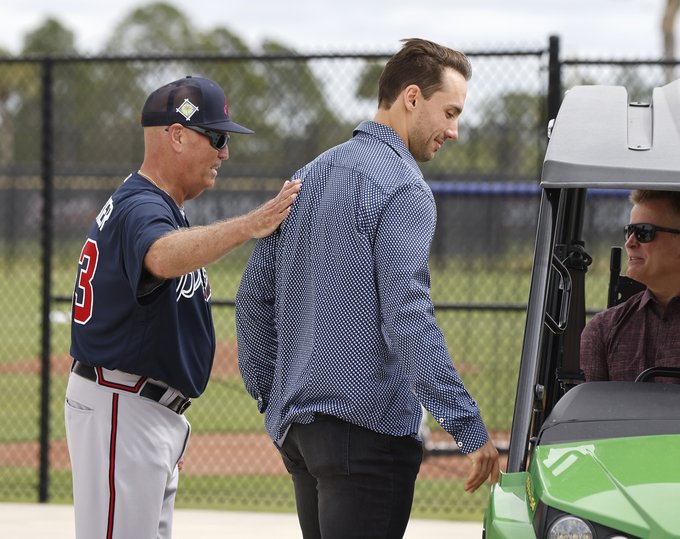 When looking at Brian Snitker and his resume since taking over as the Atlanta Braves manager, you'd be hard-pressed to find anyone that can argue against his success when looking purely at wins and losses.
In 2016, the year the Braves fired Fredi Gonzalez (ya can't spell Fredi without the letters from fired), the team was horrible. However, excuse my grammatical skills, under Fredi, they were horribler. In fact, I can't recall a more horribler Braves team.
9-28. That's really hard to comprehend.
However, when Snitker took over, the team went 59-65 for the rest of the season.
2017 brought much of the same and the team finished 72-90. But 2018…glorious 2018, started the tale we're telling now, as the team finished 90-72, winning the division and have done so every year since. If there's a hill to die on, it ain't the "Snitker should be fired" hill. The players absolutely love him, would run through walls for him (Eric O'Flaherty's exact words) and that is much more important than the occasional in-game blunder.
Snitker has shown the ability to adapt in the past. He was fully against hitting Ronald Acuna Jr. in the leadoff position, but thankfully caved to the analytics. When asked about it in a post-game interview after the move caused an offensive explosion, Snitker called himself a "dumbass". He also allowed Ron Washington to start implementing the shift much more in the latter part of the 2021 season setting off a defensive revolution that would lead the Braves to winning the World Series. For an old school guy, Snitker has trusted the analytics twice and twice it has paid huge dividends.
Third Times a Charm?
The Third Much Needed Adaptation
Dansby Swanson. Matt Olson. That's the end of the list.
In 2022, there were 2 players that played in every single game and both were on the Braves. Also, Austin Riley played in 159, finishing tied for 4th overall in games played. Playing 159, 160, 161, 162…I can still get behind. It's not that big of a deal, especially with the whole league DH. If Snitker can adapt…just a little, to allow regulars to get field rest, my complaint box will be empty.
How to Implement Field Rest and Keep a Regular Lineup
For a rotational DH to work, several players need to be able to play multiple positions on the field. For the most part, the Braves could be a flexible team, but Snitker likes his regulars in regular spots and that could cause a problem. Let's go around the rest of the horn to see who can spot start at a regular position to allow the regular to get field rest.
1st Base
We thought 1st base was easy until we watched Austin Riley try to handle it on one of Matt Olson's off days and boy oh boy did that go poorly. However, now that Sean Murphy is on the team, he can take a snap or 2 to give Olson field rest.
2nd Base
Ozzie Albies will no doubt be the regular 2B and this position is easy to cover as both Orlando Arcia and Ehire Adrianza can handle 1-day duties.
Shortstop
I have a feeling that if the Braves keep with their plan of Vaughn Grissom as their Opening Day SS, he'll already receive plenty of time to rest and rest should not be hard to find as, once again, both Arcia and Adrianza can fill in.
3rd Base
This seems to be the most difficult position to find field rest for as Austin Riley has been the guy and no one else has really received many snaps over at the hot corner. However, once again, I think both Arcia and Adrianza are capable of holding it down over there for 6-7 games in a season.
Left Field
This is a position I don't foresee needing field rest, unless there's another transaction before the offseason is over. Between Eddie Rosario, Jordan Luplow, Sam Hilliard, and *ugh* Marcell Ozuna, there'll be plenty of field rest for all.
Center Field
Michael Harris II owns the spot and rightfully so. However, all of Ronald Acuna Jr., Jordan Luplow, and Sam Hilliard have experience in CF and could handle the duties for a handful of games.
Right Field
Ronald Acuna Jr. will be back in RF for most of the year and that's going to be enough of a treat for us, but giving him field rest will be good for his legs. One could copy/paste any of the OF lists above and it would suffice.
Catcher
At this point, I assume that Snitker is planning on getting D'Arnaud, Murphy, and Ozuna DH at-bats. I'd wager that we won't get a full-on split at catcher and that Murphy catches closer to 100 games while Travis d'Arnaud gets 60. Assuming Snitker wants to keep their bats in as much as possible, both Murphy and D'Arnaud could see 100-ish games at the DH position, leaving 60 to be covered elsewhere. Splitting that between the 7 other positions should be easy.
The Last and Final Note
Marcell Ozuna really botches this whole thing up. If the Ozuna of the last 2 years is the Ozuna that continues to be, I hope he's gone by spring. Removing Ozuna from this team opens up so many possibilities on how players could be utilized to get regular field rest. It's my hope that Snitker sees that and just rests Ozuna infinitely if AA won't pull the trigger and DFA him.