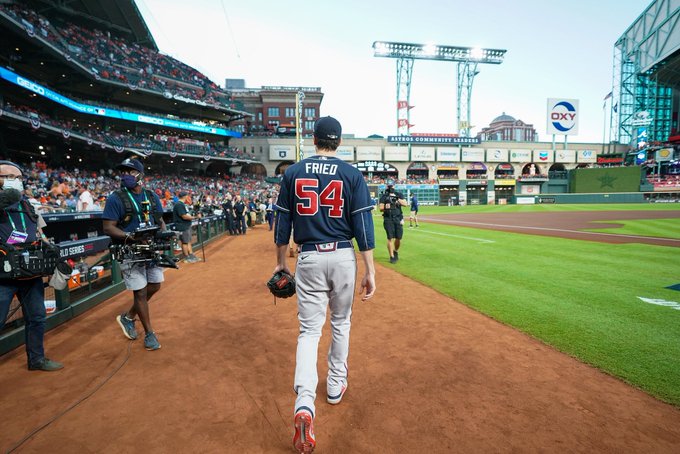 Of course it would've been so much more satisfying to clinch a World Series win at Truist Park on Sunday. Up 3-1 in the series, and sporting a 4-0 advantage against the Astros after the first inning last night, it almost felt as if it was the perfect opportunity for the Braves. But for the second game in row, the team was forced to piece together the first 4-5 innings, and with Tucker Davidson perhaps a bit over his head (and a manager maybe a bit late with the hook), Houston's offense broke out with nine runs from a dozen hits. The pitching by Atlanta has been incredible nearly all postseason. However, forced to operate with an unusual approach in both Game 4 and 5, it was always going to be a tough task.
Fortunately, a traditional starter returns for the Braves as a rested Max Fried will take the mound against the Astros on Tuesday for Game 6 at Minute Maid Park. The over-worked bullpen will be somewhat rested, and hopefully with a little more normalcy from the start, Atlanta can get back to it's seemingly fool-proof plan so far, which is to get 4-5 innings from its starter and then bring out The Night Shift.
If you recall: Fried started that Game 2 contest that was essentially over from the beginning. With five runs surrendered in the first couple of innings, the Braves played from behind the entire time and ended up losing 7-2. Despite allowing a six spot, though, Fried still managed to go fairly deep (at least for the postseason) and last five frames on 86 pitches, thanks to nine-straight outs to finish up his outing. Whether it was a mechanical change or just him simply settling down, it's evident the 27-year-old got stronger as the game progressed. Hopefully that continues in his upcoming start for Tuesday.
For Game 6, Houston will reportedly go with the rookie, Luis Garcia, who's coming off even less rest as he started Game 3 this past Friday. I was able to attend that 2-0 victory in Atlanta, and let me tell you, the 24-year-old was lucky to get out of that outing without further damage. Garcia only allowed a run off three hits, but in his 3.2 innings of work the Braves managed four batted-balls with exit-velos of at least 99 MPH. The kid was generating a good bit of swing and miss (hence the six strikeouts), however, he was pitching on borrowed time during that cold and miserable night.
As unfortunate as it is that the Braves were unable to finish the Astros at home on Sunday, perhaps the most positive aspect of a prolonged series is the simple fact that the team's arms can receive some much-needed rest (even if that obviously applies for both teams). A World Series win was always going to come down to the pitching, and more specifically the relief core; and though the bullpen faltered a bit in last night's loss, it's somewhat understandable given the load it has had to carry over the last several days.
But all of that hopefully changes as the series shifts back to Houston. The task at hand is a simple one: win just one of the next two games. And hopefully, now that the starting rotation has reset, the Braves are in a better position to do just that. With Fried slated to start Game 6, and most likely Ian Anderson if necessary for Game 7… I like their chances.