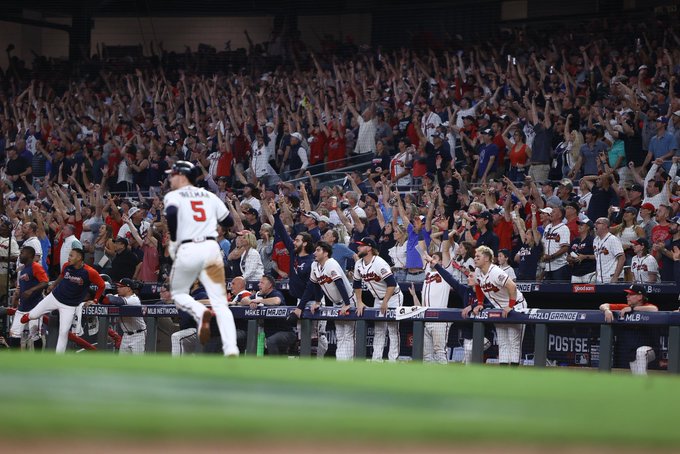 In a tense conclusion to this year's California Bowl, the incumbent World Series champion Dodgers knocked off the division-winning Giants 2-1 in Game 5 to win the privilege of coming to Atlanta for the NLCS. The Braves will be boasting a well-rested pitching staff, while the Dodgers had to spend an extra starter in Game 5 in addition to using Max Scherzer as a closer. The stage is set for the Braves' chance at revenge following last year's brutal 7-game loss to the Dodgers in the same round of the playoffs.
No matter who won last night, we would end up facing a pitching staff that's at least as dominant as that of the Brewers, since the Giants and Dodgers were the only teams with a lower combined ERA throughout the regular season than Milwaukee. And unfortunately, the victor was none other than our friends from Los Angeles, who carried a 2.97 team ERA into the end of the regular season. Facing San Francisco's stellar offense in the NLDS, the Dodgers pitching staff had a WHIP (average walks and hits surrendered per inning pitched) of 0.83, and an opponent batting average (OBA) of .178. You heard that right—Los Angeles' pitching made the entire Giants' team put up a batting average that wouldn't even earn you a bench spot on the Pirates. The Dodgers' have a fearsome rotation consisting of Max Scherzer, Walker Buehler, and Julio Urías. Their relief corps is heavily dependent on Blake Treinen, Joe Kelly, and Brusdar Graterol, whose effortless motion seems to defy physics. Finally, shutdown closer Kenley Jansen boasts a 1.04 season WHIP and 38 saves. Despite making a relief appearance in Game 5, Max Scherzer will likely get the start on Saturday.
With Max Muncy still out with an elbow injury, the Dodgers struggled a bit to get their offense going against the Giants, with both of their losses being shutouts. However, when they did get going, they scored 16 runs in two games. Without Muncy, LA has been platooning the first base position between Matt Beaty, Billy McKinney, and outfielder Cody Bellinger. LA's infield is rounded out with all-too-familiar second baseman Trea Turner, shortstop Corey Seager, and third baseman Justin Turner. Seager and Trea Turner are both batting over .325 this season, including Trea's time with the Nationals. With Mookie Betts in right, Gavin Lux (or Bellinger) in center, and Chris Taylor in left, the Dodgers' outfield is astonishingly talented. This is a team with very few weak spots, and with substantially more talent than the version of the team that took home a World Series trophy last year.
However, that Dodgers' lineup has to face an insanely hot Braves' pitching staff, which was absolutely dominant during the series against Milwaukee, only surrendering six runs in four games. Atlanta used nine different pitchers in that series (Charlie Morton, Max Fried, Ian Anderson, Huascar Ynoa, Jesse Chavez, Luke Jackson, Tyler Matzek, A.J. Minter, and Will Smith), and Morton and Ynoa were the only two who gave up any runs. Regardless of the fact that the Brewers were not an overwhelmingly powerful offensive team, it is still incredibly impressive to allow six runs in four games against any MLB team, especially in the playoffs. Atlanta pitchers finished the Milwaukee series with a combined 0.94 WHIP and an opponent batting average of .192. With Fried and Morton starting the first two games, and with Will Smith continuing to dominate as a closer, our defense will not be an issue this series. In the six-game regular-season series against the Dodgers, Morton and Fried pitched twice each. Fried relinquished a total of 3 earned runs in 12 innings, and Morton did the same in 11 IP. We'll likely get two games from each of them this series, and those four games present a substantial opportunity to get wins against this Dodgers' lineup.
Atlanta wasn't exactly stellar against the Brewers at the plate, but the offense was able to step up to deliver decisive RBIs in key moments. Joc Pederson had two massive pinch-hit home runs, and a critical bases-loaded fielder's choice to bring the Braves within one in Game 4. Earlier in the game, Eddie Rosario's bases-loaded single tied the score at two. And of course, arguably the most clutch hit of them all was Freddie Freeman's game-winning solo home run in the 8th inning of that same game. We got the clutch hits when they were needed, but beating the Dodgers will require putting more runs on the board, and I don't think we can rely on getting any low-scoring shutout victories.
Last series, I suggested that the Braves should take advantage of every opportunity to steal bases and advance in high-leverage scenarios. Apparently Adam Duvall listened a little too well, and got caught in risky baserunning blunders in back-to-back games, so this time I'm advocating for smart aggressive baserunning. Will Smith is a very mediocre defensive catcher, with a pop time and a caught-stealing percentage that are right at the MLB average. Especially against the right-handed Buehler, this creates a good opportunity for some stolen bases and perhaps a bit of redemption on the basepaths for Duvall.
Despite the differential in the two teams' win columns, I think the matchup is a lot more even than most Dodgers' fans would be willing to admit due to the Braves W/L record since the trade deadline. Throughout the six-game regular series between these two teams, there have been no shutouts and all games except one have been save situations. Granted, those six games are a very small sample size, and half of them took place before the Braves rebuilt their outfield and before the Dodgers essentially absorbed the Nationals into their lineup. In the three post-trade-deadline games of that series, the Braves faced Urías, Buehler, and Scherzer, and lost all three games, albeit with very close finishes. If the series goes to seven games, we'll likely face those three pitchers five or six total times, so we have to find a way to beat them in order to have any chance at winning the series. Game 1 is at 8:07 ET on TBS, so I hope y'all are stocking up on caffeine and preparing to completely detach yourselves from any traditional ideas about masculinity as we watch a fella in a pearl necklace absolutely murder baseballs out of Truist Park!