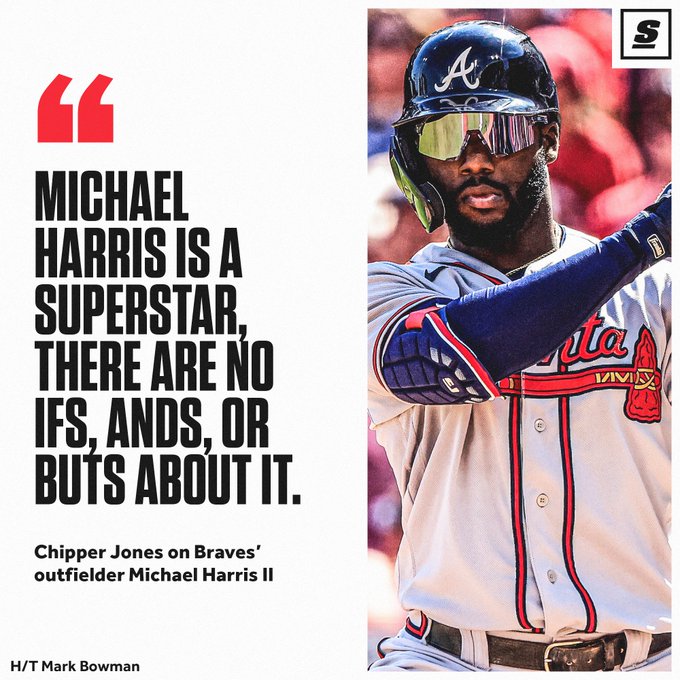 When looking at the Braves 2023 Outfield, you'd be channelling your inner Chief if you were anything but elated with RF and CF. With a fully healthy Ronald Acuna Jr. and last year's ROY Michael Harris II patrolling 2/3 of the OF for years to come, we have a tandem that could go down in Braves history as the one of the best OF duos in Braves history. Then…those same fans turn left and collectively sigh. In today's piece, we will look at the expectations for each outfield position and show where the team ranks compared to the rest of the MLB.
Braves Fangraphs Rankings: Right Field, 4th
If ya can't tell by the rankings, the right field position is stacked with some remarkable players. If Ronald Acuna Jr. hadn't torn his achilles in 2021, I'd wager he'd be 1-2 on this list. But he did and I can't fault Fangraphs for being cautious. However, if RAJ is fully healthy, has all of his speed back, and can find his lift again, he's not only likely to finish in the top 1-2, he'll also be a strong MVP candidate. I'm going full-homer here and predicting Acuna to be in the top-2 at the RF position.
Braves Fangraphs Rankings: Center Field, 5th
From 2016-2019, Ender Inciarte played an exceptional centerfield, collecting 3 gold gloves, and even hit a bit, carrying a .734 OPS in 2186 PAs. Until Michael Harris II made his 2022 debut, the Braves had been playing the shuffle for 2.5 seasons, and whether it was defensively or offensively, nothing was sticking. Now, it looks like the Braves have an elite talent on both sides of the ball for the better part of a decade. Harris and the rest of the CFers that will get starting in 2023, rank 5th among MLB teams in fWAR preseason predictions, and 2nd in the NL only behind Brandon Nimmo (3rd…LOL), which I expect will be wrong. The Angels with Mike Trout were expected to finish 1st, followed by the Mariners with Julio Rodriguez, then Harrison Bader and Aaron Judge coming in 4th. If Harris is healthy, I expect a top-4 finish with potential to be the best in the NL.
Braves Fangraphs Rankings: Left Field, 29th
There's no sugarcoating it… AA is going for quantity in hopes of quality and that is a dangerous game to play. As of now, it's anyone's guess as to who will be patrolling LF. As of now, the Braves LF is projected to be below replacement level with Eddie Rosario, Marcell Ozuna, Sam Hilliard, Kevin Pillar, and Jordan Luplow getting time in and collectively gathering 1.1 fWAR. WOOF. It seems somewhat obvious that the Braves are going to be looking to platoon the position and are utilizing spring to figure out who will be paired with Eddie Rosario. Unless AA can find a rabbit in his hat, Ozuna will be on the roster according to Brian Snitker, and *that might make it difficult to justify carrying 2 more OFers on a 26-man roster. Of the OF candidates, only Jordan Luplow and Eli White have options.
*Offensive roster locks likely include Sean Murphy, Travis d'Arnaud, Matt Olson, Ozzie Albies, Vaughn Grissom, Orlando Arcia, Austin Riley, Ronald Acuna Jr., Michael Harris, Eddie Rosario, Marcell Ozuna.