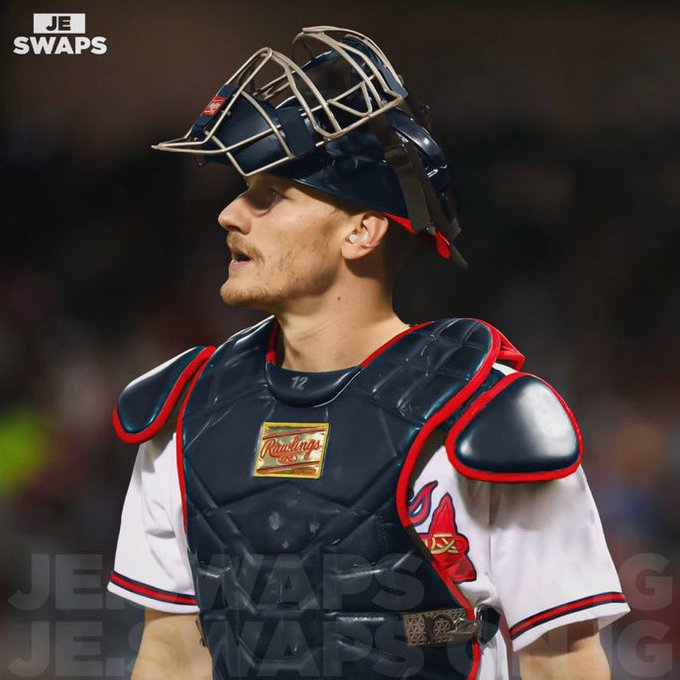 Austin Riley, Dansby Swanson, Michael Harris II, Spencer Strider, Kyle Wright, William Contreras (rip), Vaughn Grissom. The Braves received some expected and very unexpected breakouts in 2022 (27.6 fWAR of breakouts) to catapult them to be the NL East champions for the 5th straight year. Due to all the breakouts from last year, there aren't near as many candidates for the 2023 team, but there's still a few to discuss that could do great things for this team.
How can a dude that tallied a 5.1 fWAR season have a breakout year? Easy. He left Oakland and while other catcher's defensive stats are going to plummet due to the new rules, Murphy's will shoot through the roof. He's the best catcher in the game at controlling baserunners and his power will play in Atlanta much better than it did in Oakland. If I were predicting end of season fWAR totals, I think Sean Murphy would be number 2 on my list.
Breakout Candidate 2: Matt Olson
I'm sure Olson felt the pressure of filling Freddie Freeman's presence in his first year and that might have been part of the reason his numbers were down. However, the biggest reason they were down was due to the shift. Now that infielders have to actually be in the dirt until contact, Olson's gappers are going to find grass, not short fielders.
Ian's season last year was the one I was expecting in 2021. With very little movement and lack of elite velo, the league picked him apart and was able to just sit on the fastball. This offseason, Ian has put a ton of time in to tighten up his game and rumor has it there's a new pitch in development. If Ian can find another plus pitch to go with his changeup, look out.
It seems so odd to go to a Statcast page of a dude with a ton of red in power, speed, range, and arm strength playing in Colorado carrying a .544 OPS, but that has been the story of Sam Hilliard since his rookie season. It sounds like Sam has a swing plane problem, and while Kevin Seitzer hasn't been able to fix everyone (see Marcell Ozuna), I'm really excited to see if Seitzer can work his magic on a player that is too talented to be this bad.
Before he battled injuries, Chris Martin was one of my favorite relievers to watch down the stretch in 2019. A 6'7 dude that carried a 13K/BB ratio? What's not to like. And while the Braves don't have Martin around, they do have what looks to be a Martin clone in Michael Tonkin. Tonkin is 33 so he's no spring chicken, but he's been limiting walks, striking out sides, and is hungry to get his first chance in the bigs since 2017.
Dennis Santana had a 10 game stretch last year where he carried a near 20 ERA. Simply put, he lost the strike zone. Outside of that, he was great and his Statcast page for the year looks promising. His advanced metrics show a lot of promise and I expect to see him start out in innings 5&6 and end in 7 or 8.
Do you have a player you think explodes in 2023 that isn't listed? Let's hear about it in the comments.