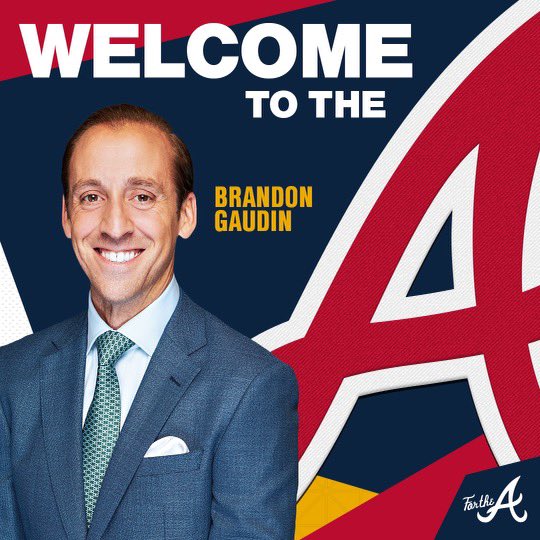 After Chip Caray, who'd been broadcasting for the Braves in some form for 18 years, left to take the TV play-by-play position with the St. Louis Cardinals a few weeks ago, the Braves had a position they had to fill quickly. A fairly brief search ensued, and the main name that kept coming up was that of Tom Hart, former Braves field reporter for then-Fox Sports regional broadcasts and current SEC Network/ESPN announcer. These reports made it seem like he was the odds-on favorite, but the Braves sprung a surprise of sorts last week, naming Brandon Gaudin to the role of the team's TV play-by-play announcer on Bally Sports broadcasts.

Gaudin is a fairly well-known name in the Atlanta sports scene, having served as the radio voice of Georgia Tech athletics for three years from 2013-16. I say only fairly well-known as, despite being actually located in Midtown Atlanta, Georgia Tech takes a serious back seat to the behemoth up the road in Athens when it comes to sports media in this town. That said, Gaudin's predecessors at Georgia Tech, Wes Durham and Al Ciraldo, had much longer stays and built much larger followings in the Atlanta media landscape (the late Ciraldo is particularly beloved), so it's entirely possible his short stay had more to do with any local anonymity he suffers from going in.

After leaving Georgia Tech, Gaudin took a TV job with Fox Sports. There, he's called various MLB, NFL, college football and college basketball games, particularly focusing on Big Ten football and basketball games on the Big Ten Network. He also works on national college football and basketball radio broadcasts on Westwood One, with NCAA Tournament games serving as his most high-profile assignment there.

In probably Gaudin's most well-known role nationally, he's the play-by-play announcer on the Madden NFL video game, a position he's held since 2017. It's a position for which I hope he's well compensated, as sitting in a studio for a week straight reading through the never-ending script of things you might say during a football broadcast has always struck me as being about as much fun as an arduous dental procedure.

Most of his baseball work has come in fairly boring national broadcasts on Fox Sports, so there aren't really a whole lot of worthwhile YouTube highlights there, but I did find a couple of exciting highlights from his college football and basketball calls.

The first is probably his most well-known call from his time at Georgia Tech. Florida State is lining up for a long game-winning field goal to try and beat the Yellow Jackets on the last play of the game and it, um, does not go well for the Seminoles:
The second is from his time as the basketball radio announcer for Butler (I didn't mention that…he was the radio voice of Butler basketball before going to Georgia Tech). This a crazy ending where Gonzaga is inbounding the ball up by one with three seconds left and manages to somehow lose the game to Butler:
I like both of those calls. They both show an appropriate level of excitement and are handled well. Of course, Chip's problem was not handling the huge moments but in the day-to-day humdrum broadcast where he kept spouting the same platitudes over and over and over. On that front, I've never yelled at Brandon Gaudin to shut up the way I have at Chip Caray. However, I'm not a Georgia Tech fan, so I haven't had to listen to him day-in, day-out for an entire season either. I will say I never heard any complaints like that from any Georgia Tech folks that I talk with, and I've always thought of him as a good, if not spectacular, broadcaster who gets the job done. I do, however, look forward to getting to know him day-in and day-out.
Though I tolerated Chip more than many, I don't think there's a whole lot of doubt that he'd started to get a bit stale. This state of affairs was helped for a time by replacing Joe Simpson with Jeff Francoeur, but it didn't totally solve the problem. So this should serve as an interesting change to the broadcasts. How will everyone wind up liking Brandon Gaudin? I don't know. I don't even know how I'll wind up liking him, to be honest. But it's clear from all of his comments since getting the job that he grew up a huge Braves fan. If that shines through, that should give him a fair amount of leeway.