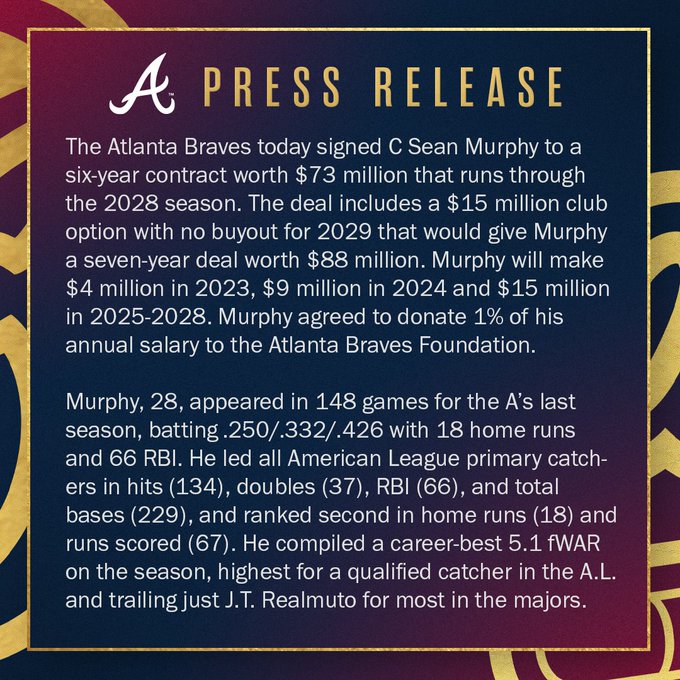 It's the AA way! Sean Murphy became the latest Brave to ink a long-term contract, signing a 6/$73MM extension that includes a club option for $15MM. It's the latest in a long line of extensions given out by Anthopoulos and, get this, every single one has a club option or even 2!
Ozzie Albies, 2026 and 2027 club options for $7MM
Ronald Acuna Jr. 2027 and 2028 club options for $17MM
Matt Olson, 2030 club option for $20MM
Charlie Morton, 2024 club option for $20MM
Spencer Strider, 2029 club option for $22MM
Michael Harris II, 2031 club option for $15MM and 2032 club option for $20MM
Austin Riley, 2033 club option for $20MM
Travis D'Arnaud, 2024 club option for $8MM
Tyler Matzek, 2025 club option for $5.5MM
Orlando Arcia, 2024 club option for $2MM
And the club options aren't for extended players only. There's more:
Either AA is the most extraordinary negotiator in the land, or players just want to play on this team. It's both. Yes, I answered my own question.
Luxury Tax, Tier 1
Kramer: It's a write off for them.
Jerry: How is it a write off?
Kramer: They just write it off.
Jerry: Write it off of what?
Kramer: They just write it off!
Jerry: You don't even know what a write off is, do you?
Kramer: No. Do you?
Jerry: No I don't!!

Seinfeld
When people started talking to me about the luxury tax in baseball, I just nodded and pretended to know what the hell they were talking about. Now, thanks to my friend, who goes by "BOGGY" (Braves Option Guy on Twitter), I actually DO know what I'm talking about.
After factoring in…
Arb-estimates for Max Fried, A.J. Minter, and Joe Jimenez
Money sent to Texas in the Jake Odorizzi deal,
"Player Benefits" (an estimated $16.5 MM each year)
MILB salaries for 40-man players not on MLB squad
Pre-arb player salaries
Bonuses for Exceptional pre-arb players
AAV of each player under a long-term deal
…the Braves have found their way into tier 1 of the luxury tax…barely, and I hate to let you all down, but it's not that scary. Tier 1, which is a 20% tax on the overage, starts when teams exceed the $233MM threshold. As of now, the Braves are at about $236MM, which puts their total tier 1 tax at $600K. And, if you can math properly, the max in tax for tier 1 is $4MM, unless…
For sh*ts and giggles, let's take a look at the Mets. Their payroll is sitting at an astounding $384MM, however, they are a back to back offender and their tax rate for tier 1 is 30%, then 42% for tier 2, then 75% for tier 3, and finally 90% for tier 4, making their total tax overages come to $151MM.
Yes, Cohen invested 1/2 billion into his team, only to finish 2023 looking up. As Guillermo Heredia would say…
NADA HUMBLE. NADA HUMBLE.
BE COCKY. BE COCKY.
ALL THE TIME.
IT'S PLAYOFF.
KEEP GOING. BRAISE.