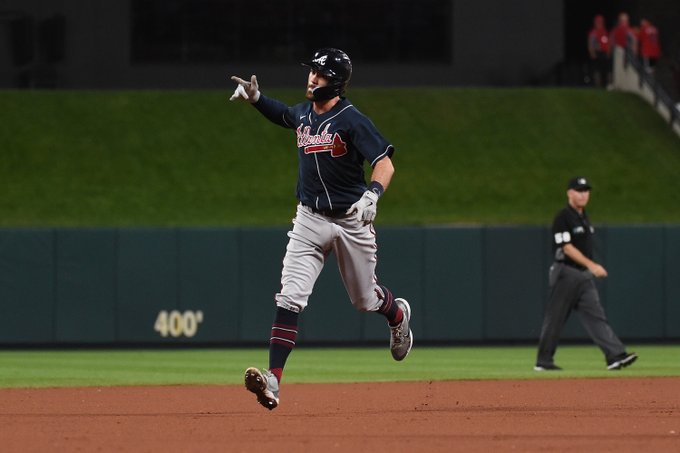 When Alex Anthopoulos allowed Dansby Swanson to walk after allegedly turning down a 6 year/$140MM deal, I wonder if he knew that 2 of the top 4 shortstops on the free agent market would sign for $280MM and $300MM, and Carlos Correa, the 3rd and the youngest, would probably sign for more.
My guess is no, as 6/$140MM now sounds like an absolute bargain.
So, what is the plan for shortstop? That's the question without an answer at the moment and one I'll try my best to bring some clarity. In the piece, I'll look at 4 options:
Staying pat
The trade market
Buying high
Buying low
Let me say this… whatever the Braves decide, they are going to be fine. This team is absolutely stacked, and with a full year of a healthy Ronald Acuña Jr., Ozzie Albies, Michael Harris, and others, this team is going to win a lot and will, once again, compete hard for winning the division.
Now…onward.
What if the Braves Stay Pat at SS?
We've already received word and high praise from the infield wizard himself, Mr. Ron Washington, on the advancement of Vaughn Grissom's defensive skills. Anthopoulos wanted Washington to prepare Grissom for the role of starting shortstop should Braves not sign one for 2023. While I appreciate the confidence of Ron Washington, a month of coaching isn't likely to change Grissom's skillset enough to warrant starting him at shortstop.
I'd give this option about 10%
On other hand, Orlando Arcia, who's shown a revamped swing since being acquired, could handle the job. While he doesn't have the range of Dansby, he has a strong arm, a great quick twitch, and excellent hands that would at least equate to an average fielding shortstop. If the Braves went this route, they'd have to find a utility player for the bench.
I'd give this option about 10%
What if the Braves Traded for a Shortstop?
The Braves farm system is a desert…especially position prospects. If one were to gather a 10 Braves farm gurus and ask each individually who is the Braves best position prospect, you'd likely get 6-7 different answers. That's…not good.
However, the Braves have an absolute stacked 26-man, a stacked 40-man, and can draw from their 40-man to provide a competitive offer for any trade they choose to pursue.
There are candidates that could be had should teams choose to dangle them. It's my opinion that, at the right price, Willy Adames, Nico Hoerner, Kim Ha-Seong, and Amed Rosario are options that could entice AA. Adames is the cream of this crop and the list is intentionally in order of preference. If AA wanted and if Adames was available, he could have him tomorrow, utilizing his own 40-man to meet the ask.
I'd give this option about 30%
What if the Braves Bought HIGH?
By buying high, I mean what if the Braves brought Dansby Swanson back to Atlanta? After seeing what Xander Boegarts and Trea Turner went for, I'm sure Dansby's camp has raised the price from the in-season 6/$140MM ask. Outside of Carlos Correa, which is not something I could see AA pursuing, there's not another high end SS, so if this is the option, it'll be the hometown hero.
I'd give this option about 20%
What if the Braves Bought Low?
The shortstop free agent market this season is an all-timer with 4 of the game's top SS available. From there, the market drops quick and there's only 1 name left that justifies a starting gig and that is a former Braves farmhand, Elvis Andrus. Many are unaware, but Andrus had a career resurgence in 2022 with the A's, collecting 3.5 fWAR while playing exceptional defense and hitting 17 HRs. The previous 4 years were not kind to Andrus and it's definitely a risk to believe that 2022's production is what he's capable of in 2023.
I'd give this option about 30%
Thoughts? What do you want? What do you expect? Let's hear it!