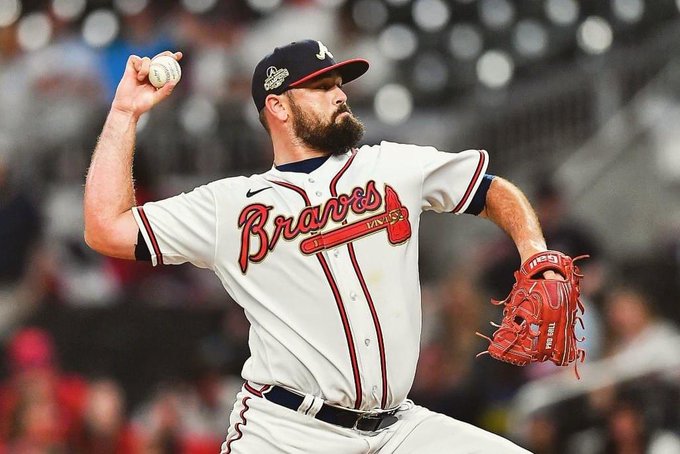 If one were to look at Jackson Stephens and his full body of work through the eyes of K per 9 (7.9 per 9)and walks per 9 (3.9 per 9), one would come to a conclusion that the Braves made the right decision in letting him walk after 2022.
What the simple metrics of Ks per 9 and BBs per 9 cannot show us is what happens to a ball that is put in play when Jackson Stephens throws said ball. Luckily, thanks to Statcast, we have that data readily available.
As a mop-up man, Jackson Stephens' job is to keep the game close. For the most part, Stephens did that well and the secret to his success is quite simple: He keeps the ball in the park. In a period of baseball when all or nothing swings is the dominant approach, Stephens only allowed 3 home runs in 53.2 innings. Of pitchers that threw 50 innings or more, only Spencer Strider matched his 0.5 HR/9.
How did he do it? Looking above, it's pretty easy to dissect: Nothing was straight. With 5 pitches ranging from a mid-70s changeup to a fastball that hits 94, every pitch has serious movement. Combining that 20 MPH difference in his fastest and slowest pitches with massive break on pitches, barreling anything thrown by Stephens was a difficult task.
Stephens, the Person
When Stephens went to the IL at the end of August, we got the privilege of seeing him in a more relaxed setting when he made a cameo on the Braves broadcast outside the Chophouse, and what a treat he was during that segment. Both Jeff Francoeur and Brian McCann seemed to really enjoy his energy and enthusiasm for the game. I did too. Of all the games I watched in 2022, it was this broadcast that stuck out to me.
Hopefully Stephens returns to the Braves on a MILB deal and becomes the team's mop-up man in 2023. However, if he never pitches again with the team, can we at least have him in the booth after retirement? Here's my favorite quote from Jackson during the segment when asked about pitching teammate Spencer Strider:
"He throws absolute hush puppies up there".

Jackson Stephens
And I LOVE this video! What's more to love than a jolly, fat man with a beard receiving player of the game?