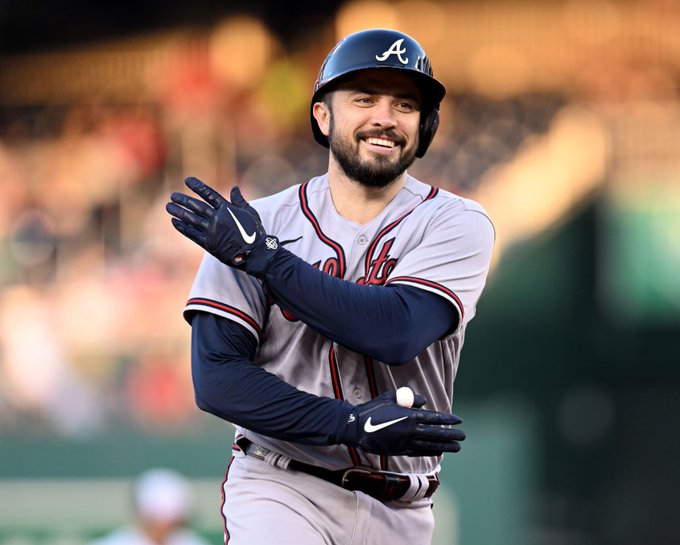 Since Alex Anthopoulos stepped in as GM back in November of 2017, it's been apparent that he has a "type" he looks for in the offseason when it comes to the catching position:
It's pretty cut and dry…Anthopoulos wants successful veterans behind the plate. Unfortunately for him, but fortunate for a rookie that deserved a chance, Manny Piña wasn't able to become of the backup for D'Arnaud and William Contreras was able to enter the chat.
Still, when looking at the past 3 years, it's easy to see that Anthopoulous thinks D'Arnaud is D'man as he's entrusted his pitchers to throw 1642.1 innings to him over the course of 3 years (and would've been much more if it weren't for a 2021 injury).
A Retroactive Look Back at D'Arnaud's Signing
In November of 2019, the Braves inked D'Arnaud to a 2/$16MM (reminder that 2020 was prorated to 60 games). At the time, it seemed like an overpay. Travis had only been worth 1.4 fWAR in 2018 and was out nearly all of 2019 with an injury. Paying a soon to be 31 year old $8MM/year for 2 years seemed like living in the land of bad ideas.
D'Arnaud immediately shoved a bar of soap in my mouth and absolutely ripped the cover off during Covid-Ball, carrying a .919 OPS and leading the team back to the playoffs for a 3rd straight year. 2021 was not as strong and injury kept him out for months as his bat slumped hard. That didn't stop Anthopoulos from inking D'Arnaud to a new deal in August of 2021, the same deal he'd previously signed but with an added club option, and something that Anthopoulos has become known for since becoming the Braves GM. All eyes were on D'Arnaud in 2022 and he seemed perfectly fine with that.
Travis D'Arnaud, 2022
Offensively, D'Arnaud will never top his 60-game tear back in 2022, but he was a steady presence in the lineup with a .791 OPS and 18 HRs in 396 ABs, good for a 119+ OPS, good enough for 6th in MLB.
Defensively, D'Arnaud had a banner year leading NL catchers in framing runs at 8.9. Also, after seriously struggling in the caught stealing department in his first 2 years with the Braves (throwing out 8 thieves in 58 chances), 2022 saw huge improvements, as he caught 15 of 59. It's a far cry from great, but it's in the vicinity of good and that will do.
2023 and Beyond
It's just a guess, an educated one, but there's a lot of similarities between D'Arnaud and Tyler Flowers. The Braves brought Flowers back in 2016 and kept him around through 2020. Flowers seemingly had a lot of the intangibles that D'Arnaud possesses, but more or less, was there to do his job and communicate effectively with the pitchers. It's my opinion that D'Arnaud provides more to the clubhouse than Flowers and if I were to pick a clubhouse leader, even during Freddie Freeman's tenure, D'Arnaud seems loose and universally liked, and my eyes tell me he's the person that people go to when they need some advice.