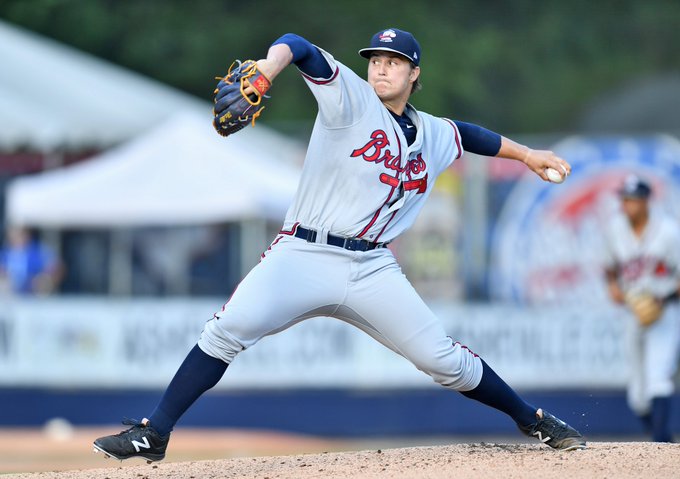 Tucker Davidson wowed his way across the internet when a near-nude video, attached to electrodes, caught him hitting 100MPH while training at Driveline. When that video surfaced, Tucker essentially became a prospect overnight. It's understandable. To that point, Tucker had shown a low-90s fastball but had the ability to throw 4 average to slightly plus pitches and that depth at least kept him in the prospect discussion. With the new fastball in tow, it was only a matter of time when he'd get his chance in the bigs. His first chance came in 2020 and it was a disaster, throwing 1.2 innings of 7 run baseball (many were of the unearned variety). Like Tucker always does in the offseason, he went back to Driveline, this time, to work specifically on pitch depth and it definitely seemed to work.
In 2021, Tucker was brilliant at Gwinnett, grabbing 4 starts, throwing 23 innings of 1.17 ERA baseball that also boasted a 5.6 K/BB ratio. On May 18th, he got his call back up to the bigs and performed admirably, pitching 6 innings and giving up 3 runs. He then hitched a ride on the Gwinnett shuffle shuttle and took his next start at AAA, tore it up, then got the call again on June 3rd.
He took 3 rotations and looked to be solidifying himself in the rotation. In 2 starts since being recalled, he was brilliant, pitching a total of 11.2 innings without giving up a run. Unfortunately, start 3 was not good…in a lot of ways.
Right away, the velocity was down. The grimace was there. And, unfortunately, it just so happened that it was right after the sticky ban. 2.1 innings into the affair and the TV caught Tucker pointing at his forearm. Knowing Tucker utilized some sort of sticky substance, I feared the worst.
Tucker didn't pitch another MLB or MILB game again until October 3rd. The Jumbo Shrimp was the main course and he definitely kept them sitting in their seats with a tasty combination of pitches. In 3 innings, 0 walks, 5 Ks. Delish. Tucker replaced Charlie Morton on the World Series roster, pitched 2 innings, and was not great. Honestly, I didn't expect him to be. The question remains for Tucker, like many pitchers, is can he still be effective without sticky substances? I think so. He has come so far with hard work and determination, forcing the hand of the Braves front office, yelling from the top of his lungs, "PAY ATTENTION TO ME!!" I can't imagine someone so determined will give up that easily. I'm excited for his 2022.