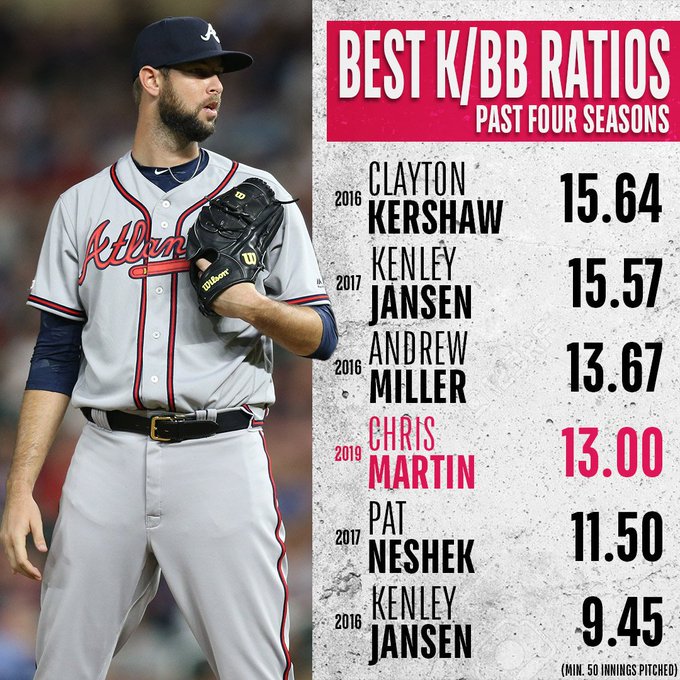 When acquired back in 2019, Chris Martin was my favorite pitcher to watch. While his ERA was a not-so-great 4.05, his K/BB rate was an incredible 22/1 ratio. Yes, for every walk he induced, he struck out 22 batters. More than just the ability to get outs without ever allowing walks, Martin, standing at 6'8 was less force, more finesse, and I just thought the whole package was glorious to watch.
It was in this faith that the Braves decided to re-up Martin on a 2 year $14MM deal for 2020 and 2021. There was definitely more to his 2019 than his ERA and 2020 proved it as he carried a 1.00 ERA in 18 innings while only allowing 1.5 BB/9 and striking out 10 per 9. His WHIP? 0.61.
When 2021 rolled around, we fans expected more of the same. After returning from shoulder inflammation that left him sidelined for almost all of April and the first 1/3 of May, we got it…kind of. He was getting people out and wasn't walking people, but the strikeout stuff just wasn't there. Both the slider and the splitter suffered, greatly reducing his deception. Unfortunately, the end of June brought big changes for Martin…no more sticky. His spin rate took one of the biggest hits on the team, but Martin still managed to get people out, but the big K numbers were gone.
Snitker seemingly saw the writing on the wall and left Martin off of the NLDS Roster. He was included on both the NLDS and World Series roster where he pitched a total of 4.1 innings with a 2.08 ERA.
Remove the name, and make Chris Martin a minor leaguer making a 2021 debut, and as a fan, you'd take a 3.95 ERA in 43.1 innings. However, after the season he had in 2020 and the ridiculous K/BB rate in 2019, one can't help but think 2021 was a disappointment.
I think the Braves probably let Martin walk, but it wouldn't surprise me if he sticks on the free agent market long enough to where he'll take a low ball offer to come back to familiarity, similar to Shane Greene.