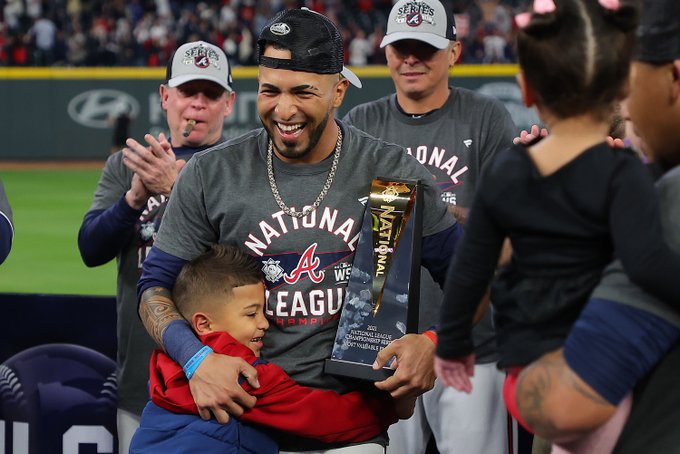 Eddie Rosario was one of the Braves best trade acquisitions in recent memory. On July 30th, Eddie Rosario was acquired from Cleveland along with cash considerations for Pablo Sandoval. Yes, the Braves did trade essentially a clubhouse mascot for the eventual NLCS MVP. At the time of the trade, he was still on the IL but would debut August 28th. The rest is history.
Eddie was the boost the offense needed at the time when he debuted. Joc Pederson had begun to struggle a little and Rosario seemed to give Atlanta an extra boost in a revamped outfield. In 33 games, Eddie produced at an elite rate. He hit 7 home runs, 16 RBI's and posted a 131 OPS+ post trade to Atlanta.
This is only the beginning of the Eddie Rosario experience. Of course, Eddie would have an incredible 2nd half for the Braves. He even hit for a cycle in San Francisco miraculously on only 5 pitches. Rosario along with Joc, Jorge Soler, and Adam Duvall would make the offense the threat we had been accustomed to seeing the year prior.
As we all know, Eddie Rosario made his biggest impact when postseason baseball began. He hit over .300 with 4 hits in 4 games in the NLDS. However, in the NLCS we witnessed what teammates would deem as Super Rosario. Eddie was up every time the Braves needed a clutch hit and he would come through what seemed like every single time.
This is one of the best postseason series I can remember a player having. Eddie Rosario batted over .500 and posted an insane 1.647 OPS against the Dodgers. Rosario had 4 hits including a walk off single in game 2 becoming the first player to do so since David Ortiz in 2004. He collected 26 total bases in the 6 games including 3 homers. One of those home runs was in a pivotal game 6 that ultimately would send the Braves to the World Series.
This has to be one of the greatest trade deadlines in the history of baseball. Players seemed to thrive in Atlanta and create the perfect recipe for success at the most perfect time of a long season. I don't think the Braves win the World Series without Eddie Rosario. The NLCS MVP may have a very short lived tenure with the Braves. However, it is one nobody in Atlanta will ever forget, that is for certain.