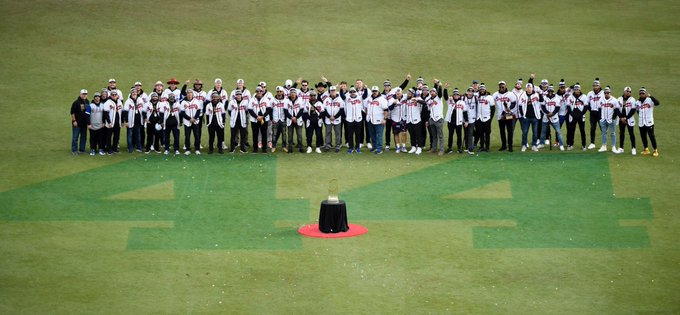 Well…I think the answer to the above question is that the Braves have no choice but to repeat 2021 and win the dadgum dance one more time! There's a huge part of the core that is returning, there's an elephant in the room, and there's also a large chunk of prospects that need to show they're ready for the show before showing up to the show. In today's piece, we'll look at who should be returning, holes to fill, and address that elephant very quickly.
Players Under Contract for 2022
Breakdown: There's $77 million committed to 6 players, but that sum could very well turn into $61MM should MLB follow the trend of suspending players guilty of Domestic Violence for a full year without pay. The baseline for this argument is Sam Dyson's suspension. Below is an excerpt from USA Today's article on Dyson:
In an October 2020 report, The Athletic reviewed text messages, photos, medical and public documents provided by Blackburn, which painted a pattern of verbal and emotional abuse, along with photos of Blackburn's bruised arms, which were provided to Jupiter police. Dyson did not face charges in Jupiter, with Blackburn saying the police believed they could not provide probable cause.
Braves Arb-Eligible Players
Breakdown: As you can see, there's a whole lot of bottlenecking going on here with many players becoming arb-eligible all at once. This pattern will continue for the foreseeable future as it's just the nature of a rebuild. Let's make some predictions on who will stay and who will go, shall we?
Arb-Estimates for Players Likely to Return
Breakdown: $41.95MM to 9 arb-elgible players. 7 of these guys are almost 100% guaranteed to be here in 2022. One question mark is Rich-Rod, but I expect for the Braves to offer him arbitration, then go to spring training to see if he's worked out how to perform without sticky aids. Another is Adam Duvall, but I'd be willing to bet good $ they don't let him walk a 2nd time, especially for a 1 year deal via arbitration.
Pre-Arb Players Likely to Return
Breakdown: "Likely to return" implies that the Braves do not trade any of the above players, but I'm guessing some of these guys might not be wearing a Braves uniform come 2022. Like many guys that are pre-arb, the Braves will continue the Gwinnett/ATL shuttle as long as the above players have options. There are exceptions, here, namely Ian Anderson. However, make no mistake that when one proves worthy of a regular spot, that shuttle stops.
Players In Need of Being Added to the 40-Man Roster
A few days back, both Travis Demeritte and Alan Rangel were added to the 40-man roster as they would've been MiLB free agents should the Braves had not made this procedural move. Demeritte had a great year at AAA and still holds value as a fringe Major Leaguer with some breakout potential.
Alan Rangel was a surprise for me, but he could be one to keep an eye on after looking closer. In 2021, he struck out 11.7/9 while only walking 2.2/9 while adding 4 MPH to his fastball. Both could very well get removed at some point in time this offseason, but it's a testament to the two players that Anthopoulos valued them enough not to risk losing them.
Here's the rest of the list:
Breakdown: This is a really hard list. On one hand, you've got no-doubt additions like Drew Waters and Freddy Tarnok. Then, after that, there are a TON of cusp guys like Wilson, Woods, White, Lugbauer, Harris, Dean, Higginbotham, Burrows, and Hernandez. This will be fascinating to watch play out. My guess is Waters, Tarnok, Woods, and Wilson will be added.
Holes to Fill
Gulp…First base. I'm sure the Braves work out a deal with Freddie Freeman. That's all I'm saying about that.
Starting Pitcher. With Fried, Morton, and Anderson as the for sure 3, the Braves will likely try to sign a rebounding veteran in hopes of eating some innings, or finally go for that big trade to grab another front-line starter. I'll continue to assume that our number 5 starter will be a revolving door of Kyle Wright, Kyle Muller, Tucker Davidson, and Huascar Ynoa until someone demands their attention via 4-5 straight great performances.
RH Relief Pitcher: I think the Braves will definitely be in the market for a lockdown RH relief arm.
Outfield/DH. I'm just going to continue to assume that Ozuna is out, the Braves aren't ready for Cristian Pache to be the everyday CFer, and there'll be at least 1 opening in the OF. If I were Anthopoulos, I'd talk with both Eddie Rosario and Jorge Soler before they leave town and get offers from other orgs.
Bench. I really liked Ehire Adrianza last year and his versatility. Having one guy like him is a must and I'm guessing there's mutual interest. Regardless if it's Ehire or not, the Braves will be in the market for a few bench spots.
Food for Thought
The Braves went hard after Bryan Reynolds at the trade deadline and it was confirmed from an inside source of mine, but in the end, the Pirates did not want to sell him. Since neither Cristian Pache or Drew Waters emerged as starting CF candidates this year, I fully expect the Braves to not shy away from including either in a trade and going hard after a controllable CFer that could provide immediate production. When you're staring another World Series berth in the face, it's not the time to play guessing games. Go with the production.