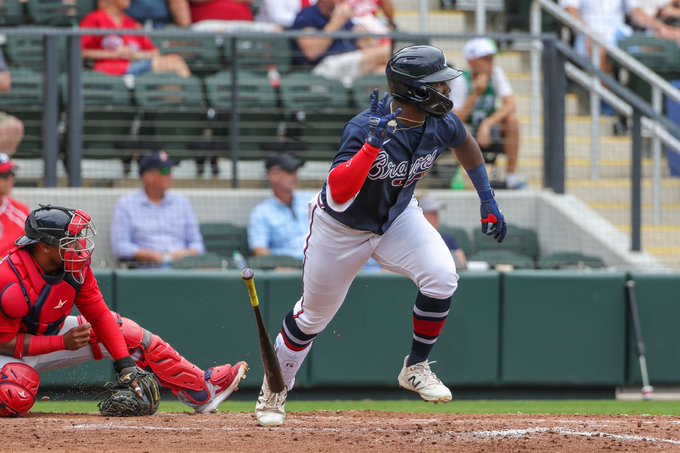 Sunday wrapped up Week 5 of the 2022 minor league season, as the Triple-A level has now completed 30 games of its regular season schedule. Overall it was a rather exciting week on the Braves farm, featuring walk-off hits, impressive pitching performances and even some remarkable individual play by the system's talented minor leaguers. Here's a look at the top performers from the previous week.
AAA – Gwinnett (15-15)
Drew Waters – 7 for 13 (.538 AVG), HR, 3 RBI
Preston Tucker – 7 for 17 (.411 AVG), HR, 2B, 3 RBI
Chadwick Tromp – 8 for 17 (.470 AVG), 4 HR, 3 2B, 12 RBI
Pat Valaika – 5 for 22 (.227 AVG), 2 HR, 2 2B, 5 RBI
Bryce Elder – 7 IP, 3 H, 2 ER, BB, 7 K, HR
Kyle Muller – 1-0, 6 IP, 7 H, ER, 2 BB, 4 K
Seth Elledge – 3 IP, BB, 4 K
Dylan Lee – 1-0, 3 IP, H, 6 K
Even though the scorching-hot bat of Travis Demeritte no longer exists in the lineup, Gwinnett has become more fun to watch lately – perhaps it's because the team has won four of its last six… who knows. But regardless, getting Drew Waters back in the mix was huge, even if I think there's still some soreness in that hamstring (he only played in three games this past week). Maybe the org is simply being careful with one of its top prospects; I hope that's the case. But either way, I'm ready to see him start racking up the ABs, because when he has played this season he's been great.
Speaking of great, where the hell did Chadwick Tromp come from? No, that stat line up there is not a typo – the dude was that good in the Charlotte series, hitting nearly .500 for the week. I know Demeritte's ascendance to the majors is one of those one-in-a-million-type deals that don't usually happen, but Tromp could be our next great story if he gets an opportunity in Atlanta. The 27-year-old catcher has recorded a hit in all but one of his 15 games with the Stripers in 2022.
On the mound, Gwinnett got back one of its ace pitchers in prospect Bryce Elder, and with both Kyle Muller and Tucker Davidson pretty much mainstays in the Triple-A starting rotation, you'd think this staff would be one of the best in all of minor league baseball. The problem is, none of these talented prospect pitchers have seemed to get into form yet, with Elder mostly struggling at the big league level in April, while Muller and Davidson have sort of been hit or miss. I didn't list his line from last Wednesday, but Davidson once again struggled with run prevention this past week, allowing four runs in his start versus the Knights, although he did tie a season-high with nine strikeouts. Hopefully these Gwinnett arms start producing like we know they each are capable of.
AA – Mississippi (11-16)
Michael Harris II – 11 for 26 (.423 AVG), 4 2B, RBI
Luke Waddell – 5 for 15 (.333 AVG), HR, 3 2B, 4 RBI
Darius Vines – 1-0, 11 1/3 IP, 7 H, 4 ER, 4 BB, 15 K, 2 HR
Alan Rangel – 4 IP, 3 H, ER, BB, 11 K
Jared Shuster – 5 1/3 IP, 3 H, ER, 6 K
Freddy Tarnok – 4 2/3 IP, 2 H, ER, BB, 6 K
Justin Maese – SV, 3 2/3 IP, 2 H, 4 K
Tyler Ferguson – 3 IP, H, 5 K
Indigo Diaz – SV, 3 IP, BB, 5 K
It was essentially a two-man wrecking crew on offense for the M-Braves last week, as Michael Harris II and Luke Waddell are both off to hot starts this season. Harris, of course, is getting all kinds of attention for his impressive streaks, though it's funny because Week 5 was probably his worst performance of 2022 so far. Yeah… he's been that great. Waddell is interesting. I always looked at him as maybe a guy with a ceiling of a utility infielder, but with this power display he's putting on, already with nine XBH (7 doubles), there may be more to the Braves former fifth-round pick. Other notables: Drew Lugbauer cooled quite a bit in this most recent series, while former prospect CJ Alexander seems to be heating up.
This will go down as the best week of pitching for Mississippi, as the staff posted two 11-strikeout performances: one from Alan Rangel earlier in the week… and one from Darius Vines in the series finale on Sunday.
Plus, Jared Shuster and Freddy Tarnok both pitched well, giving the M-Braves four strong outings by its starters. You can't ask for much more than that in a minor league rotation. And as icing on the cake, as you can see, several of the team's top bullpen arms turned in successful weeks, with Indigo Diaz appearing closer to a return to his dominant 2021 form. This is a fun Mississippi team right now, which is saying something considering how awesome this club was last year.
A+ – Rome (14-13)
Justyn-Henry Malloy – 7 for 23 (.304 AVG), 2 HR, 2B, 5 RBI
Cody Milligan – 7 for 22 (.318 AVG), 2 2B, 3 RBI, 2 SB
Cade Bunnell – 6 for 17 (.352 AVG), HR, 2B, 6 RBI
Drew Campbell – 6 for 22 (.272 AVG), 2B, RBI, 2 SB
Christian Robinson – 4 for 17 (.235 AVG), HR, 2B, 3 RBI, SB
Justin Yeager – 2 2/3 IP, H, ER, 2 BB, 5 K, HR
Davis Schwab – 2 IP, 2 H, ER, BB, 5 K, HR
Lisandro Santos – 3 IP, 3 H, 7 K
R.J. Freure – 5 IP, 2 H, 2 ER, 3 BB, 9 K
Rome suffered its first series defeat in Week 5, losing five of six to Greenville. We knew those R-Braves bats couldn't stay that hot forever, and last week the offense came to a halt, with even Landon Stephens cooling quite a bit, to the tune of a 2 for 19 (.105 AVG) performance. Although, guys like Justyn-Henry Malloy kept the momentum going, as he's still hitting .282 for the season. His pair of homers in the Greenville series has him up to three long balls for 2021, and that power compliments his above-average glove nicely. I mean, just look at this play from Week 4…
At the plate this past week, Malloy recorded a hit in every game as he's hit safely in eight of his last nine games, allowing him to post a solid .324 AVG in his last 10 contests. Fellow infielder Cody Milligan also continues to make a lot of contact, as he put together three multi-hit performances last week. Milligan – a former ninth-round pick – has been a fringy prospect ever since his pro debut in 2019, and now with over 100 games at the High-A level under his belt, I think it's time to see what the 23-year-old can do in Double-A. The Denver native is hitting .307 with seven doubles so far this season. Cade Bunnell came out of nowhere last week and led Rome in AVG. The former 40th-round pick sort of had a break-out campaign last year when he slugged 17 home runs in Single-A. He strikes out too much and is a career .203 hitter in the minors, but he obviously has some power, so he'll enjoy the recent surge in contact.
Unfortunately, it wasn't just the offense that was lacking for Rome this past week – the starting pitching was also pretty dreadful. Not a single R-Braves starter put together a solid outing in the Greenville series, as staff aces Andrew Hoffmann and Luis De Avila struggled. In fact, the former only lasted two innings in his series-opener last Tuesday, and the latter… well he allowed a season-high six runs from eight hits on Thursday, giving him back to back poor outings (he allowed 5 ER in Week 4). The 20-year-old De Avila kicked off 2022 with a stingy 1.93 ERA through his first three starts, but since then it has risen to 5.40. Hoffmann is still holding his own, sporting a 3.75 ERA in five total starts, to go with 11.2 strikeouts per nine. The R-Braves bullpen was much better this past week, as relievers Justin Yeager, Davis Schwab, Lisandro Santos and R.J. Freure pitched well in their assignments against the Drive. At least one area of the team performed well, but Rome will need more consistency from its starters next week if it wants to avoid spoiling such an impressive beginning to its 2022 campaign.
A – Augusta (15-12)
Geraldo Quintero – 7 for 25 (.280 AVG), 2 3B, 2 2B, 2 RBI, 2 SB
Brandol Mezquita – 8 for 21 (.380 AVG), HR, 2 2B, 4 RBI, SB
Cal Conley – 6 for 26 (.230 AVG), HR, 3B, 2B, 3 RBI, 3 SB
Adam Zebrowski – 5 for 13 (.384 AVG), HR, 3B, 2B, 5 RBI
Kadon Morton – 7 for 18 (.388 AVG), RBI, SB
Jordano Perez – 5 IP, 5 H, ER, BB, 5 K
AJ Smith-Shawver – 5 IP, 5 H, 3 ER, 2 BB, 7 K
Estarlin Rodriguez – 4 IP, 2 BB, 4 K
Rob Griswold – 1-0, 3 1/3 IP, 6 K
Augusta had to settle for a series split versus Carolina last week, but the team played well overall, receiving plenty of offense from its lineup to go with a pair of solid outings from its starters. The talk of the week for the GreenJackets has to be prospect outfielder Brandol Mezquita, who entered Sunday's series finale with the best wRC+ (157) in the Braves minor league system. I recently wrote a little profile on the kid, but what the 20-year-old is doing in his first year of full-season ball is pretty special, as he's currently in the midst of a 19-game on-base streak, to go with what was a five-game hitting streak before an 0 for 4 performance this past Saturday (that still featured a walk).
It seems like Augusta has like five catchers, but there's no doubt that Adam Zebrowski is the leader of that group. The former 13th-round pick turned in another impressive week in the Carolina series, tallying a combined 11 total bases in just four games. Also, Kadon Morton appears to be finding his way… finally. The 21-year-old outfielder went 4 for 4 in the series finale on Sunday, helping him lead the team in AVG for Week 5. Prospect infielder Cal Conley is getting there, with a decent performance at the plate last week. Hopefully this is the start of better play for a kid I've been big on since the Braves drafted him in the fourth-round last year.
Jordano Perez and AJ Smith-Shawver, who combined to strike out 12 in 10 innings worth of work in Week 5, headlined the Augusta starting rotation. With 2021 draftee Samuel Strickland landing on the 7-day IL, Perez was tasked with the spot start last Friday, and overall he pitched well in his 2022 debut, limiting the Mudcats to just one run from five hits, to go with five strikeouts. Wednesday's outing for Smith-Shawver gives him back to back seven-strikeout performances now, as he seems to be finding his groove. The teenage prospect carried a 6.00 ERA after three starts to begin 2022, but now sports a much more manageable 4.74 ERA through five overall outings. Hopefully the good work continues for the Braves seventh-round pick. I came away really impressed with Rob Griswold. He pitched out of the GreenJackets bullpen on Thursday and Saturday and was especially dominant in the former outing, racking up five strikeouts in just two innings of work. The 23-year-old righty has a bit of a side-arm delivery, and his breaking ball has been nearly an unhittable offering so far this season. Griswold will enter Week 6 with a strong 2.77 ERA in 13 innings in 2022.