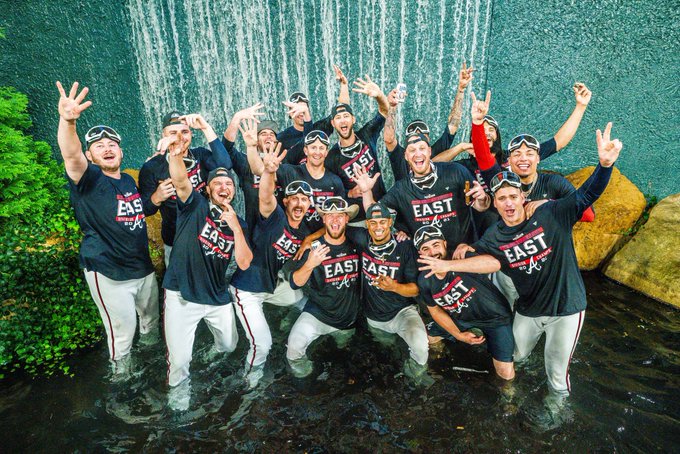 The 2021 Braves season should be broken into two parts. In the first half, the Braves were decimated by injuries, terrible luck, and an abundance of close losses. However, the second half had very little resemblance to that painful portion of the season. Atlanta would hold onto the NL East crown in the end thanks to resilience and a near perfect trade deadline.
Part 1
Before the trade deadline, this Braves team would continuously hit a roadblock when near the .500 mark. They even entered the trade deadline with a 51-52 record. Keep in mind, this team had serious World Series aspirations to begin the year.
Other than Ronald Acuña Jr, everyone was underperforming in the beginning. Things would get worse as we would later learn Mike Soroka wouldn't even throw a pitch this entire season. Acuña would have a season ending ACL injury in the middle of a potentially historical campaign. Marcell Ozuna suffered a hand injury. Ozuna would miss nearly the entire season due to a domestic violence case. Travis d'Arnaud missed a large portion of the season following a bang bang play at the plate where he injured his thumb.
Charlie Morton struggled in the beginning and had naysayers calling him "Cole Hamels 2.0". Drew Smyly was not building off of what the Braves were intrigued by at the end of last year. The bullpen was blowing close games. The offense couldn't score late in games. Borderline reserve players were getting more playing time than you could ever have imagined in April. If you owned a catchers mitt, you could have suited up behind the plate.
Part 2
The Atlanta Braves would ultimately win the NL East for a 4th consecutive season. Obviously, things changed at some point to turn around what could have very easily been a disappointing year. This change was kickstarted by the acquisition of Joc Pederson.
Alex Anthopolous would respond to the Acuña news quickly acquiring Joc and Stephen Vogt. Joc gave the team an edge they had been missing and had plenty of big moments the second half of the season. The entire time the rest of the division had struggled to take advantage of the poor start. This would prove fatal as the trade deadline would be the turning point for Atlanta this year.
The Braves would go on a near 100 win pace extrapolated across a full season after acquiring several pieces at the deadline. Jorge Soler would turn his season around in Atlanta and become a monster lead off man. Adam Duvall would continue raking at Truist Park and would lead the league in runs batted in. Eddie Rosario would contribute late, providing big time games including a cycle. Richard Rodriguez briefly solidified the bullpen during a period where the bullpen had been struggling mightily.
Meanwhile, Austin Riley would go from questionable future to a legitimate MVP candidate. Freddie Freeman would return to form and provide production we've been accustomed to seeing in recent years. Charlie Morton proved he still had big game Charlie still in him. Max Fried had as good of a second half of a season as anyone in baseball. Ozzie Albies and Dansby Swanson would provide stellar defense up the middle to go with some unexpected pop. The bullpen would still give us plenty of scares, but pull it out more times than not.
4th in a Row, Just as Sweet
This was another season to be remembered. I don't recall seeing a Braves team go through as much adversity as this team has this season. Despite the woes, they still managed to come out the other side reclaiming the division for a 4th straight year. They're playing as well as they have all season and they know there's still work to do. Go Braves.