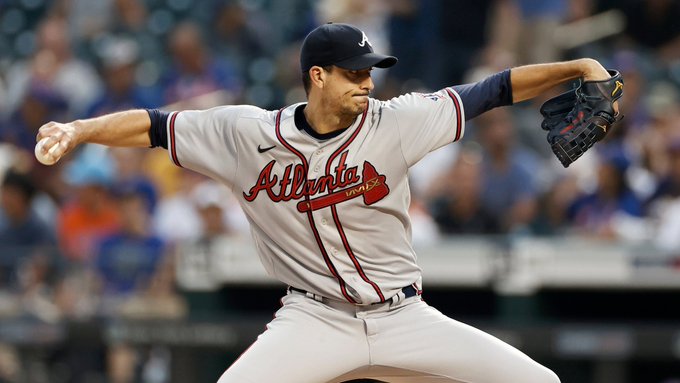 The Braves took down the Nationals in Game 1 of a 3 game series. Max Fried didn't have his best but wiggled out of many binds. He finished 6 then Tyler Matzek nearly destroyed all hope, giving up 4 runs in 2/3 of an inning. Then, the savior of the bullpen, Luke Jackson came in and pitched 1 1/3 of delicious fear-inducing baseball. Will Smith then closed out the 9th but not before he took out his frustrations on Juan Soto's back. There's history there and I fully expect the Nationals to retaliate tonight. Will Smith's toddler tantrums and selfish motives need to be booted for the sake of the hitters' healths.
Ozzie Albies and Adam Duvall were the offensive juggernauts of the night and drove in 7 of the 8 runs with a HR each. Ozzie's was of unique variety as it came right-handed off of a RHP, his 2nd in 10 career plate appearances.
Are Braves Planning to Up Payroll in 2022?
The Braves are quietly building their roster for 2022 and have not shied away from spending money. After signing Travis d'Arnaud to a somewhat surprising 2 year/$16MM extension with an $8MM club option for 2024, the Braves also re-upped the steadiest presence in the Braves rotation.
While this might not seem like a big deal as of now, I'll point you toward the Braves 2022 financial commitments:
Without even blinking, the Braves have committed $82.75MM to only 6 players. If the Braves (and the players) were to exercise the mutual options of Duvall, the payroll jump $4MM. For Joc, it would jump $7.5MM. Realistically, I think it's highly likely that the Braves would bring back Duvall and less likely for Joc. Adding Duvall would make the Braves payroll jump to $86.75MM.
There's hope that the Braves can get out from under Marcell Ozuna's contract for the 2022 season, but I'm not betting on it being the full season, rather it be an 80-100 game suspension (if any at all). So…$82.75MM and we've yet to touch a Freddie Freeman extension, arb-eligible players, and pre-arb players.
2022 Arb-Eligible Players
Due to the nature of the rebuild, the Braves have a laundry list of players that are arb-eligible at the same time. For some, they're no brainer pickups and for others it's weighing risk vs. reward. Here's the list:
Arb-1
Breakdown: The Braves will likely let Yoan Lopez walk (or trade him) rather than go through arbitration and it's looking likely that they'll do the same for Sean Newcomb. The other 4 likely have a spot on the roster, with Riley and Matzek set to get hefty raises and/or extensions. Jacob Webb and Edgar Santana will see raises, but hardly enough to warrant panic, with their max being $1.2MM. My guess is the Braves try to lock up both Austin Riley and Tyler Matzek, with Riley getting a 5-6 year deal and Matzek a 2-3. Overall, I'd expect this group to make around $8-9MM total for the 2022 season.
Arb-2
Breakdown: Biddle's played his last fiddle on the Braves MLB roster, but the other 4 will likely be back for the 2022 season with raises. Max Fried's arb-estimate is the real wild card here as it could be $6-7MM, or upwards of $9-10MM. My guess for this group would be somewhere between $15-17MM.
Arb-3
Breakdown: Arcia and Dayton are almost guaranteed non-tenders. Heredia, while unlikely, could find a role if the Braves want to keep Cristian Pache down for a little while longer. And, unless traded (highly unlikely), both Dansby and Luke will be back with the club with extensions being very possible. My guess for their arb-estimate is $14MM.
Adding In the Pre-Arbs
The Braves still have quite a few players that are in the pre-arb stages that are regular MLB contributors. That list:
Breakdown: Expect Alex Anthopoulos to continue being Alex Anthopoulos and jerk many of these players back and forth between MLB and AAA. Of the above 6, I'd wager that the Braves are done jerking Ian and Ynoa around (unless Ian's velo concerns show injury) and those guys will essentially get a full pre-arb salary around $600K. The other 4 likely split time and earn a 1/2 MLB salary and 1/2 AAA salary. This crew probably makes $3MM for the 2022 season.
Adding it All Up
By this point, I guess one can see what I'm getting at. With some obvious holes to fill, the Braves look to have quite a lot of $ tied up to current players. If everything stands, it's about $125MM for 22 players. Yes…there's an obvious omission here and if you add said obvious omission, the payroll likely hits $150MM without any extra additions. I don't think the Braves have any intention of letting the obvious omission walk and I'd also be willing to bet they add more in both hitting and pitching.
I'm optimistic…I also got a little birdy that whispers in my ear every now and again. That birdy's sure been singing about adding payroll and I believe him.
My personal wish list is to bring back Jorge Soler, Adam Duvall, Ehire Adrianza, add a high-end reliever, and go get it.