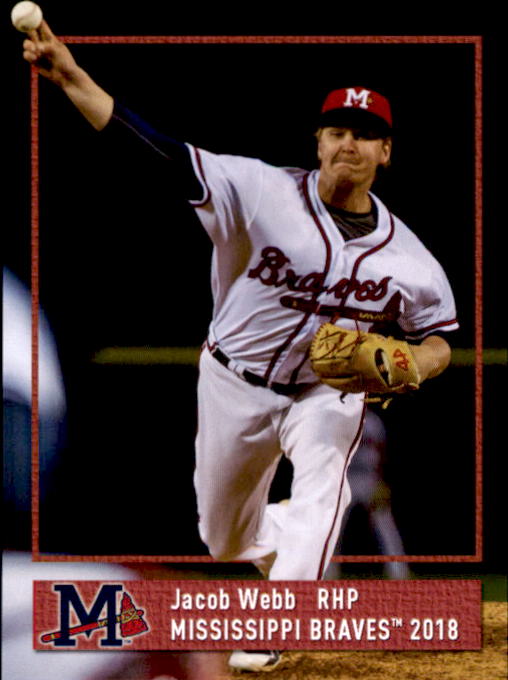 contest update
Well, Josh Tomlin was the first free agent on a guaranteed contract signed by the Braves this offseason, and surprisingly NOT ONE OF YOU NE'ER DO WELLS PICKED HIM! Therefore, the contest moves to the 2nd free agent signed by the Braves in the 2020-21 offseason. All guesses from last contest are void now and you'll have to submit your new guess on this thread.
An electric young arm, Jacob Webb is someone that I've enjoyed watching pitch for a while. While never the gaudiest prospect, I thought he had potential and he's shown it in his limited time in the majors thus far. However, his public perception may be marred by the big home run he gave up in game 5 of the NLCS, his low point of the short season.
Where's He From?
Originally an 18th round draft pick for the Braves in 2014, Webb worked his way through the system before making his MLB debut in 2019. He attended Tabor College in Hillsboro, Kansas where he garnered attention for his 1.74 ERA over 160.1 college innings. Although he was a starter in college, the Braves quickly converted him to a reliever. He continued his college success in the minors; a combined stat line of his 5 minor league seasons gives a 2.89 ERA in 177.2 innings with 11.0 K/9, but 4.3 BB/9.
2020 Results
In the regular season, Webb pitched 10 innings across 8 games while allowing 0 ER. His 5 walks in those innings were a bit high, but it's a very small sample size. His first two playoff appearances were great, 2 scoreless innings, but that aforementioned third outing is where the wheels fell off.
What Should We Expect?
As I expressed in "Where Do We Go From Here? Part 3, The Bullpen" I personally love Webb and think he has a great shot to make the Opening Day roster in the bullpen. Webb has an elite fastball that tops 99 mph and has elite spin. All of his pitches have a lot of life and movement that make it difficult on the hitter. His changeup averages 11 mph slower than his fastball and had a 45.2% whiff rate. He significantly increased his usage of the pitch from 12% to 33%. I think this continued usage will help him, as a bullpen arm with his fastball/changeup should work well. Maybe if he continues to develop his slider he'll be in even better shape. He has also only allowed a 6.1% barrel rate thus far in his career, an elite figure. Still a small sample size, but if he can keep that up he will find success. He has already collected 1.1 bWAR in his 42.1 career innings, with just 5 ER that all came on home runs (these home runs account for 4 of his 7 allowed barrels). If Webb continues to progress, he could be a legit option as a setup man in this bullpen.