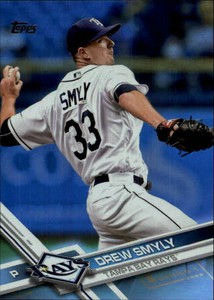 Yesterday, Alex Anthopoulos proved for the 3rd year in a row that when he wants a player, he'll strike quick and strike hard:
Drew Smyly was the November surprise of 2020 as he was inked to a 1 year/$11MM deal. What's doubly shocking about this deal is that MLBTR had his projection at 1/$5MM and the Braves, who seemed cash strapped after letting Darren O'Day walk instead of picking up his $3MM option, threw $11MM at a guy that has had a hard time staying on the field.
Drew Smyly: Who is He?
Drafted in 2010 by the Detroit Tigers in the 2nd round out of the University of Arkansas, Smyly was known as a control artist coming out of college and early on in his career. My favorite prospect guru, John Sickels (who's unfortunately no longer writing about baseball) had this to say about Smyly back in 2012:
Smyly is a 6-3, 190 pound left-handed hitter and thrower, born June 13, 1989. His fastball isn't a burner at 87-92 MPH, averaging right around 90, but it works well due to the contrast with his secondary pitches: a slider, a cutter, a changeup with dropping action, and an occasional curve. He isn't afraid to use his fastball and his pitches have good deception. An efficient strike-thrower in the minors, he had location issues in his first start last week, but once he settles in, command should be one of his best attributes. His main weakness may be health: he had a stress fracture in his elbow in college, and he missed several weeks of pitching time early last season with a dead arm.

Sickels
Foreshadowing at its finest, but at the end of June in 2017, after denying the inevitable for 3 months, Smyly underwent Tommy John Surgery and unfortunately for him, the road back was a long one as he sat out of baseball for the entire 2017 and 2018 seasons. When he did return in 2019, like many TJS victims, his command was completely shot and he only lasted 1/2 year in Texas before being shipped to Philly.
The results were better and the control was honing in, but commanding the zone was still difficult and Smyly's 2019 was a complete wash. Determined to prove he belonged again, Smyly worked tirelessly in the 2019-20 offseason and the Giants signed him to a 1 year deal.
2020 Player Review
It's telling when a control/command artist turns up the velo and unlocks a new level of performance, and while it's only a 26.1 inning sample, it was enough to catch Anthopoulos's attention. Smyly's entire arsenal received a velo boost and it made him an absolute K monster. His fastball, which normally topped out at 92, was sitting 94 in 2020 and topping out at 96. All of his offspeed saw an uptick in velocity and it even threw Smyly himself off:
"I feel really strong right now. I don't really ever remember throwing 95, 96 [mph]," Smyly said over Zoom after striking out eight more in 3 2/3 innings in the Giants' 9-3 victory over the Mariners at Oracle Park. "I feel excited to pitch, I feel healthy. And it's a fun time for me right now, just for my body and mind just to be fully healthy and helping this team try to win.

Smyly
The uptick in velocity added up to a 14.35 K/9. Combined with a 3.08 BB/9, the strikeout/walk ratio was an eye popping 4.67. According to Statcast, Smyly's K% of 37.8 was in the 97th percentile, and that factors in all pitchers, not just starters. Here's are a few other tidbits:
In 50 PAs that ended on a curveball, hitters were 9 for 49 with 3 doubles, 2 HR, and 27 strikeouts.
In 45 PAs that ended with his 4 seamer, hitters were 9 for 39 with 6 walks, 8 singles, and 1 double, with 9 Ks.
The curve isn't a traditional curve as it's a harder curve, more slurvy with a lot of downward bite. It's definitely a newly developed pitch and, in my opinion, is one of the major reasons why Smyly caught Anthopoulos's attention.
However, when batters made contact, it was hard contact as he was in the bottom 10% in exit velo, hard hit %, and barrels. Fortunately for Smyly, those hard hits didn't translate to many home runs as hitters had a hard time creating lift on the ball against him.
Wrapup
Adding Smyly was definitely a shock to most Braves fans, but with Cole Hamels being the only real outlier, we should trust that Anthopoulos has made the right decision until proven otherwise.