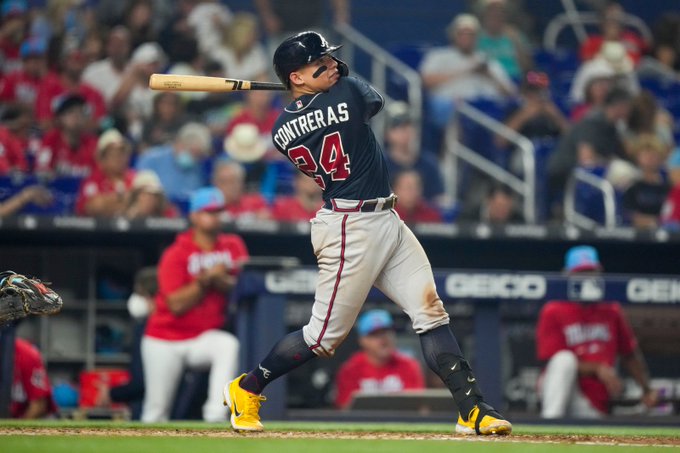 We are still way early in the MLB offseason, but that doesn't mean that Alex Anthopoulos has been asleep at the wheel. Far from it. While there's not a single Braves transaction that has transpired in December, there was a lot of action in November:
Like AA does every year, he's utilized the first month to address the 40-man roster and bring in a lot of RP arms to test out during Spring Training. Elledge, Tonkin, Santana, Anderson, and even Allard have attributes that could fit well in the bullpen and their arms will be tested in front of a lot of eyes come February.
Whispers, Secrets, and Downplaying
The end of November and the beginning of December brought about 11 days of 0 news regarding the Braves, then the juice started dripping:
Braves were in on Jacob DeGrom, but Rangers put price tag on him AA wouldn't match.
Ken Rosenthal reported that the Braves inquired about Oakland's catcher Sean Murphy. Fast-forward a few days and Mark Feinsand tweeted that the A's were on the verge of trading him and that the Braves were the frontrunners. Fast-forward a few hours and Feinsand rebuked his own words.
Although AA has a policy to not talk with free agent players directly, he held a phone conversation with Dansby Swanson and said it was a "great conversation".
Addressing the luxury tax, Anthopoulos stated that it would not be a problem should Braves find the right fit to improve the team.
Nothing in the above 4 statements have come to fruition, but encouraging news nonetheless, as it shows Anthopoulos has been active in both the high-end free agent market and the high-end trade market. I think we are going to continue hearing big names attached to the Braves.
But Why Sean Murphy?
It's already been debunked, but I don't believe for a second that AA has moved on. He likely inquired, discussed a deal, then backed off at a specific price. If Beane doesn't get what he seeks elsewhere, he'll circle back.
But why Sean Murphy? The Braves have Travis D'Arnaud, Manny Pina, William Contreras, and Chadwick Tromp all on the roster. Why add Sean Murphy? I think the answer is quite simple: AA has a type. Let's take a look at the catchers that AA has went into each year with since his hiring:
In both 2021 and 2022, AA had William Contreras ready to get battle-tested at the MLB level. However, both years, AA chose another backup for the Opening Day roster. In 2021, AA tried hard to keep Contreras away from catching by signing, trading, or activating catcher after catcher. In case you've forgotten: Alex Jackson, Stephen Vogt, Jonathan Lucroy, Kevan Smith, and Jeff Mathis all tried to fill-in while Travis D'Arnaud was on the shelf. This seems like a lot of work just to limit Contreras's innings.
In 2022, Contreras's workload increased, but he was still only called on behind the dish 37% of the time while D'Arnaud caught about 63% of the games.
So, why would AA inquire about Sean Murphy? While it may be a guess, it's an educated on based on past usage: There's something that AA doesn't like when it comes to William Contreras. If AA's history isn't just a coincidence or small sample, his preference is established veterans behind the plate. While D'Arnaud was getting extended (and before him, Tyler Flowers), Shea Langeliers, who was largely considered the catcher of the future, was getting traded. And if it weren't for COVID, Contreras would've been left off the Opening Day roster for 3 straight years.
To the point, I wouldn't be surprised if Sean Murphy, or another established veteran catcher, breaks camp in a Braves uniform while William Contreras breaks camp with another team.