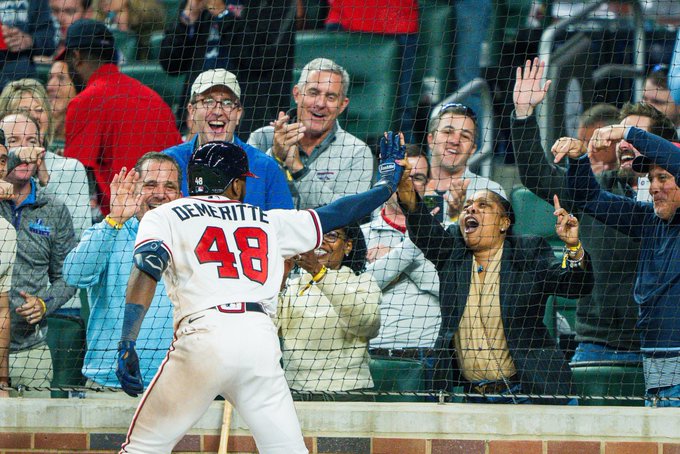 The story of Travis Demeritte's rise and fall is a familiar story told over and over, and yet I feel as though we as fans, who by all things within us, just want to believe in something real. It's like we all turn back into that 11 year old kid who knows Santa Claus isn't real but still mails that Christmas list out to the North Pole just in case. We as Braves fans have our own list: Charles Thomas, Tony Tarasco, Adonis Garcia, Tyler Pastornicky, Wilson Betemit, Andy Marte, Jordan Schafer, Joey Devine, Lucas Sims, Christian Bethancourt, Jose Peraza, Shae Simmons. The list is unending, just like the disappointment.
We had seen the MLB track record, the DFAs, the releases, the lack of promotions, but something within the fan always hopes that the MILB numbers can somehow translate to the bigs THIS TIME, even if for a fleeting moment.
And in 2022, for a small moment in time, Demeritte captured our hearts.
The Rise of Travis Demeritte
After the first 13 games of the season, the Braves were somehow 6-7 despite the fact that their Acuna-less OF were batting like children inserted into an MLB lineup:
It was a disaster that led to a DFA of Alex Dickerson, a trip to a surgeon for Eddie Rosario, and a promotion for Travis Demeritte.
On April 22nd, Demeritte, in his 2nd stint with the Braves organization, finally got his shot and capitalized right away, going 1-2 with a double. He stayed hot for 17 total games and after 62 PAs, he was carrying a .914 OPS that included 6 walks, 2 doubles, and 3 HRs. I'd been a Demeritte fan since his acquisition from the Rangers and was beginning to convince myself that he was actually going to stick this time. Then… Demeritte got Kelly Johnson'd.
The Fall of Travis Demeritte
O-fer streaks happen pretty regularly for seasoned vets. Timing gets off. Fatigue sets in. The grind is just too much. However, for flashes in the pan, it's different and the old adage, "the book is out" becomes a real thing. In his next 8 games, Demeritte went 0-33 with 14 Ks and looked defeated because, unfortunately for him, he was. The O-for streak ended on May 27 and so did his time on the Braves MLB team.
I hope Demeritte lands on his feet again. I like pulling for the underdog. He seems to have a valuable skillset with undeniable athletic ability. I just wouldn't expect it to be with the Braves as he became a free agent in October.
But I'll always be a fan. If he has nothing else, he'll always have those 17 games where he carried a struggling outfield nearly all by himself.