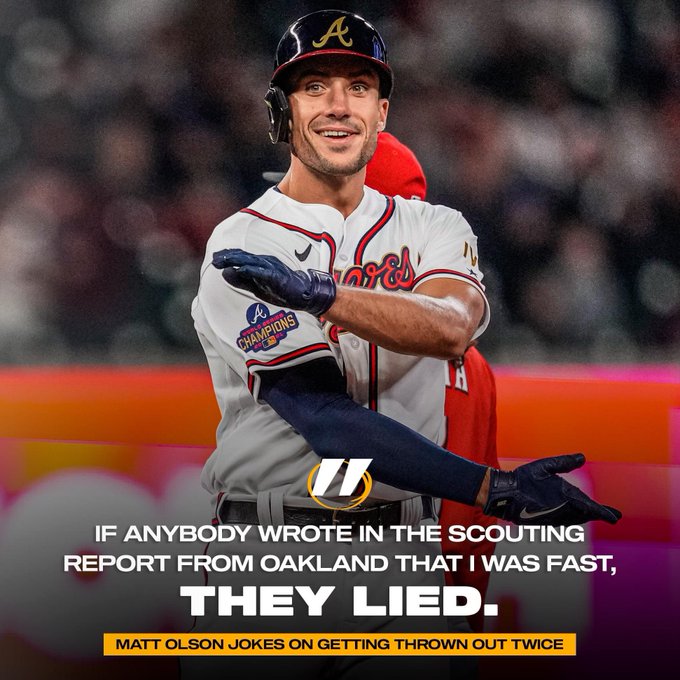 The Braves seem to be off to a somewhat tepid start to the season on the field, having split four games at home from a Cincinnati Reds team that most had projected to be terrible.

However, I feel like this Reds team might be getting underrated a bit, and a glance at the FiveThirtyEight projections for headed into the season kind of confirms this for me, as they were projected to go 80-82 and have a 16 percent chance to win the division and a 34 percent chance to make the playoffs. (And yes, I know that making the playoffs isn't quite going to be what it once was.) If you're wondering, they upped their projection to 81-81, 19 percent division and 37 percent playoffs after this weekend.

I also say "seem to be" above because I'm really not that sure what to make of this weekend. In addition to it being only four games out of 162, there was a lot of stuff going on this weekend. It's not exactly surprising the team came out a little flat. I think you're probably going to have to get into the upcoming West Coast swing before you can even start making preliminary assumptions about this team.

That having been said, Sunday's game didn't exactly go great. The local nine lost 6-3 in a game they didn't really seem like they were in for most of it. Ian Anderson, in his first start of the year, couldn't seem to find the strike zone for large portions of his outing. He got bailed out by some bad Reds hitting in the first, as Tommy Pham followed a leadoff single and a wild walk with a first pitch infield fly. Joey Votto, of all people, followed with another infield popup (I think I saw more infield popups from him this weekend than I've ever seen from him combined in his career before this, by the way) and Anderson was able to get out of the inning unscathed.

He wasn't so lucky in the third. Three walks and a double put him down a run with the bases loaded and one out. It appeared like he might have gotten out of the inning with a possible double play, but Nick Senzel was ruled safe at first and a challenge came to no avail. (I didn't see anything that said the call should've been overturned, for the record.) That scored another run to make it 2-0, and the wheels fell off at that point. Another run-scoring hit made it 3-0 and ended Anderson's day, and Sean Newcomb gave him a Double Gyrbo for good measure by allowing a two-run single of his own.

Final line for Anderson: 2.2 innings, 3 hits, 5 runs, 5 walks, 1 strikeout. Obviously not the start to the season he wanted, but it's also the first start of his season after a shortened spring training and while dealing with some sort of blister issue on his toe. I'm confident he'll be alright, but this day certainly did not go well.

Meanwhile, the Braves offense was getting shut down by Cincinnati rookie Hunter Greene over the first three innings. I came away impressed with the youngster. The home side did start to figure him out a bit later in his outing, though. A Marcell Ozuna sac fly cashed in an Austin Riley double in the fourth (about which more in a minute), and Travis d'Arnaud and Matt Olson tallied solo homers in the fifth, the latter of which opened Olson's Braves home run account.
AAA – Gwinnett Stripers (3-3)
Week 1 W/L record: 3-3 vs. Memphis (STL)
| | |
| --- | --- |
| Tue, April 5 | L, 2-1 |
| Wed, April 6 | W, 5-3 |
| Thu, April 7 | W, 5-2 |
| Fri, April 8 | L, 4-3 |
| Sat, April 9 | L, 8-7 |
| Sun, April 10 | W, 6-3 |
Gwinnett's Week 1 Results
The Stripers lineup was without prospect Drew Waters all week, and the concern was taken up a notch this past Friday when the Braves signed Delino DeShields to a minor league deal. Either the org is being really cautious with Waters' rumored sore hamstring… or his ailment is more serious than originally led on. Either way, the Waters-less offense did fine in Week 1, thanks to the contributions of outfielder Travis Demeritte, who has essentially owned minor league pitching for going on eight seasons now (seriously, he has a career .822 OPS vs. MiLB pitching, compared to a .608 in the majors). The 27-year-old Demeritte is back at it again for Gwinnett, starting off the year 8 for 23 (.348 AVG) with a homer and a whopping seven XBH in his first six games.
Fringy prospect Greyson Jenista is also having a nice start to the 2022 season. Jenista finishes Week 1 with a 4 for 14 (.286 AVG) stretch, including a pair of homers. Yeah, he's already struck out seven times, but so far the contact is there, so he'll definitely enjoy it while it lasts.
The 29-year-old Pat Valaika has also been one of Gwinnett's leaders in the lineup. The former ninth-round pick sports a .391 AVG (9 for 23) through his first six contests, including two long balls and a pair of two-baggers, to go with nine RBI. Oh and Braden Shewmake is another hot hitter through the season's first week. The prospect hit his first Triple-A homer on Wednesday and is sporting a .417 AVG in four games. As you can see, the Stripers haven't had much trouble scoring runs so far in 2022.
The Gwinnett starting rotation pitched well in Week 1, although the absence of righty prospect Bryce Elder is a bit concerning. I haven't seen anything regarding an injury, so who knows. My top Braves prospect, southpaw Kyle Muller, was tasked with two starts this past week, as he tossed a four-hitter in both the series opener on Tuesday and the finale on Sunday, combining to strike out 13 batters and walk two in 9 2/3 innings. He went further in the second outing, but I was more impressed with Muller's Opening Day assignment, for his breaking ball was as crisp as I've ever seen it. Downward trending prospect righty Jasseel De La Cruz worked Saturday's contest, and despite allowing a good bit of contact, he managed to skate by with four innings of two-hit ball, allowing a homer and striking out three. JDLC just doesn't seem to have the pitch mix to strike guys out at the Triple-A level, and I don't expect him to start all season. Both Jackson Stephens and Allan Winans started Games 3 and 4, respectively, last week, and it may come as a surprise, but both pitched very well. In fact, Stephens' six-inning outing was the only quality-start by a Stripers starter in Week 1. The Gwinnett bullpen, unfortunately, was a bit of a roller coaster ride.
Week 1 MVP: OF Travis Demeritte
Similar to former Brave, Johan Camargo, Demeritte seems to always flourish against Triple-A pitching, but for whatever reason he can never consistently put it together in the majors. This past Saturday, the righty-batting Demeritte put together quite the performance when he reached base four times, finishing 3 for 4 with a HR, two doubles, three RBI and a walk. He'll once again hit .280ish with 20-30 homers in the minors in 2022, for whatever that's worth.
AA – Mississippi Braves (1-2)
Week 1 W/L record: 1-2 vs. Montgomery (TBR)
| | |
| --- | --- |
| Fri, April 8 | L, 5-1 |
| Sat, April 9 | L, 5-4 |
| Sun, April 10 | W, 8-2 |
Mississippi's Week 1 Results
As you'll notice throughout this report, several top-tier Braves prospects seem to be doing well with their promotions to start off 2022, and center fielder Michael Harris II is one of them. Harris capped off a successful Week 1 by going 3 for 4 with three RBI in Sunday's series finale win over Montgomery – the M-Braves lone win of the three-game set against the Biscuits. The Braves future star outfielder appears to be enjoying the increase in competition.
Mississippi returnees Drew Lugbauer (4 for 14, .286 AVG), CJ Alexander (3 for 10, .300 AVG) and Trey Harris (4 for 9, .444 AVG) all seem to be holding their own down in Double-A. If you recall, Lugbauer looked pretty good in camp this spring, picking up a few hits and an RBI with the Braves. He'll be looking to cut down on that 37.4% K rate he posted in 2021.
The M-Braves rolled out a prospect-filled starting staff last week that featured William Woods on Friday, Darius Vines on Saturday and Jared Shuster on Sunday. Woods struggled a bit with command and wound up needing 67 pitches to get through three innings, though he managed to keep the team in the game, allowing three runs (1 HR) from four hits. Vines and Shuster dealt a pair of gems in their respective starts, combining to strike out 11 in ten innings, in which the former tossed a five-inning one-hitter. No one really stood out for the M-Braves bullpen in Week 1, other than perhaps some solid work by both Coleman Huntley and Jake Higginbotham in Sunday's win. The two relievers combined to strike out six in the final four frames following Shuster's start.
Week 1 MVP: OF Michael Harris II
Harris enters Week 2 having went 5 for 13 (.385 AVG) in the first six Double-A games of his pro career. He doesn't have any XBH yet, but don't worry they'll come, for his High-A leading line drive rate in 2021 didn't come by accident. A near .400 AVG is about as much as you can ask for to kick off your first week in Double-A.
A+ – Rome Braves (2-1)
Week 1 W/L record: 2-1 vs. Greensboro (PIT)
| | |
| --- | --- |
| Fri, April 8 | W, 16-6 |
| Sat, April 9 | W, 5-4 |
| Sun, April 10 | L, 3-2 |
Rome's Week 1 Results
It wouldn't have been wrong to worry a bit about Rome's offense coming into 2022. This is a lineup that lost quite a dangerous duo in outfielders Michael Harris II and Jesse Franklin V – two guys that combined for a whopping 31 home runs and 86 XBH last season. Those two were rightfully moved up to Mississippi, so now it's time for another two-man combo to step it up. Enter Vaughn Grissom and Landon Stephens. Yes, prospect shortstop Grissom is handling High-A just fine, folks. The kid enters Week 2 having went 5 for 14 (.357 AVG) with a double and four RBI, which compliments well with the power-hitting Stephens, who on Opening Day Friday went 3 for 4 with a homer, a double and three RBI. It's of course still early, but both Grissom and Stephens look like a 1-2 punch that should re-fill some of the talent Rome lost on offense due to promotions.
All three Rome starters this past week are considered by many to be Braves prospects. Lefty Dylan Dodd, righty Andrew Hoffmann and lefty Tanner Gordon pitched Friday, Saturday and Sunday, respectively, although neither starter made it out the fifth inning as each appeared to be on pretty strict pitch counts. The trio did just fine, with perhaps Dodd performing the best (albeit while benefiting from a 6-0 lead through three innings), striking out seven in 4 1/3, to go with two walks and two runs from four hits allowed. However, I was impressed with a kid by the name of Lisandro Santos, who entered Saturday's game in the seventh inning of a 5-3 Rome lead and struck out six in two frames. Santos, an international signee by the Braves from back in 2016, has dealt with walk issues during his six seasons in Atlanta's system, but for his career the southpaw has done consistently well with run prevention, maintaining a 3.13 ERA in 190 minor league innings. Might be a kid to watch for.
Week 1 MVP: SS Vaughn Grissom
Yep, I'm aboard the Grissom bandwagon, for he couldn't have done a better job during his first week of High-A, as this is a special player who doesn't seem phased at all by the increase in competition. I don't agree with the folks (well… really just David O'Brien) calling Braden Shewmake nothing more than a utility-type player, but regardless, if the younger Grissom keeps this up in Rome for several more months, legitimate questions regarding the Braves future at shortstop could begin to arise. Either way, it's a good problem to have.
A – Augusta GreenJackets (2-1)
Week 1 W/L record: 2-1 vs. Columbia (KCR)
| | |
| --- | --- |
| Fri, April 8 | L, 7-6 |
| Sat, April 9 | W, 17-6 |
| Sun, April 10 | W, 8-3 |
Augusta's Week 1 Results
The GreenJackets may not get as much attention as the other Braves affiliates, but make no mistake, this very well may be one of the better teams in the Carolina League this year, as Augusta averaged a whopping 10.3 runs per game during its series win over Columbia. Leading the charge in Week 1 was both shortstop Cal Conley and outfielder Brandol Mezquita, as the former ended Sunday 5 for 14 (.357 AVG) and the latter 5 for 12 (.417 AVG). Conley, a 2021 draftee (4th round), is a returning player for the GreenJackets, although this is the first taste of full-season ball for the 20-year-old Mezquita (who's been in rookie ball for the last two years).
Augusta's pitching in Week 1 was easily led by righty Royber Salinas, who struck out 11 in 4 1/3 innings in Friday's season opener. The gem by the 21-year-old wound up being the GreenJackets only real noteworthy outing, as neither prospect AJ Smith-Shawver nor Adam Shoemaker made it out of the fourth in their respective starts. Although, on Saturday (in relief of Smith-Shawver), Kris Anglin worked a strong relief appearance by striking out seven and allowing just one hit in 3 1/3 to earn the win. Anglin, 20-years-old, was the Braves 16th round pick last year.
Week 1 MVP: INF Cal Conley / RHP Royber Salinas
I'll give the MVP to both Conley and Salinas, for both were huge for Augusta in Week 1. Conley's two-homer performance on Saturday resulted in a five RBI for the 22-year-old, which led to the GreenJackets 17-6 rout that night. Two dingers in one game is always nice.
The 11-strikeout outing by Salinas probably shouldn't come as too much of a surprise. The Venezuelan has actually been pretty dominant during his time in the Braves system, averaging 12.9 strikeouts per nine in the minors entering the 2022 season. It appears Salinas has historically struggled with walks in his two years of development (career 5.7 BB/9), so maybe he'll overcome those issues this season.
—
Be sure to check back next week, and throughout the 2022 season, as I'll continue to recap the Braves farm. Also, check out my blog Braves Farm for all your Braves prospect and farm news.