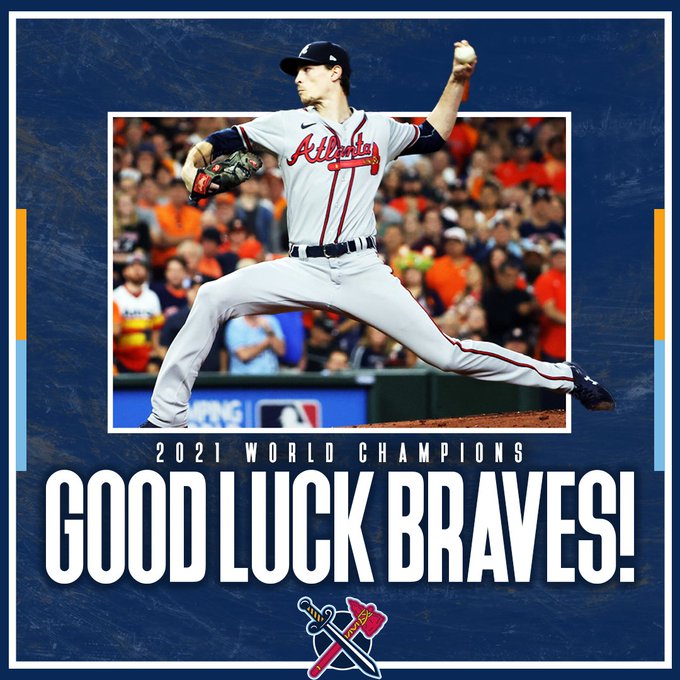 It's here, Braves Journalers! The day the journey to back-to-back World Champs commences. Before we get into the real news of the day, we have some exciting news to share!
NO MORE GOOGLE ADS!!!
I've hired a silent partner behind the scenes to help make the Journal a more pleasant experience for all that frequent the blog. Google Ads were a necessary evil to bring in extra revenue, but now that it's gone, we've went the route of affiliates. Those affiliates are:
Amazon
Fanatics
BetUS
In case you're unaware of what affiliates provide, it's quite simple! Most of us shop on Amazon quite often. Also, many utilize Fanatics to buy Braves gear! If you as a Braves Journaler would come to our site first, click on the link, then purchase ANYTHING from one of those 2 affiliates, the Journal would get a small commission. If you were to purchase the item we've provided in the link, we'd get a larger commission. Either way, we get some $ and it can go to keep this site running for many years to come.
BetUS is our 3rd affiliate! If you are the betting type, we would love for you to move your business to BetUS and utilize our link provided to add your funds. As stated above, come here, click link, make a bet, and a small portion goes to the Journal.
Now, let's get to the real business of the day!
Braves Opening Day Roster: Pitchers
Breakdown: 15 pitchers? Holy smokes! It sure does look like Brian Snitker plans to piggyback some of his starters to keep everyone fresh. My guess is Morton, Fried, and Anderson can each go 5 with Wright, Tucker, Ynoa, and Strider piggyback to fill the 4th and 5th rotation spots. With 14 straight out the gate and a shortened spring, it's important to protect the investments early and ease them into the year.
Braves Opening Day Roster: Catchers
Breakdown: It was rumored that Contreras would make the roster if no more moves occurred and the rumor rings true. My guess is we'll see a platoon (of sorts) out of the DH to begin the year where Dickerson starts against LHP and Contreras starts against LHP.
Braves Opening Day Roster: Infielders
Breakdown: No surprises here, but a lot of pressure lies on the regulars to stay healthy and in the lineup as there's not much to speak of in AAA.
Braves Opening Day Roster: Outfielders
Breakdown: Well…they're not going to be good defensively, but they'll hit and should be versatile enough in the lineup to be above average until Ronald Acuña Jr. comes back. Heredia will likely continue his role as a late inning defensive replacement, which would move Duvall to one of the corners, removing one of Ozuna, Dickerson, or Rosario. For me, it doesn't really matter who it is and I suspect it'll be the one that is furthest away from seeing an AB the next inning.
Prediction Time
I haven't the foggiest what the prize will be yet, but I'll make sure that whoever wins will get something that's, at the least, fun.
Overall Record
Highest Brave in CY voting
Highest Braves in MVP voting
Distance in Playoffs
Let's get it, people!