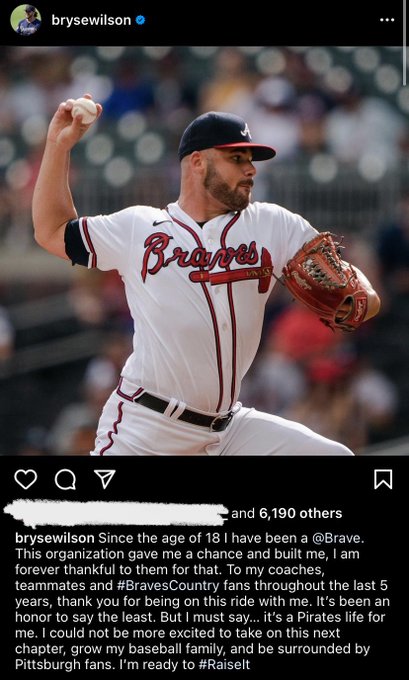 Bryse Wilson finally came to the end of his run with the Braves this year. He was traded to Pittsburgh with minor league pitcher Ricky DeVito for Richard Rodriguez on Deadline Day. I'll get to some thoughts on the trade in a minute. But first, a look at his season.
With the Braves this year, he started eight games and went 2-3 with a 5.88 ERA (5.67 FIP), a 1.69 WHIP and 23 strikeouts to 12 walks. None of that is great, obviously. His best game of the year for the Braves would probably be his May 22 start against his future team. He allowed just a single run on five hits over 6.2 innings in a 6-1 win. He only threw up a couple of stinkers, in my opinion, but they were both among his final three starts as a Brave: 4 IP, 8 H, 5 R in a June 20 loss to St. Louis; 2 IP, 4 H, 5 R, 4 BB in the suspended game against San Diego (his part in it came on July 21). He pitched OK in Triple-A for the most part, but between he and Kyle Wright, the Braves essentially had a couple of AAAA starters. Wilson was wildly impressive in Game 4 of the 2020 NLCS (a solo homer and a walk were the only two baserunners he allowed over six innings against that Dodgers lineup in a performance that I still almost can't believe happened despite the fact that I watched it), but there just wasn't a whole lot else to tangibly grab onto to signify that Bryse might've been about to turn the corner. He and Wright were clear trade fodder headed into the deadline, and my guess is that Pittsburgh was offered their choice of the pair when it came time to get the Rodriguez deal done.
Wilson was better after the move, dropping his WHIP to 1.24 and his ERA to 4.91 over an equal number of starts (8). Still nothing to write home about, but one hopes that a more permanent spot in a major league rotation will do him some good.
Some will surely wonder whether the trade was worth it given that Rodriguez turned into a bust and a non-tender, and the bullpen righted itself down the stretch without him. I was very much in favor of the trade at the time, but even now, I'm not overly broken up about Wilson being gone. At least one of Wright and Wilson was bound to be traded, and given Wright's end-of-season resurgence in Gwinnett and performance in the World Series, it looks (at least for now) like the Braves either chose correctly or lucked out that Pittsburgh didn't choose Wright over Wilson. Time will tell, but even if Wilson blossoms in Pittsburgh, it's certainly no guarantee that he would have here. (As an aside, I do realize that I left DeVito out of my calculations here. I tend to leave the prospect prognostications to other folks, but he seems to be a lottery-ticket type. And due to injury, he's a lottery-ticket type who has yet to throw a pitch for the Pirates organization in a competitive game.)
Still, it will be interesting to keep an eye on Wilson going forward. I don't think it's out of the question that he could develop into a back-of-the-rotation starter for the Pirates, and I personally will be rooting for him in that regard.