Hey crew! To try to bring in some revenue to the site, we've set up a few sponsorships that will be a part of our team so we can get away from those pesky Google Ads. It'll take a few months to determine if the sites are mutually beneficial for us, but the best thing you can do as a regular Braves Journaler would be to consider purchasing through the sites if it's your bag.
Introducing DugoutMugs
Long have I admired Nate Logos and his creation, Dugout Mugs. He's living the dream as he started small and has now grown to be an officially licensed product.
This week, they are having a World Series giveaway and it would really help if you took the short amount of time to make your prediction. Below are the details.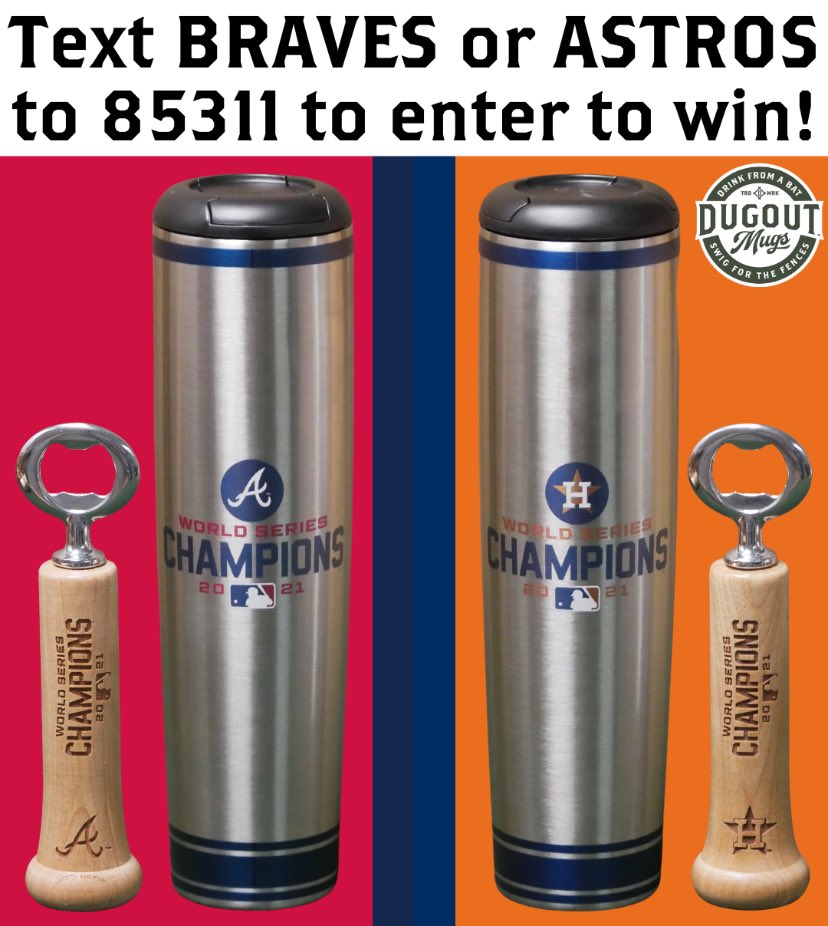 Also, ALL Braves Journalers get 30% off purchases using promo code "Journal" when checking out, so be sure to put that in your back pocket come Christmastime!
The Betting Type?
One of the most respected online Gambling site, Betway.com reached out to me last week in regards to a sponsorship. Every now and again, you'll see me throw odds up for specific games, but nothing too major to distract from the reading (that's their request…they'd rather not be annoying). It'll be subtle and only every now and again.
Now that is out of the way, let's take a look at Kyle Wright's performance last night then move on to Clint's piece.
A Different Kyle Wright
Kyle Wright was different last night. When the Braves drafted Wright, it was clear he was going to be a project because he had been a starter but got hurt, and was turned closer. The Braves had no intentions of putting him in the bullpen and immediately threw him in the rotation. He's been a bit of a Jekyll and Hyde, but last night was a really good change.
First off, he commanded the zone. Not one single pitch last night was middle middle and/or predictable. Command is such a fickle thing and he's likely still a work in progress, especially in multiple innings. However, last night was a good sign that if the Braves wanted to transition him to a late-inning relief option sometime in the future, it might work out really well.
Another a-ha last night was the depth in his curve. For the most part, he was FB/CB in his 1 inning and the curve was brilliant with 2 plane break that traveled through 4 zones before getting to its final destination. That's something to keep an eye on going forward
Lastly…a short and simple wind-up. He seemed to channel his inner-Max Fried and threw away any unnecessary movement. It was definitely different and could be something that has two-fold benefit: helping stay mechanically sound and less "eye-spying" when it comes to picking up pitches.
Clint on Questions Surrounding Pitching Going Forward
After everything seemed to break right for the Braves in Game 1 of the World Series (save for the loss of Charlie Morton of course), on Wednesday the Astros answered by winning 7-2 to tie up the series before heading to Truist Park for Friday's Game 3. We should've known that the second-best club in the AL would eventually find its groove.
The matchup featured a bit of a starter's duel, even though it took a while to materialize. Both Max Fried and José Urquidy went exactly five innings apiece last night, but for the former it came much tougher. Fried surrendered five runs combined within the first two frames, thanks to six hits by Houston's loaded lineup. Meanwhile, Urquidy didn't seem to break a sweat until his last inning, allowing just four hits through the first four, including a solo-homer from Braves catcher Travis d'Arnaud. By the time each team turned to its bullpen, it was still very much a ballgame as the Astros led 5-2 heading into the sixth.
This is why I'm glad I'm not the manager of an MLB team. With 86 pitches from his starter, and a deficit still manageable (although it had increased to 6-2 following a fielder's choice), but not guaranteed to be overcome over the next three innings, skipper Brian Snitker needed to decide whether he was going to try and shut down the Astros with his high-leverage regulars, or if it was time to start thinking about bullpen preservation. He sort of chose in-betweenas he brought in an impressive-of-late Drew Smyly to work the seventh and perhaps kick the can down the road a bit. Naturally, the lefty's very first pitch to Houston's Jose Altuve was crushed to left for a solo-homer, instantly making Snitker's next decision pretty simple. As expected, the Braves finished up the game by using a newly-added Kyle Wright, who actually pitched very well, striking out the side in the eighth.
That Atlanta spent this entire game trailing and still only used five pitchers is surprising. But primarily it's because Fried was able to settle down after those first pair of innings; per FanGraphs' Luke Hooper, the lefty induced four whiffs (9.3% SwStr%) in the first two frames, compared to nine whiffs (25% SwStr%) in the latter three frames. Fried obviously didn't have his best stuff last night, but his length was absolutely critical as it allowed Snitker to save his best relievers.
With just two games down, though, Atlanta has only one more traditional starter, in righty Ian Anderson, who'll likely take the bump for Friday's Game 3. After that, there could be some shuffling, especially now that Morton isn't an option. If we thought it was crucial for Fried to go deep into his start, it's even more pivotal that Anderson does so, for the last thing the Braves need is a 2-1 series deficit AND a worn-out bullpen heading into Saturday's Game 4. We just saw this with the Dodgers… and it wasn't pretty.
According to The Athletic's David O'Brien, Snitker is considering two bullpen games following Anderson's outing tomorrow:
"The bullpen's going to play a big part obviously in what we've got going on, because we lost a huge starter in Morton. So we're going to have probably two games in a row (Games 4-5) that we're going to have to pitch 18 innings (total) out of that bullpen."
As O'Brien mentioned in his recap on Thursday morning, the sharpness from Wright in that eighth inning was refreshing and may just have earned him a role in the Braves pitching plans over the next few games. Basically, any way that Snitker can avoid needlessly using the trio of Tyler Matzek, A.J. Minter and Will Smith… the better. Unless he comes back up on short rest, it's likely we won't see Fried until Game 6, which with a tied series, obviously isn't a guarantee.
Like any game, though, the only thing Atlanta can control is the next game they play. More important than anything else is making sure Anderson is ready to go on Friday.