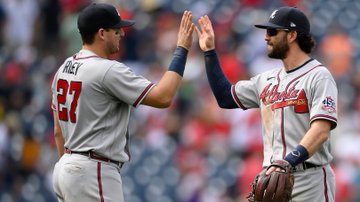 It's Touki Toussaint vs. Braxton Garrett in Game 1 of a 3 game series. The Braves are in sole possession of 1st place and play 3 games against the Marlins followed by an off day, then 3 games against the Orioles. There's real chance for separation should the team continue to click through the weekend.
The Quest for 90
It seemed pretty laughable to talk about 2 weeks ago, but I feel like 90 wins is a division winner and, while it might not come to fruition, it now seems doable. Does anyone doubt that this team could go 28-16 in their last 44 with 6 against the Marlins, 3 against the Orioles, 7 against the Rockies, 3 against the Nats, and 4 against the Diamondbacks? I'm always optimistic…I'll stay the course.
4 for 30
The Braves are set to make history with their infield if all 4 of Freddie Freeman, Ozzie Albies, Dansby Swanson, and Austin Riley can reach 30 home runs. Here's where they all sit:
Freddie: 25
Ozzie: 22
Dansby: 24
Riley: 25
Braves Lineup
Keep rolling, gents.