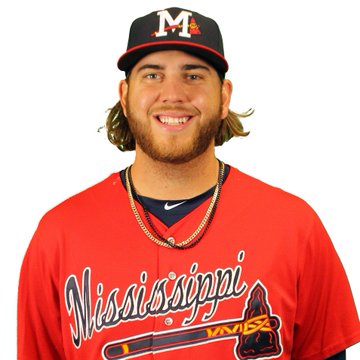 We've made it to August of the 2021 minor league season and all four of the Braves full-season farm clubs have now played nearly 80 games, or roughly 66% of the regular season schedule. The annual MLB trade deadline has passed, and though Atlanta did trade a few minor leaguers on deadline day, really only one could've been looked at as a top-30 prospect (right-hander Kasey Kalich, who went to the Royals in the Jorge Soler deal).
So save for the aforementioned Kalich trade (who was ranked no. 29 on my Summer Top 30), and of course the deal that involved first baseman Bryce Ball (no. 14) back on July 15 (netting outfielder Joc Pederson), essentially all of the Braves top-30 remains the same. An update to the top-30 is overdue, and hopefully I'll have time to do so soon, but for now let's see how each of the organization's prospects performed this past month. As always, we'll start with the back-10, covering nos. 30-21.
*All stats mentioned below cover only games played in July
AAA – Gwinnett
After what he was able to at the Double-A level during the first two months of the 2021 season, it really is sad to see Kingham struggle like he has while with Gwinnett. I mean, this is the guy that posted a 2.29 ERA in 55 innings with the M-Braves, only to decline sharply once at the top-level of the minors, now sporting an 8.44 ERA in 21.1 frames with the Stripers. Kingham was always more of a fringy-top-30 prospect anyways; but I'll admit, I was excited with his early-season results and thought that this could be his year.
29. Kasey Kalich, RHP
*dealt to Pirates in Richard Rodriguez trade
Kalich received a strong review in last month's column, even though he was had beginning to look more like a reliever than a potential big league starter. However, the 23-year-old had a pretty unforgettable month of July in which he allowed seven runs in 7.2 innings (8.22 ERA), which makes the Rodriguez deal even more of a positive for the Braves. The fact that Atlanta was able to cash in on Kalich for a real big league bullpen reinforcement is pretty impressive, and even though he's still just a prospect who could one day make the Braves regret this year's deal, GM Alex Anthopoulos was probably wise to go ahead and move him.
AA – Mississippi
Overall it's been a disaster of a season for Ramos, but I must give credit where credit is due, and during the month of July, the 22-year-old outfielder made some noticeable strides at the plate. Sporting an unsightly 29% K rate, Ramos sports a .178 AVG in 2021, but last month he managed to hit .225 in 13 games, which sadly is his best monthly mark so far this year. It's weird, the games I've actually watched Ramos in person he has been a beast at the plate, but any other time he has scuffled, and it's evident that he's not quite ready for Double-A level pitching.
A – Augusta (7 day IL)
Munoz was another early-season sensation as he came on the scene to start 2021 throwing nearly 100 mph down in Single-A. However, in the pros it takes more than just heat to set down opposing batters on a consistent basis… and in June he struggled mightily, posting a 12.86 ERA in seven innings spanning two starts for the GreenJackets. Munoz's July wasn't great but it was an improvement. He made another two starts and managed to hold opposing batters to a .190 AVG, resulting in a respectable 4.76 ERA. The 21-year-old is currently on the injured list, which caused him to miss his turn in the rotation last week. It's been an up-and-down season, but I'm still interested in Munoz.
A – Augusta
After hitting .329 in May and then .310 in June, Carter just wrapped up his worst month of the season in July, posting a middling .244 AVG in 25 games. However, in terms of power it was his best stretch as he finished with 7 XBH, including a pair of triples (a monthly high as well). In our last check-in column I asked why, at 24-years-old, Carter is still in Single-A, but given his recent decline and simply the shear amount of talented outfielders ahead of him on the organizational depth chart right now… I guess it makes a little more sense. Even so, Carter is still sporting an above-average 118 wRC+ with Augusta this season.
AA — Mississippi
Dean is averaging a little more than seven stolen bases a month so far this season and his 22 swipes overall leads the Double-A South league. This past month was much of the same on the base paths for the 24-year-old outfielder as he tallied seven steals, and it was the same story at the plate as well, where Dean posted a .731 OPS in 23 games, which compares very similarly to his .735 OPS from back in June. Perhaps his sensational speed causes us to overlook his bat a bit, but the truth is, Dean has done a nice job holding his own as pro hitter. He's posted an above average wRC+ in each of his four seasons in the Braves system, including this year, in which he owns a 113 wRC+ in 70 games with the M-Braves. Dean does need to try and cut down the strikeouts, though.
24. William Woods, RHP ↔
A — Augusta
So it appears nothing has changed regarding Woods, who has yet to play this season. According to MiLB.com he's active and with Single-A Augusta, however, I haven't been able to figure out why he's still not pitching. And it's pretty unfortunate considering how much excitement there was surrounding him leading up the 2021 campaign.
A – Augusta
Given how young Estes is (19), the Braves simply aren't interested in rushing him in the system, even though he has absolutely dominated the Single-A level, currently sporting a 2.58 ERA in 73.1 innings so far for Augusta. Estes leads Single-A's East League in strikeouts (94) and that impressive ERA listed above ranks second. The month of July was another good one for the former 17th-round pick. Estes is definitely a prospect to keep an eye on for the next several seasons, but it's probable he spends awhile mastering his craft in the lower-minors.
AA – Mississippi
July was easily Jenista's best month so far in 2021 as he posted a .925 OPS and slugged six home runs in 23 games with the M-Braves. The 24-year-old hit decently at the Double-A level back in 2019, but this season his K rate has spiked drastically (37.9% as of Monday), which is really damaging his stock given he probably should be facing Triple-A pitchers by now. He's still trying to climb out of the hole he dug himself in during the first two months, but recently Jenista has heated up at the plate and is actually looking like the player we all hoped the Braves were getting when the team drafted him in the second-round back in 2018. Hopefully he can keep it up because this kid has plenty of potential. With Bryce Ball now gone, Jenista could be a solid first base prospect. He's certainly played there enough this year.
A – Augusta
Grissom missed nearly half of July while he recovered from a minor injury, but now healthy he hasn't missed a beat at the plate, posting a .429 AVG with seven XBH in 12 games last month. The 20-year-old is one of Augusta's top hitters and has also been one of the leaders on defense, essentially splitting his time equally between shortstop and third base. Hell, Grissom has even played some second in 2021, which only adds to his stock as a talented defender. Like Estes above, Grissom is a young'un, so the Braves are in no rush to move him up the ladder, even though he has certainly performed well enough to earn a promotion.