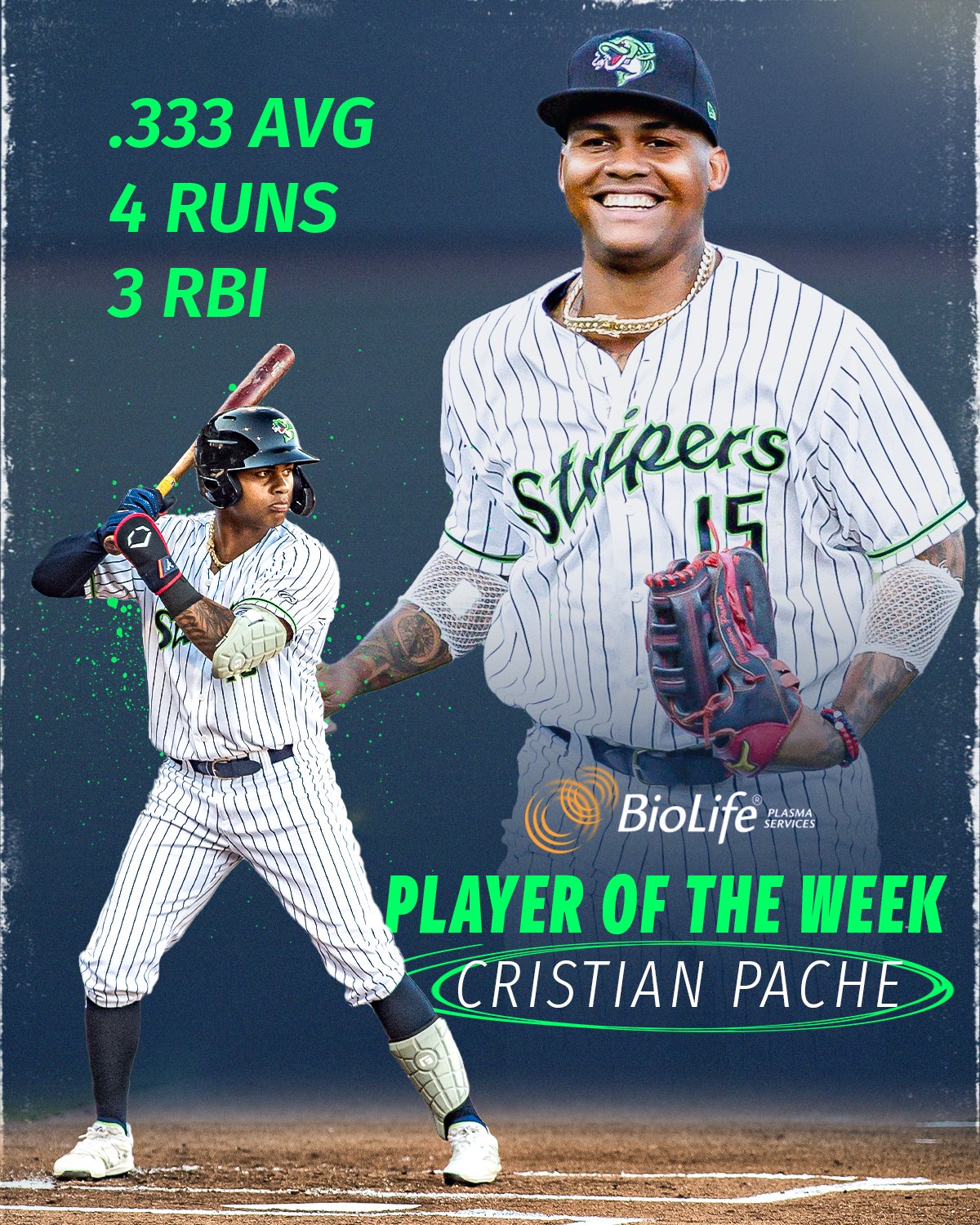 In the "I'm not an expert, but I did stay at a Holiday Inn" mind of things, I'm going to present my Braves Top-30 Prospects. Over the last 5 years, I've watched a lot of minor league ball and have learned quite a lot on talent evaluation. While I'm still a little bit reactionary when it comes to ranking prospects, I do feel that small sample is something to pay attention to in development. Sometimes it's a HUGE swing adjustment like Orlando Arcia made to keep his bat in the zone longer, a simple adjustment from Braden Shewmake to add some launch angle, or it's a tighter delivery from Kyle Muller to change everything in terms of his prospect grade (hat tip to David Lee on this last one because he provided video evidence and WOW, what a difference!).
It's worth noting that none of the players that were recently drafted will make it on this list. I haven't seen them, have not tracked their careers, and am not comfortable in making rankings up. In all likelihood, Cusick would make the top-10, and the next 2 in the top 20, but I'll wait until the offseason before making slightly more accurate assumptions about their careers.
Braves Top 30 Prospects
Pache's bat looked good at the end of the 2019, looked promising in a small sample in 2020, then fell off a freaking cliff in 2021. He's finding his way back with a simpler approach that was his go-to in 2019. Just a reminder to everyone, Pache was traveling with the club a lot in 2020 and there's no telling how much damage that did to his development. I'm looking forward to a strong 2022 where he'll reaffirm his position as Braves CF of the future.
There was never a question about his defense. Defensively, he was ready when he was drafted. At over a 50% caught stealing rate for the year, he's a defensive specimen that the Braves haven't had in a very long time. However, that's not why he's number 2 on this list. He's number 2 on this list because he's smashing the ball in the most pitcher friendly park (and league) in professional baseball. With 14 home runs (and they're not cheapos) and an .873 OPS, Langeliers is proving that the Braves made the right choice when they selected him 9th overall in the 2019 draft.
There's hype all-around this kid and it's well-warranted. His 2021 numbers won't wow you, but watching this kid, his approach, the simple swing, the athleticism, it's all there. He's hit a recent skid, but by season's end, his numbers will be there and he might be atop this list in 2022.
4. Kyle Muller
Alright…I made an assumption about Muller in my preliminary list. That assumption was that Tucker Davidson was the better prospect. That assumption was due to his lack of command. Well, due to some unforeseen mechanical adjustments, Muller is different…very different. And now, that downward plane can go to work. Gosh…this could get really fun.
5. Drew Waters
Waters still baffles me as a prospect, but even I cannot deny the recent success that has me saying… maybe, just maybe. There's still some things that have to right themselves. He's still striking out a lot and everything coming out of this kid just wreaks of aggression, but there are a lot of players that succeed with a constant stream of intensity and Waters could be next in line.
6. Tucker Davidson
Tucker has dropped down on this list for 1 reason and 1 reason alone…sticky stuff. He was one of the guys whose spin rate dropped after sticky restrictions. Also, Peter Moylan discussed "grip" when using a combo of rosin and sunscreen, and apparently, without it, it causes added stress on the forearm. Luckily for the Braves, Davidson is one of the hardest workers out there and he's not going to take no for an answer.
Contreras's below average defense showed up in the bigs and ultimately got him sent back to AAA. I think his bat got a little lost along the way and that was unfortunate. I maintain that the bat will play but the defense is going to need work and that might take the rest of 2021 at AAA and the beginning of 2022.
Holy prospect out of nowhere alert. Strider is one of the main reasons why that 2020 draft class of 4 players is looking extremely promising. His fastball has a 65-70 grade and it is downright filthy. He's on his 3rd level in 3 months and it's likely the level that will challenge his stuff. It very well could be that Strider tops this list in 2022.
9. Braden Shewmake
Had a horrendous start to the 2021 campaign, but has come on strong of late and has raised his OPS to .638, which is still awful but the beginning of the season wasn't a representation of his skillset (was running a .405 OPS on June 16th). There's a bit of bad luck here as his BABIP is .248 and I'm sure it will normalize these next few months. He'll be 24 in November so time might be running out, but I still think this is a big leaguer with starter potential, but could serve a team well as a super-utility.
10. Jesse Franklin
I don't want to get both feet on the Jesse Franklin hype-wagon, but it's hard to ignore what he's done from June on. When May wrapped up, Franklin had a .481 OPS in 79 PAs. From June 1st on? 1.154 OPS with 9 doubles, 1 triple, 15! HRs, 16 BB, and 8 SB to 0 CS. That's some work! He's not hitting fence scrapers either. He's demolishing the baseball. The swing gets a little long so that's something to keep an eye on as he progresses through the system. I expect him to be in AA soon.
11. Jared Shuster
Number 25 overall in 2019, Shuster is impressing with his ridiculous changeup that pairs well with his 92-94 MPH fastball. At 22 y/o, he's dominating High-A and rightfully so. I expect we'll see him in Mississippi by year's end with AAA in his sites and the MLB in 2023.
12. Vaughn Grissom
Grissom is all athleticism and projection at this point. At 6'3, 190 (I think he's bigger than that now), the move off of SS has been coming and now he's a full-on 3B in at Low-A. The defense is strong the power is starting to come and while the .763 OPS isn't great, when the muscle mass gets added, the OPS will skyrocket. Still only 20, there's a lot to like about his skillset and the power potential. Look for Grissom to end the year at High-A with potential to be in Atlanta in 2023-24.
13. Bryce Elder
It's easy to forget about Bryce Elder when Spencer Strider is stealing the 2020 draftees spotlight, but don't sleep on him. He's a thick-framed workhorse type of starter that's also been promoted midseason to AA. He's known for his sinker, but the real plus, as mentioned before, is his durability. While he's striking out a ton, he's also walking 4 per 9 at AA and that might be a concern going forward. Expectation is that Elder will spend the rest of the year at AA and if all goes well, we'll be in Gwinnett's rotation in 2022.
14. Roddery Munoz
It's all projection right now, but Roddery is an arm to dream on. After one look, David Lee gave his fastball a 65 grade and that is enough to get my attention as David isn't very reactionary when giving out grades. A fairly simple delivery, I'd expect to see Roddery tighten up his delivery as, like Kyle Muller, that's a lot of arm to control. He's going to be a project, but if he can stay healthy, it's going to be a fun ride watching him develop.
15. Alex Jackson
At this point, we know what Alex Jackson is, but I still believe in the skillset. I've comped him to Mike Zunino several times and I still think that's his ceiling. He's got light-tower power that goes along with HUGE swing and miss potential. An all-around good defender, there's a backup catcher future here with potential for more should he be given the chance to adjust to MLB pitching for a few years.
16. Freddy Tarnok
Tarnok is prospect fatigue at its finest and I'm definitely guilty here as I've forgotten about him several times, then watch him and say…"Oh yeah…that guy's really good". The problem for Tarnok has never been stuff…it's staying healthy. Through 4 years in the Braves system, he's only managed 220 innings and health will be the key component for him going forward. He's got 2 remarkable pitches in his arsenal and that will at least give him a solid start as a back end bullpen piece, but there's definitely starter potential here. If he gets healthy and starts to click, he'll move fast, but he's only at High-A now and time is ticking.
17. Jared Johnson
I like Jared Johnson more than most. He's always working to improve his game and that speaks for his character. His primary focus has been the fastball but now he's working in his slider and it looks good…when he can locate it. Unlike others, I don't see Jared moving quickly as both control and command have a long way to go, but whether it's as a starter or in the pen, this is another arm to dream on.
18. Victor Vodnik
Vodnik would be higher on this list if the dreaded "forearm tightness" didn't occur earlier in the season. A small dude with a serious fastball, Vodnik has such boom or bust potential and the bust would likely come via injury concerns. If he's able to avoid injury and pitch effectively for the rest of the year at AA, his stock will increase again.
19. Indigo Diaz
The biggest surprise of the year and an 80-grade name, Indigo Diaz has no intention of pitching to contact. Between High-A and AA, Diaz is carrying a 17.7 K/9 and a 2.5 BB/9. Mississippi seems to be the right level for him and unless he just fully dominates there, I could see him finishing his season at AA with a promotion to AAA in 2022 with sights set on the MLB.
20. Justin Dean
One of my favorite players in the system! Dean, measuring at 5'6, was deemed powerless. That is not the case. He has 13 Hrs in 1084 career MiLB ABs, but more than that, he hits the ball hard pretty regularly. And while he's fast, he doesn't have elite speed, merely good jumps and good baseball instincts. He's stolen 81 bases and has only been caught 22 times (79% success rate). None of these are the best part of his game, that would be his walk rate. He's collected 122 in 1024 PAs. Factoring in all of the above with a great defensive glove, and Dean has a reach chance to reach the bigs, especially as a 4th OF type.
21. Joey Estes
Estes has a really good fastball. It doesn't come with supercharged velo (93-95), but it rides and spins like crazy. The slider is his 2nd pitch and is behind the fastball but still looks like it can be a real weapon. A curve rounds out his arsenal, but it looks to need work. He's not even 20 yet so there's a real chance the Braves stacked their system once again with elite talent from the later rounds.
22. Darius Vines: Recently promoted to High-A, Vines is an offspeed wizard with his change and curve far surpassing his fastball. He could be fine in a relief role without a great fastball, but it's going to have to find some life if he wants a career in a starter's role.
Groomed as a reliever since his signing at 17 years of age, Daysbel has always had a good fastball but a high walk rate has delayed his MLB debut. He started out the year at AAA, but faltered and got himself demoted to AA. Since, his numbers are better and his walk rate is acceptable. With so many good pitchers on his tail, his days are numbered if he wants to break through in the only org he's ever known.
24. Kadon Morton
Morton is a toolsy OFer that's currently getting ABs in the FCL. Like Backstrom, he was part of the 2019 draft process of which AA and crew saved from $ in the early rounds to deal it out on the later rounds. He's an OFer by trade, likely corner, but has the athleticism to play all 3, however I'd venture to guess that the Braves want him to add some bulk which likely means he's going to stay in the corner. Morton will likely be seeing time at Augusta soon and I can't wait to lay some eyes on him.
25. Mahki Backstrom
Backstrom is one of my favorite prospects to follow. At 6'5, 220, he's likely a 1B/DH type but the dude can generate some tape measure shots already. Like Bryce Ball, the challenge will be overcoming his large frame, shorten his swing, and get through to the ball. Like Morton, I expect to see Backstrom in Augusta later this year, but the Braves aren't going to be rushing this talent as he might have to stay in the fridge to marinate a little longer than normal.
26. Trey Harris
Trey Harris is a hitter, but Trey Harris was not a hitter of balls in the air at the beginning of 2021. For some unknown reason, Trey, who was one of the better Braves MILB players in 2019 that did not get an invite to the alt-site in 2020. No one knows how much that affected the players that did not get the privilege of playing highly competitive baseball, but I do know that Trey spent his time working out and coaching baseball to help supplement the loss in income. The road back in 2021 was rocky and Trey was hitting every rock as his GB rate was nearly 60%. Not good. He has since gotten back on track and is doing great things again. In his last 25, he's carrying an .886 OPS. He feels like a MLB bench player and I sure do hope he makes it with the Braves.
27. Troy Bacon
At 24 years old, Troy Bacon seems to finally be putting it together. He's limiting walks, commanding the zone, and still maintaining a healthy K-rate. While his fastball won't wow with velocity, it does produce a lot of weak contact. He's at AA and will likely finish the season at AAA. He might be a fringe reliever, or the added command could make him a solid 7th inning guy.
28. Ricky DeVito
DeVito is known for a splitter that just dives away from hitters. He also has a mid-90s fastball and a curve that's getting better, but for now, the splitter is way in front of the other 2. While at Rome, he's struck out 12 per 9 while only walking 3.1, and I expect that he'll be moving up to AA within a few weeks.
29. Brooks Wilson
Has the flow to go with the swag, Brooks Wilson is going to sneak up on the Braves one day and they're going to say, "Well, that's just fine". He has a beautiful curve and a sinker that just drops off the table. He's at Mississippi now, but he's going to move soon, or I'll go get him and drive him to Gwinnett myself.
30. Cade Bunnell
I poked fun at my podcast co-host Brent Blackwell when he, who pays 0 attention to the minors, pointed out that Cade Bunnell was having a good year. Well, he is having a good year and playing all over the infield. If you know me, I like my number 30 to be a bit outlandish. This dude is 24, is playing in Low-A, and likely ends his career in the minors, not the majors. However, he'll likely see Rome this year and really, who knows from there?
Notable Omissions: Trey Riley, Tyler Owens, Ambioris Tavarez, Willie Carter, William Woods, Nolan Kingham