Let's get the hard part out of the way…Charlie Morton looked good yesterday. His fastball was lively. His curveball was filthy. His pitch to Kris Bryant, in which Bryant deposited over the left field fence, was a really good pitch. When a team comes into a game with a sub .100 batting average with 2 outs and runners in scoring position, one would expect for the baseball gods to intervene. They did.
From there, Matzek came in, looked good in 1 inning then couldn't find the plate in the next and gave up a 450 foot dinger to Wilson Contreras. Nate Jones relieved him, looked bad…and tired (like everyone else in the bullpen) and somehow didn't give up any runs or hits. A.J. Minter was less than spectacular but again, no runs. Then entered Will Smith, who seriously looks rejuvenated, and he set things right with some pretty filthy stuff.
The offensive heroes were Dansby Swanson, Travis D'Arnaud, and Freddie Freeman who drove in 6 of the 8 Braves runs. Collectively, the team had 10 hits (5 of the extra base variety) and 7 walks. Guillermo Heredia continues to be the offensive surprise of the season, collecting 2 doubles last night and raising his OPS to 1.037 (say huh?). Quad-A player Austin Riley is now carrying a .382 OBP on the season which puts him in the top-5 of the league. If he somehow maintained his current production throughout the year, he'd be a 3.7 WAR player in 2022. Man, Quad-A must be chock full of talent.
Good News? I'll take it!
This might not be the news we really wanted to hear in regards to Mike Soroka, but it's refreshing to know it's not a long-term injury.
Braves Lineup
@ian_anderson15 takes the mound tonight vs. the Cubs!
Presented by @TruistNews | #ForTheA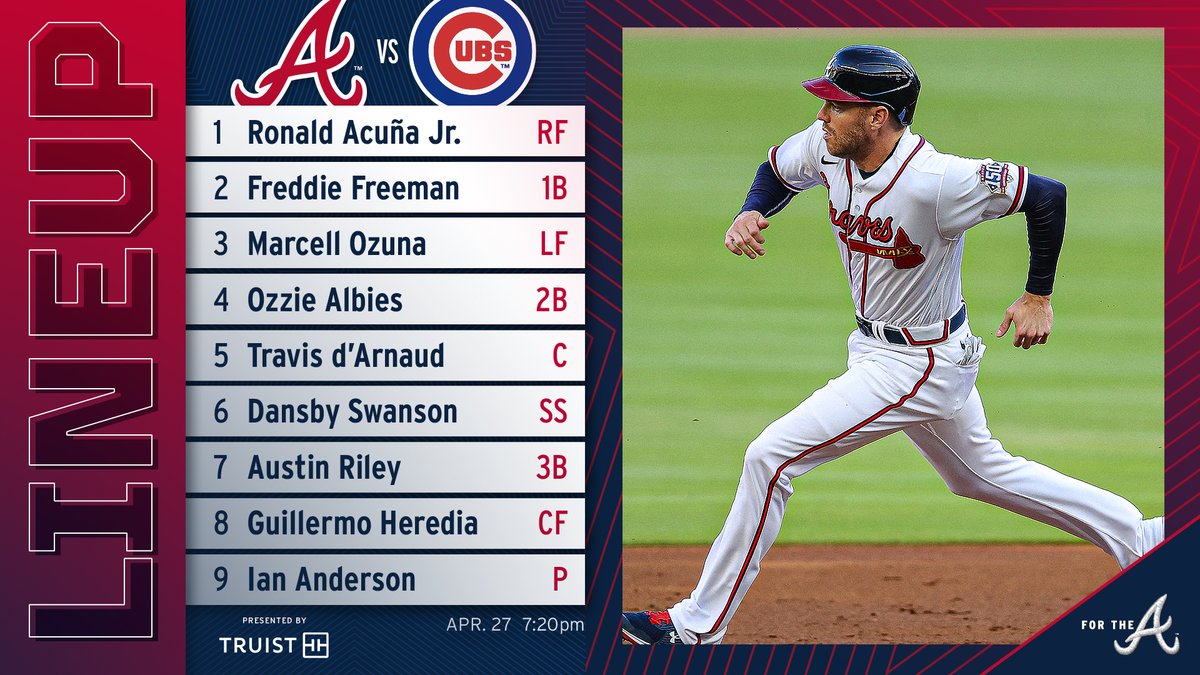 Originally tweeted by Atlanta Braves (@Braves) on April 27, 2021.