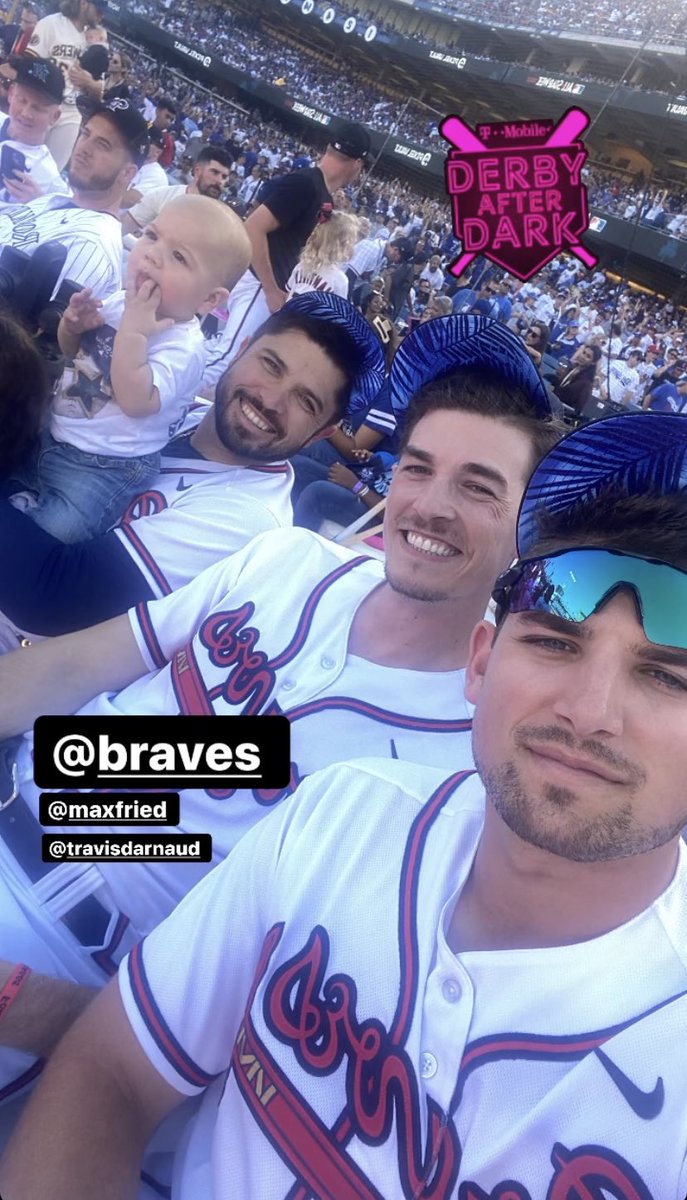 The Braves check in at 56-38 at the All-Star Break, 2.5 games behind the Mets in the division, up 6 games in the Wild Card race, and own the 3rd best record in the National League. In today's piece, we will evaluate each position on the field, and utilize some advanced metrics to determine needs for the upcoming trade deadline.
Catchers
For most of the year, the Braves have utilized Travis d'Arnaud and William Contreras as their catching tandem, and what a tandem they've been. Before landing on the IL with ligament damage in his wrist that required season-ending surgery, Manny Pina played in 5 games and made little impact. That cannot be said about the other 2.
At the break, d'Arnaud is sporting his best advanced defensive metrics since his early years with the Mets and is hitting for power once again with a .461 SLG% and a .761 OPS. He's caught the bulk of the Braves games, appearing in 63 and looks to be aging like a fine wine.
William Contreras has been adequate behind the dish and an absolute monster at the plate. In 174 PAs, Contreras has 11 HRs and an .877 OPS. Looks like the 24 y/o is here to stay.
With both d'Arnaud and Contreras making the All-Star team, it's safe to assume the Braves are set at catching for 2022, likely 2023, and Manny Pina, who signed a 2 year deal for $8MM with a club option and who was supposed to be d'Arnaud's sidekick this year, will probably be on the trading block in the offseason.
Grade: A. No needs to fill.
First Base
It's hard to believe that a player that has 17 HRs at the All-Star break is ranked 12th in fWAR at his position, but that's where Matt Olson sits for now. For 2 months, Olson was one of the worst offensive 1B in the Majors, carrying an OPS of .672 from April 19 to June 18th. However, the 28 games that followed were substantially better as Olson looked like the player the Braves thought they were getting in the trade with Oakland. Olson won't fill Freddie Freeman's shoes in 2022 and he doesn't have to, but I do think he'll finish as a top-10 1B in the league with potential to be much more should he continue the good work from his last 28.
Grade: B-. No need to fill.
Second Base
Ozzie Albies wasn't being Ozzie Albies even before a bizarre injury while swinging the bat that broke his foot and required foot surgery. He wasn't hitting. There were also many defensive lapses that just seemed bizarre. The 2022 tale told up until now had him sitting at a 1.1 fWAR (which seems generous). The Braves first line of defense? Give Orlando Arcia the job. Didn't work. .581 OPS over 85 PAs. Ok…throw Phil Gosselin in the mix. Even worse. .553 OPS. How 'bout the corpse of Robinson Cano? How could he possibly be worse, right? Not right. .500 OPS.
Until Albies comes back and is healthy, there's no internal solution for 2B. The issue that I have is that people are banking that he'll definitely be back and I'm not sure that's true. The bridge of the foot is very tricky, especially for athletes. I'll be happy when my favorite Brave returns, but like Mike Soroka, I ain't putting $ on it.
There are about 4 dudes at AAA that could be tried out and they'd likely have the same results as the above 3 if given any real chance.
Grade: D. Huge need.
Short Stop
What's Dansby Swanson doing that he hasn't done before? Walking more? Nope. Striking out less? Nope. Those remain the same. However, the game changer has been the swing adjustment.
Dansby has always carried a pretty good hard hit rate, hovering around 41.5% from 2019-21. His barrel rates are also around the same mark, sitting at about 11% over those same years. And while I have no idea if this change is purposeful or not, what has increased has been his launch angle, which sits at 16.3 degrees, a significant increase from his last 4 years where he hovered around 14. Yes, Dansby is carrying a career high BABIP of .374, but unlike Chris Johnson, who was just lucky (and Frank Wren was an idiot), Dansby's high BABIP in 2022, much like the BABIP of Tyler Flowers in his heyday, seems like it can sustain a .350ish level because he's hitting the ball so dang hard regularly. In this year alone, Dansby has put the ball in play at an exit velocity north of 100 MPH 74 times resulting in 46 hits, 27 for extra bases. With the increased lift, these hard hit balls aren't finding dirt and that is the secret sauce to Dansby's success.
Grade: A. No need to fill (but dammit, a Super Utility that can handle SS and hit a bit sure wouldn't hurt).
Third Base
What happens when you're in the Top 3% in the league in average exit velocity and carry a very healthy 14.5 degree launch angle? You hit monster dongs. It seems ages ago, but for 2 weeks, Riley was awful. He couldn't hit a lick, had that lost look in his eye, and was a strikeout waiting to happen. And while he started turning it around in the first weeks of June, he slumped hard again in the last 2 weeks and then the calendar turned to July. Wonderful, beautiful July.
75 PAs
5 BBs
28 Hits
6 Doubles
9 Home Runs
1.311 OPS
There's no denying it. Austin Riley has become an elite hitter and if the Braves finish the season with 90+ wins, Riley will get serious consideration for MVP. When you're in the Top 2-4% in the league in 7 advanced hitting metrics on Statcast, you deserve the attention and Austin Riley deserves a whole lot more than he gets.
Grade: A+. No Need to Fill
Final Breakdown: Overall, the infield has been the catalyst of this team. With 4 of 5 positions performing well, there's not much that needs to happen. With the DH in place, bench players are becoming less and less valuable, but the Braves desperately need a super-utility that can hit and play 2B until Ozzie Albies recovers. Some options to consider would be Ian Happ, Brandon Drury, Joey Wendle, Harold Castro, and Brad Miller.