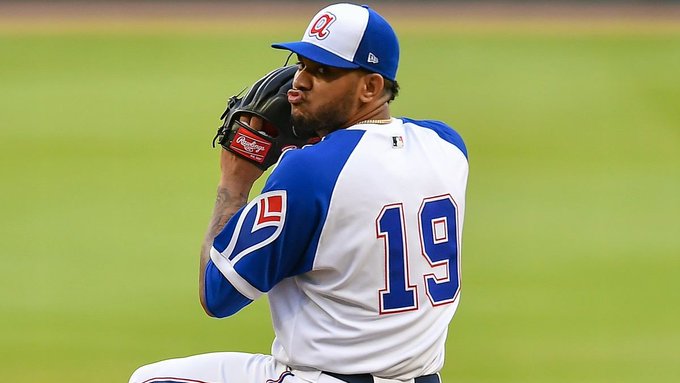 "I got rock. "
"I got rock".
"Rock, Paper, Scissors, SHOOT!"
"I got rock. "
"I got rock".
The Braves are facing off against the Yankees in a 2-game series at Truist Park. Like the Braves, the Yankees have a 9-game winning streak of their own. Also like the Braves, the Yankees made significant improvement to their 26-man roster adding Andrew Heaney, Anthony Rizzo, Joey Gallo, Joely Rodriguez, and Clay Holmes. The results?
Andrew Heaney: 6.55 ERA
Anthony Rizzo: .829 OPS
Joey Gallo: .669 OPS
Joely Rodriguez: 2.35 ERA
Clay Holmes: 2.16 ERA
The bullpen has been strengthened, Rizzo has been solid, Gallo has struggled, and Heaney's been heinous. This feels very much like the Braves deadline, and, in all likelihood, will look similar when game 162 is played. In the last 30 days, the Braves are 4th in MLB in runs scored at 144 and Yankees 8th at 133. For pitching the Braves are 2nd with a 3.29 ERA while the Yankees are first with a 3.13 ERA. Bringing the stats full circle, in 28 games:
Yanks have given up 96 runs, Braves have given up 90 (Yankees defense have given up 12 unearned runs).
Braves have scored 144 runs, Yankees have scored 133.
For tonight, it's Jordan Montgomery vs. Huascar Ynoa. Tomorrow, we will see Andrew Heaney vs. Charlie Morton. In both the small sample and the large, the pitching matchups favor the Braves. And while the small sample is the new sample since both teams have had drastic changes to their lineup, the offensive matchup also favors the Braves.
I know, as fans, we're supposed to be leery of this interleague matchup. However, when factoring in the pitching matchups, the offenses, and home field, I like our chances.
Braves Lineup