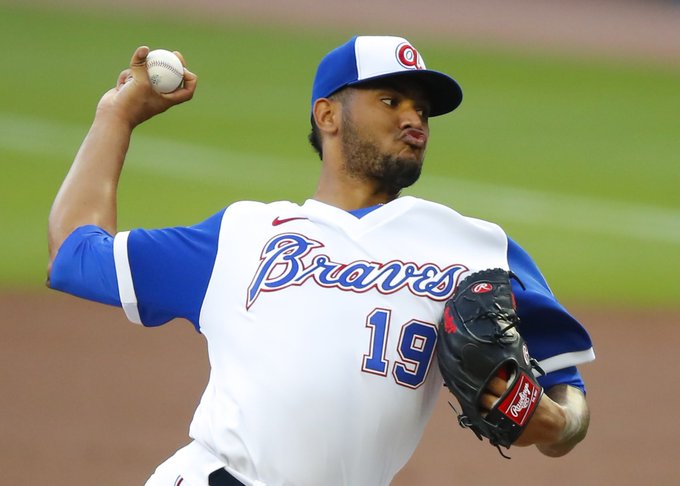 The Braves made quite the splash at the deadline by acquiring a back-end reliever, an entire outfield, and a plus one. The plus one, Eddie Rosario, just started his rehab at AAA where he's 1 for 17 with the 1 being a single. There's likely a lot of BABIP bad luck here, but I've watched, and it really ain't much. From the handful of ABs that I've seen, it looks like it could be a bit before we see him. That's the thorn.
However, Eddie Rosario has a solid track record of being a good hitter. For his career, his OPS, like Adam Duvall's, is carried by a high SLG% and hampered by low OBP. Also like Duvall, the OPS seems to always end somewhere around the upper .700s or lower .800s. And while he's better against RHP for his career, especially with power, he's not a complete slouch against LHP where he still carries a career .708 OPS.
Many of my social media buddies think the Braves should get Eddie Rosario up to the bigs ASAP. I'm not so sure. An abdominal strain is no joke, and it seems obvious that Rosario isn't quite comfortable. Sure, it'd be nice to have Rosario up to split time with Jorge Soler, who is much better against LHP than RHP, but it would also be nice to keep him healthy and slow play him so he can be ready when the Braves really need him. Right now, the offense is rolling, the Braves have more OFers than they can play right now, and Abraham Almonte is 100% fine off the bench. Even if it were September, which is only 2 weeks away, there'd still be plenty of time to see if Rosario is worthy of a postseason spot (assuming the Braves get to the postseason).
Overall, Rosario's numbers look poor in 2021 but that was likely a small sample of bad luck (.232 BABIP) that came at the beginning of the year. From the end of May until he went down with injury, he was the same Rosario that he'd been for his career and that's the Rosario the Braves need to make sure they're getting.
A Captain Obvious Move
We knew this was coming. Jacob Webb had a good outing and probably solidified a call-up at some point in September. With only 28 men allowed though, I feel as though the Braves will shuffle a few relievers around to see who could stick for the postseason.
Here we IndiGO?
Crazier things have happened, I'm sure, but Indigo Diaz's ascent though A+ and AA has not went unnoticed. His K/9, which is at an astonishing 17.5 across 2 levels, is the highest among qualified relievers. In 11 innings at Mississippi, his ERA is unblemished. He's a lights out relief prospect that the Braves have not had in the system since Craig Kimbrel. While the Braves bullpen has had a resurgence of late, it wouldn't surprise me to see Indigo get a AAA promotion soon to see if the stuff translates to the minor's last tier. If so, things could get really INDIresting in September.
A Surprise Promotion
Most people that follow the minors thought that when Bryce Elder got promoted to AA after only 56 innings of pro ball, he'd be there for the rest of the year. Negative. He's on his way to AAA and has done everything to earn it. With both Elder and Spencer Strider in the upper stages of the minors, there's still a lot of future talent in this system. Does Elder's promotion bode well for Indigo? Time will tell.
Braves Lineup
The Braves face off against Sandy Alcantara tonight. It's going to be a tough one. Let's get it.