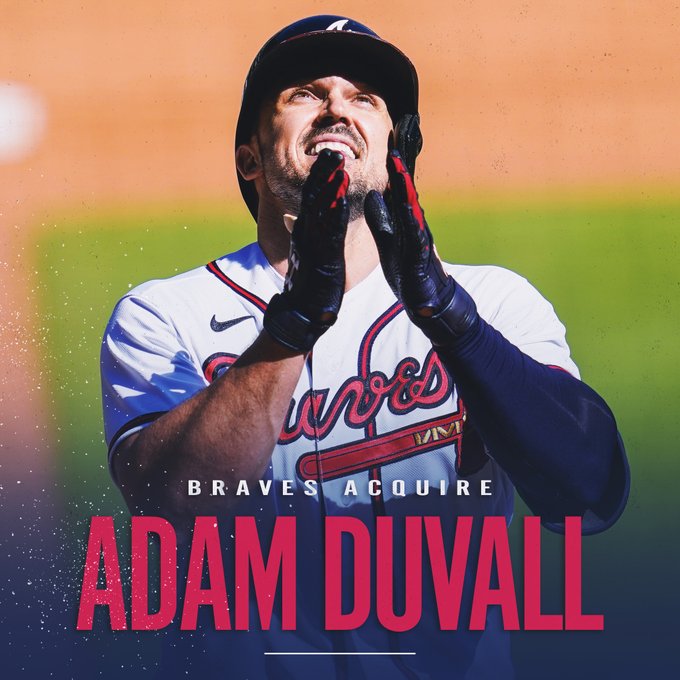 My co-host and good friend, Brent Blackwell, started a newsletter similar to David Lee's, but focusing primarily on Braves transactions. He's quick-witted and articulate and you can subscribe (for free) here:
https://bravemoves.substack.com/
Here's Brent giving us the skinny on the Braves trade deadline.
Friday morning, Atlanta woke up with decidedly meager playoff odds. PECOTA, the frustratingly accurate sage of Atlanta's miserable 2021 season, gave the team less than a 3% chance of reaching a NLDS. The more bullish odds at Fangraphs gave the Braves around a 9% chance of the same success. This zone near 10% is something of a no man's land; the team isn't in a position where going in for the kill makes a lot of sense, and it also isn't hopeless enough to just cut bait on the season altogether. Not that there aren't arguments for either. It's always admirable to try to win, and MLB teams are too incentivized to choose other routes from time to time. Conversely, if the team decided to sell and reload for a season where its best player could again participate, no one would really blame them. Still, neither nuclear option seems obviously helpful.
This left Alex Anthopoulos in a difficult position, perhaps his toughest yet with Atlanta. With Freddie Freeman's impending free agency surely playing no small part, Anthopoulos went with what was probably the best strategy: improving the team as much as possible without surrendering any longterm value. There's nothing wrong with surrendering value when your playoff position is more secure. It's likely why the White Sox – a team which knows it is very likely to play in a division series – were willing to overpay to bring Craig Kimbrel across town. There's less risk in that trade, because they can already plan for the playoffs. Atlanta, on the other hand, simply hasn't earned that kind of investment. We've all witnessed the frustrating back and forth, the dance with .500 that stopped being cute months ago. This team has maddened its fans since Opening Day. If they have the makings of a title contender, they haven't shown it.
But eschewing the big move doesn't mean the team can't improve at all, and Atlanta's whopping four deadline deals reflect this philosophy. Let's get to the details.
On the Three Flags Flying podcast, I've been calling for Jackson to be traded for over a year now. He had mastered AAA, it was time for him to get a real shot at the MLB level, and if that wasn't going to happen with the Braves, why was he still on the roster? That being said, it's still a little bittersweet to see Jackson's ATL tenure end here. The Braves traded Max Povse and Rob Whalen to SEA acquire Jackson (and Tyler Pike) in 2016, and after coming to the system he completely revamped his prospect status, moving back behind the plate, where he not only became serviceable, but seemingly excelled. Once a prospect with a sure thing bat whose questions centered around where he'd wind up defensively, he turned into a relatively sure thing on defense whose bat just needed to play. And it never did at the MLB level. In a limited cup of coffee in 2019, Jackson batted 15 times, managing one walk, one HBP, and zero hits. After going 2 for 7 in 2020, Jackson got a shot to be the backup in 2021, but he once again foundered, collecting 1 hit in 23 at-bats. Atlanta optioned him to the minors for the final time, and the writing was on the proverbial wall. Out of options beyond 2021, the Braves finally let Jackson go where, hopefully, he can play.
Returning home is Adam Duvall, and Braves fans and readers should be plenty aware of what he brings to the table. Had MLB brought the DH back to the NL for this season, Duvall likely would have never left. With Atlanta needing to fill both a LF and DH spot, the team probably would have kept Duvall, brought in a left-handed bat (like Joc Pederson or Eddie Rosario) to platoon, and signed Ozuna to handle DH duties. Unfortunately for the Braves, eliminating the DH didn't eliminate their need for a big bat in the middle of the order, so Ozuna's glove was called back into duty in a perfectly reasonable move that wound up producing disastrous results. Duvall signed with Miami and did what he tends to do – he's poor at getting on base and making contact, but great at hitting the ball far when he does connect, and he brings a .229/.277/.478 line to the Braves. If you were enamored with Joey Gallo's power, Duvall should be a decent consolation prize – Gallo's .490 SLG barely edges Duvall. If you love Gallo's on-base ability (and you should), well, therein lies the difference.
It's hard to say exactly how Duvall will be used by this team. Though he's performed poorly against them this year, Duvall's track record still demands he be used against southpaws. With a second straight season OPS-ing over .800 against righties and career splits that don't show a strong platoon difference, there's really no obvious need to shield him against same-siders. I'm not sure he's anyone's definition of a bat that belongs in the lineup every single day, but rest and matchups should occasionally sideline him more than any disadvantage of his own. More interesting is where he'll play. Though his natural position is in a corner, he is Atlanta's fastest healthy outfielder, so I expect the Braves to give Duvall a look in center, at least when Heredia isn't in the lineup (and he shouldn't be as much). There's a chance he develops a timeshare with Joc Pederson, but that likely has more to do with Jorge Soler's glove and Eddie Rosario's oblique, but we'll get to that.
Duvall is still owed around $1.8M for this season. There's a mutual option for 2022 worth $7,000,000, and there's a $3,000,000 buyout attached to it. I'm not entirely sure if any of the buyout is guaranteed if Duvall declines his half of the option, so I can't give a precise cost for the Braves. I assume the mutual option will be declined by one side or both, as they overwhelmingly tend to be.
The Braves add a .750-.850 OPS outfielder at the cost of some money and a backup catcher who was essentially out of time with the organization. That's a win.
Traded Dugout Mascot Pablo Sandoval to CLE for OF Eddie Rosario and $500,000
First, the money. Rosario has about $3,000,000 left on his 1 year, $8,000,000 deal. Sandoval, already released by the Indians, offsets some of that money, as he was still owed around $375,000. The money coming to Atlanta offsets some more, so it will functionally cost the Braves a little over $2,000,000 to bring in Rosario.
Sandoval's spot on the roster was truly testing the value of clubhouse camaraderie. Beloved by everyone off the field and now useful only to opponents on it, Sandoval gave us some good early season memories thanks to some big pinch hit homers, but the well dried up rather quickly, resulting in a .178/.302/.342 line in what could very well be his final MLB action.
As a Minnesota Twin, Rosario was a reliable .800 OPS outfielder, and he hit 32 HR in 2019, the year of Minnesota's relentless HR barrage. After signing with Cleveland this offseason, Rosario's production at the plate cratered, hitting .254/.296/.389 in 78 games prior to hitting the shelf with the aforementioned oblique injury. Rosario has some flaws in his game to be sure. His defense has ranged from acceptable (this year) to disastrous (-18 OAA in 2019), so who knows what you'll get from him there. His approach at the plate might remind you of Vladimir Guerrero, as Rosario tends to be a high-contact hitter despite a willingness to swing at virtually anything. The Guerrero comp ends there, it's important to note.
For now, Rosario will remain on the IL for at least a week or two, though there was talk he could start a rehab stint this weekend. When he returns, the lefty will likely be looking for a platoon partner due to his career .808 OPS against righties, compared to just .703 against lefties. In those halcyon days in Minnesota, he was a true righty-masher, and Atlanta has to hope he can rediscover that magic upon his return. It's not too tall a task. Rosario is 29 until late September, and with a generally helpful track record to date, there's reason to believe he can be at least a league-average bat going down the stretch. That's useful, even if it's coming off the bench here and there. Considering the cost to acquire him is essentially a willingness to pay a fraction of his salary, that's an upgrade that's easy to sign off on.
I always like to try to predict what the Braves will do at the deadline. Last year, I managed to correctly predict Atlanta would acquire Tommy Milone from the Orioles. I know, I know. I wish I hadn't. He made sense at the time, and Anthopoulos clearly saw it the same way, but it was a disaster, despite the team's comical 3-0 record when Milone pitched. This year, hesitant to risk accidentally putting more of that evil on the Braves, I still couldn't resist the fun, so I came up with this:
Hey, not bad! Let me clarify a tad. If I had ranked the likeliest Royal targets, I probably would have gone with Michael A. Taylor, a strong defensive CF we'd know from his seven years with the Nationals, first. Second would be Soler, and finally Andrew Benintendi. That tweet was somewhat lazily thrown together and off-the-cuff, though. After more consideration, Soler should have made the most sense because he's both the likely best of the three and the easiest to acquire.
That might seem counterintuitive, but in Soler's case I think it makes sense. Soler probably has the most on-field value of the three, but his contract is just slightly more prohibitive. According to Cot's, Soler has $2,813,172 remaining on his contract. There are some incentives which will increase those costs. He's already earned a $50,000 bonus for 350 plate appearances – he has 360 – and he'll earn $50,000 more each time he hits the 400, 450, 500, or 550 PA milestone. I called the contract a problem, but it's nothing terrible. Just more than Kansas City was interested in finishing out. The Braves will likely wind up paying Soler around $3,000,000. If this were the offseason, and there were many other moves to make, Soler wouldn't be attractive to a front office. But at this point, it's just money you've already accepted you can spend on players. So really, if you can afford your rentals, who cares if they're worth the money or not? It's the deadline. There's nothing more to do.
Kalich is precisely the kind of "spare change" I was referring to. The 23 year old future reliever is more than organizational depth, but he's the kind of fringe prospect the team has plenty of. He's the kind of player every team is happy to have in its system, but no team should really miss all that much.
Soler has hit a disappointing .192/.288/.370 this season, but the owner of Kansas City's single-season HR record (an AL-leading 48 in 2019) has found his prodigious power lately; over his last 53 plate appearances, he's slashing .239/.340/.717 with 7 HR. Soler hits the ball very hard when he hits it – which, despite fairly decent discipline and selection, isn't as often as you'd like. Like the others, Soler should be an upgrade to this offense or bench, mashing homers against lefties and occasionally against righties, but there's also a reason he was as affordable as he was. It's yet another trade that's hard to see the Braves losing, but it's another fairly low-impact one.
On Friday, Matt Chrietzberg of Outfield Fly Rule tweeted that due to their dissipating option statuses, he expected Bryse Wilson and Sean Newcomb to potentially join Alex Jackson on the trade market. As soon as I heard the Braves acquired Rodriguez, Wilson immediately jumped to my mind, thanks to Matt's tweet.
I remember hearing Rodriguez's name early this season as a likely deadline trade candidate. Such is life when you're an arbitration-eligible quality reliever for the Pirates. Leaving Pittsburgh with a 2.98 ERA and 19 saves in 196 appearances spread over four seasons, why then didn't Rodriguez command more in return at the deadline? In 2021, there's a pretty easy culprit to pin rapidly declining pitcher value on: the sticky stuff crackdown.
Before the official enforcement started in earnest on June 21, Rodriguez's four-seamer had an average spin rate of 2582 RPM. His slider's average spin rate was 2511 RPM. He had allowed a .178/.202/.248 line and had a 1.91 ERA. After the enforcement began, the fastball is down to 2352, and the slider down to 2094 – those are drastically significant changes. In that time, Rodriguez has a .237/.293/.421 line allowed and a 5.40 ERA. That's how a long-effective reliever with more than two years of team control can go for such a seemingly slight trade return.
But I'm not here to be all doom and gloom! Despite Rodriguez's possible collapse lately, there are some caveats to remember:
Just because he may have relied on the sticky stuff doesn't mean he can't succeed without it. There's going to be a re-learning curve for many pitchers. Some will fail to adjust, but we can't assume all will.
After 2021, there's a chance MLB relaxes some of their enforcement. Pitchers have publicly criticized the crackdown, insisting that changing their grip and pitching processes leads to more injuries. If some degree of grip help returns, Rodriguez could see his value return, making this at least an intriguing buy-low candidate for future seasons.
He's in his arbitration years, so if he's unable to recover, the Braves can non-tender him and all that's lost is a pitcher who's running out of maneuverability and the currently injured Devito, a relief prospect.
When it comes to prospects, I trust David Lee of bravesprospects.com, and he weighed in on this deal with this:
To me, this is easily the riskiest trade of the day, as I'm interested to see what Wilson can do with a real chance to make regular starts in Pittsburgh, but in terms of risk, there wasn't really much competition for the title. Still, it's the easiest deal to imagine going sideways for the Bravos. Rodriguez could fail to recover, and Wilson could conceivably be a better reliever right now, even if it's not likely. But it's easy to understand Atlanta jumping at the deal. Rodriguez's value might only be temporarily tanked, and the Braves are assuredly aware of his post-June 21 struggles, so there's probably some internal belief they can fix them. And even if they don't, his spin rates have dropped to basically the same levels they were at in 2018, when he posted a 2.47 ERA and 11.4 K/9, so perhaps the Braves aren't worried as much about recovering the spin as they are helping Rodriguez learn to pitch in this new world of enforcement.
Conclusion
These four trades help shore up a few problematic spots, and it reforms the outfield drastically. They'll send Guillermo Heredia and Abraham Almonte to the bench or DFA-land and help the lineup be a little less punchless on a night-to-night basis. On the pitching side, even a broken Richard Rodriguez might be preferable to whatever Shane Greene is doing out there right now. They all help. But do they help enough? That doom-spelling robot PECOTA is a little less pessimistic tonight, nearly doubling its odds of Atlanta appearing in the NLDS to 5.5%. Moving from 35-1 to 20-1 is something, and probably as much as this edition of the Braves really deserves, but it's important to accept the Braves wake up this Saturday in much the same way they woke up Friday: as longshots. If that's a little disappointing after such an exciting deadline for so much of MLB, I can't blame you. I share your disappointment, but mine remains disappointment that this team was unable to play its way into a more aggressive trading position prior to Friday's deadline.
Stray notes
As you may have noticed, I'm probably not going to cover back and forth promotions and demotions. Stray minor league movement might catch my eye here or there, but what more is there to really say about the Brys-, er, Kyle Wright shuttle from Buford to Smyrna? There are other, better news-oriented sources to delve into 27th man callups and "we don't need this guy until [date]" send-downs.
I should always write on major moves, like trades or changes to the 40-man roster. If I can catch them, I'll also hit MiLB signings and releases, although they can be a little more slippery.
If there are any historical transactions you'd be interested in me delving into in detail, let me know! After the deadline, I expect things to slow down a bit, and the offseason can also have dead periods, so I'll be on the lookout for topics.
Braves Transactions
Not too surprising as both have been riding the struggle bus in the bigs. There was a lot to like about Orlando Arcia's swing in the minors, but looks like the swing, while still good, was interrupted with a bad approach. Sean Newcomb needs a new team at this point.
Braves Outfield Utilization?
The Braves now have an official plethora in the outfield. With Abraham Almonte, Guillermo Heredia, Joc Pederson, Jorge Soler, Adam Duvall, and within a week to a week.5, Eddie Rosario, it's worth discussing how they'll be utilized. Here's my guess:
Guillermo Heredia becomes PH/defensive replacement
Adam Duvall, who's the best OFer on the team, gets a shot at CF
Joc Pederson settles in and stays in RF regularly.
Jorge Soler will start regularly in LF, but could end up in a platoon with Eddie Rosario or Joc, depending on who is or is not performing.
Abraham Almonte becomes 1st PH off the bench, but also could get starts if any of the above struggle.
A Predicted Lineup for Tonight
Joc Pederson
Adam Duvall
Jorge Soler