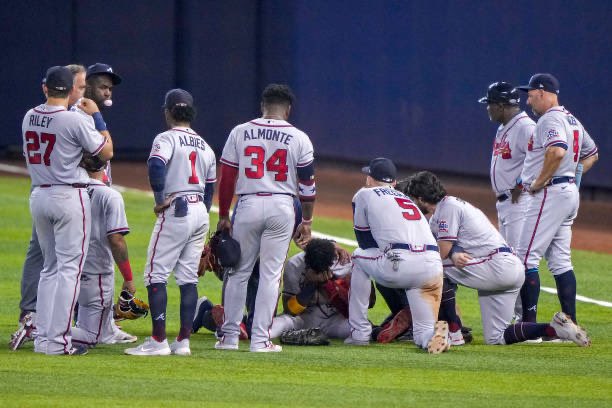 I don't like typing this. I think it's because I don't really believe in it. When I was a kid, as a 4th grader, I found out that Santa Claus was a phony bologna. In my annual letter of selfishness to the North Pole, I asked for an adjustable basketball goal. Around mid-December, I found that basketball goal…in our unfinished basement. My parents had haphazardly hid it thinking that 4th grade Ryan was 2nd grade Ryan and was terrified of the place where camel crickets rule. However, 4th grade Ryan was adventurous and, if 42-year old Ryan can be honest 32 years later, was already questioning the existence of a chubby man that no way in hell could fit down our chimney.
Replacing Ronald Acuna Jr., a top-5 baseball player, on a team that is already straddling the fence of mediocrity. Not possible. The combination of speed, patience, power, good defense and a remarkable arm isn't replaceable. However, if the Braves want to try, they're going to have to improve in several areas just to break even.
The Outfield
With Acuña on the shelf, the entire OF comes down to Abraham Almonte, Guillermo Heredia, Ender Inciarte, Ehire Adrianza, and Orlando Arcia. Between the 4, they have a collective 1.6 fWAR. Acuna has 4.4…by himself…in 82 games. If Braves are going to move the needle whatsoever in the outfield, roles have to be reestablished and bench players have to get back to the bench. Here are my thoughts:
The Pitching
I'm just going to keep pretending that we are living in a world that Ian Anderson will be healthy, Max Fried will stay healthy, Charlie Morton will continue showing dominance, Drew Smyly will continue being a good 4th starter, Kyle Muller will be death to egos, and Huascar Ynoa will come back in some sort of role that will make us smile. From there, the Braves have GOT to solve their bullpen pecking order by pecking out the peckers. This should be simple, but it won't be while Brian Snitker is at the helm, but the easiest solution is staring at the Braves in the face: GET RID OF JOSH TOMLIN! We've seen it before and we'll see it again…Snitker will continue to use guys like Ender, Panda, Kevan Smith, and Tomlin unless AA takes the choice from him. Part of getting better as a team is not settling for the worst. #RantOver
If Braves removed Tomlin, a lot of things could fall into place:
Let's be real here… this bullpen should be a lot better than what it was in the first half and I'm expecting better things in the 2nd half. However, like the above list of hitters, here are some late-inning relievers the Braves could target and could really aid in helping pitchers slot into formidable places: Craig Kimbrel, Richard Rodriguez, Taylor Rodgers, Scott Barlow, Paul Fry, Jose Cisnero, Anthony Bender, Tanner Scott, Raisel Iglesias, Ryan Tepera, Cole Sulser, Steve Cishek, Gregory Soto, Daniel Bard.
That's a WRAP
There's no replacing Ronald Acuña Jr. We as fans all know that. What the Braves can do is to better themselves defensively by moving Riley to LF, Arcia to 3B, acquire an OF bat, get Travis d'Arnaud and Huascar Ynoa back, and acquire a good reliever and maybe, just maybe, they can find themselves backdooring the division for the 4th straight year.
Go Braves. Can't stop. Won't stop.