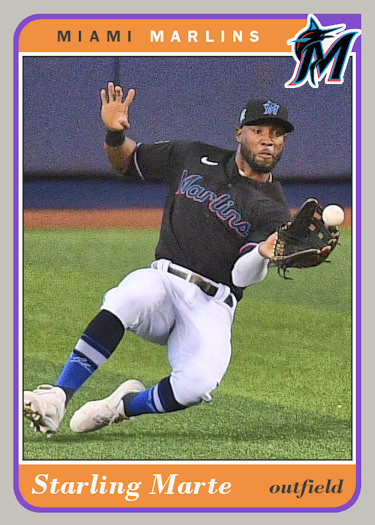 The Miami Marlins, after a 60-game season of .500 baseball, are once again cellar dwellers in the NL East. At 33-44, they've already started the sell-off process by making the first fairly significant trade of the deadline:
Even though Corey Dickerson is in a boot and a timetable has not been put in place for his return, he will return and the hope is that he'll help the Blue Jays off the bench. Overall, Adam Cimber might be the bigger get here for the Jays as he's carrying a 3.82 ERA, albeit a fairly fluky one, in 34.1 innings and also comes with 3 more years of control. It's assumed that the Marlins will continue to deal some expiring and/or expendable assets and there's one in-particular that looks like an extra tasty rental.
I'll not shy away from my stance on Cristian Pache. I believe he's the Braves CFer of the future for the next 5-6 years. However, I'll fully admit it that he's got work to do with his swing. His lower-half was a full blown mess at the beginning of 2021 and, while I've seen much better swings in AAA in the past few months, he's still got work to do. If Braves don't make a move, they'll likely have to continue gambling on Guillermo Heredia and a .358 BABIP. Personally, I'd rather upgrade both offensively and defensively to allow both Heredia and Almonte to slide back to platoon roles/bench bats.
Starling Marte is having a fascinating season. He's tripled his career walk rate, is playing the best defense of his life, is stealing bags at a high rate, and is carrying a .295/.404/.477 slash-line. Do you know what the Braves really need right now? They need a guy that can run, can play good CF defense, and can get on base. Want to fix this offense in one move? This is it.
Marte will be a free agent in 2022. He's owed $12.5MM. The Marlins will need the Braves to cover the rest of the salary AND to give a substantial package for Marte, as with the in-season trade, they'll be losing the comp pick. Luckily, the Braves have the means to make this trade happen, but will they do it? Likely, no, but I'll still build it and hope they'll come.
The Package for Starling Marte
I've come to terms that Dansby Swanson will be the Braves SS for 2022. I've also come to terms that the Braves will likely keep him around past 2022 as he's a fan favorite and plays fine as the 6th-7th best offensive player on the team. Kyle Wright deserves an everyday shot to get right in the majors and he's just not going to get that in the Braves organization anytime soon. I could basically copy/paste this and it'd be the same for Bryse Wilson and Touki Toussaint (so sub them in/out if you like). This move gives the Braves the real offensive boost they need, someone that gets on base at a high clip, and allows Brian Snitker to move to the 3rd spot or, better yet, Ronald Acuna Jr. to the 2nd spot and Freddie to the 3rd. Runner(s) on in front of our 2 best hitters is a good thing.
Lineup for Tonight