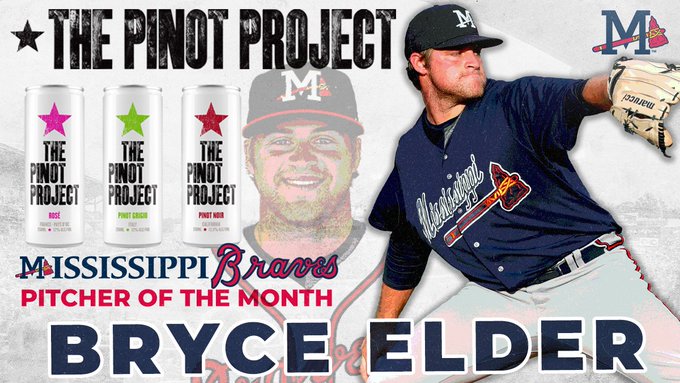 Because I'm just chomping at the bit to update my Braves Top 30 prospect list, I'm going to go ahead and wrap up this month's check-in series. Over the last few days I've covered nos. 30-11, so now it's time to examine how the organization's top 10 prospects performed during the month of July. But just know… this list may be very different in the coming days as I put out my updated rankings.
*All stats mentioned below cover only games played in July
AA – Mississippi
Elder's start on Tuesday was his fifth­-straight outing in which he lasted exactly seven innings, which is pretty damn impressive if nothing else because of how hard it has to be to hit that same mark that many times in a row. Obviously having made it so far into his starts means the kid is pitching well. Elder posted a solid 2.73 ERA for the month of July, his first full month at the Double-A level. He did have one rough outing in which he allowed five runs during that seven-inning streak, BUT overall, there's absolutely nothing to critique here. The 22-year-old is progressing nicely and should definitely be a prospect to watch during the 2022 season, when he's most likely facing Triple-A batters.
AAA – Gwinnett
While Elder has mostly dominated in Double-A, Cruz has mostly struggled in Triple-A. The 24-year-old Cruz just had a start on Tuesday, and like many of his outings this season, he didn't pitch very well. He ended July with one of his worst performances of the year when he allowed five runs in five innings, a start I saw in-person in Memphis. I of course didn't get to watch all of Cruz's starts last month, however, in that July 28 game against the Redbirds, the righty spent way too much time inside the strike zone (plus the heat index was nearly 110 degrees at first pitch). Regardless, I've been disappointed with Cruz in 2021. The more he pitches, the more I'm beginning to believe he'll have to move to the bullpen. There just hasn't been enough there to 1) generate enough swing and miss… and… 2) consistently allow him to go deep into his outings.
AA – Mississippi
What a month it was for Shewmake, who has done a complete 180-degree turnaround lately. The star shortstop finished July with a .357 AVG and 1.022 OPS to go with eight XBH (four HR) in 14 games – by far his best month of the 2021 season. In fact, of the 14 games Shewmake played in, he finished with at least one hit in all but two of them (that's a good way to dig yourself out of an early-season slump). It looks like the former first-round pick dramatically simplified his approach at the plate, which has allowed him to really improve his quality of contact altogether. And all of this improvement really started in late-June, not too long before I watched him live during the M-Braves series versus Tennessee (June 22-26). In the final few games of that series, Shewmake was seemingly squaring up everything, and evidently, he never slowed down even on into July. Hopefully he can keep it up, because this time next season he needs to be showing that advanced bat against Triple-A pitchers.
MLB – Atlanta
Muller spent all of July with the big league team so that right there should tell you he at least had a decent month. Although, the lefty had more than just a decent month. In four starts with the Braves, Muller compiled a 2.29 ERA to go with 20 strikeouts in 19.2 innings. And it appears he's only getting better the more he pitches, shown by the combined 0.90 ERA in his last two outings, both of which came versus contending teams (Mets and Brewers). I have to say, as good as Muller has been as a prospect in Atlanta's system, I didn't see this coming from him. I'll gladly take it, though!
A+ — Rome
July was Harris' worst month this season, but his bad isn't really all that bad to be honest. The kid still owns a 109 wRC+ overall in 2021, and sure we know he's capable of even better production with the bat, but a .250 AVG during a 23-game stretch is nothing to worry about. In fact, Harris actually tallied more walks than he has in any other month so far this year, and he still ranks within the top 10 in the East League in both doubles and triples. Also, his 27.4% line-drive rate is the fifth-highest rate in the league, another indication that he's doing just fine.
AA – Mississippi
Langeliers peaked in June with nine home runs, but his performance didn't drop very much in July. In a span of 22 games, the former top pick by the Braves hit .247 with seven XBH (four HR) and ended the month with six multi-hit finishes. By now, I think it's evident that Langeliers is the real deal as a hitter. But what's been even more impressive is just how incredible he is behind the plate as well. The 23-year-old has thrown out 45% of would-be base stealers this season, and it wasn't too long ago that that rate was upwards of 50%. I tell ya, this kid has it all and there's no doubt that he has a great shot at becoming the Braves future homegrown starting catcher.
MLB – Atlanta (60-day IL)
Davidson has been on the shelf since mid-June and was transferred to the 60-day IL on June 24 (forearm). This has to be super frustrating for him given how well he was pitching in the majors this season. Davidson had tallied a 3.60 ERA in 20 innings for Atlanta in 2021, and just imagine if the Braves still had him in the rotation for the complete second-half of the regular season. Maybe he returns in a few weeks, but there hasn't been much news regarding his ailment. The team definitely needs him.
AAA – Gwinnett
Ever since getting optioned to Triple-A back in early July, Contreras has gone absolutely nuts at the plate. The kid has played 20 games with the Stripers and already has eight homers, five doubles and 25 RBI, with all but one of those games coming last month. He's slashing .351/.400/.743 and has shown no signs of slowing down. Travis d'Arnaud is back in the mix and in the process of rehabbing so we certainly look forward to him being back in the lineup. But damn, Contreras sure looks like a viable backup.
AAA – Gwinnett
Waters had his best month yet in July, slashing .301/.351/.573 with 17 XBH (five HR) in 24 games with the Stripers. His 11 doubles in that span were more than he managed to hit in both May and June combined. Waters' impressive performance, coupled with the Braves outfield issues prior to the deadline, made many feel that he should've gotten a big league call-up. However, it's important to understand that the 22-year-old is still striking out at a 30% clip, and though his walk-rate has increased dramatically this year, his overall plate discipline isn't quite there yet. Still, with a 108 wRC+ at the Triple-A level in 2021, it's definitely accurate to say Waters is getting better. I think FanGraphs' ETA of 2022 is still very accurate.
AAA – Gwinnett
Man 2021 has been a disaster for Pache, who currently owns a 41 wRC+ combined in 70 games between the majors and Triple-A Gwinnett. And it's not just that… the star prospect has struck out in roughly 33% of his PA at both levels, which is by far his worst K rate as a pro hitter. Pache spent all of last month with the Stripers, and though his numbers weren't ideal, they also weren't horrible. In 26 games he hit .232 with six XBH to go with a 29.9% K rate. Maybe he figures it out again. Hopefully he does. But it's most likely going to have to happen in the minor leagues this year. Maybe a fresh start in 2022 is what Pache needs.
Checking in on the New Guys
The Braves made 5 additions to the roster at the trade deadline in Joc Pederson, Adam Duvall, Jorge Soler, Eddie Rosario, and Richard Rodriguez. 4 of the 5 have played in Atlanta and here are their stats:
Duvall: .583 OPS
Soler: 1.162 OPS
Pederson: .864 OPS
Rodriguez: 3 G, 3 IP, 0.00 ERA
Braves Lineup
Braves are entering tonight's game only 2 games behind the New York Mets for first in the division. A win tonight knocks that deficit down to 1.5 and get the Braves above .500 for the first time in the 2021 season.